Workers 'fly the flag' to address construction industry's suicide crisis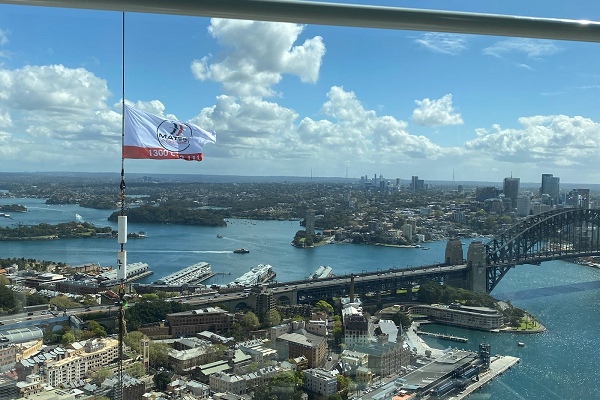 Thousands of construction workers across Australia are flying flags on major projects today to highlight the suicide crisis facing the industry and promote efforts to save lives by looking out for workmates.
Each year, 190 Australian construction workers take their lives — six times the number killed by workplace accidents — with the industry's 'blokey' culture and transient nature making it hard to ask for help.
Fly the Flag Day, run as part of World Suicide Prevention Day, is organised by MATES in Construction in partnership with building companies, unions, employer groups, and mental health organisations.
The MATES in Construction program builds on-site networks of support, with more than 20,000 volunteers already undergoing training to help them identify people at risk of suicide, offer them appropriate support, and connect them with specialist assistance.
MATES in Construction NSW chief executive Brad Parker says the program was a industry-driven response to the suicide crisis in the sector, which sees one worker take their life every two days.
"Young construction workers are more than twice as likely to die from suicide than other young men," he says.
"Job insecurity, high work demands, financial stress, relationship breakdowns and mental health challenges all put workers at risk, while the transient nature of our industry can make it hard to build strong support networks.
"The traditional blokey culture, where people don't discuss emotions and feelings with workmates, can also pose a challenge to people getting the help they need.
"Fly the Flag Day is about shining a spotlight on the problem, breaking down the stigma of asking for help, and highlighting the efforts of thousands of volunteers on projects across the country to save lives.
"The MATES in Construction program has already built a network of more than 20,000 volunteers who have undergone industry-specific training that helps them identify workmates who might be at risk and know how to offer them the support they need.
"COVID-19 has made these efforts more important than ever this year, with many workers facing greater social isolation, uncertainty, and financial hardship as a result of the pandemic."