Installation craft: The lost art of stylish plumbing
With a decline in authentic tradespeople who define their work by their craft, a plumbing business in New South Wales has created a copper work of art. Esther Rivers reports.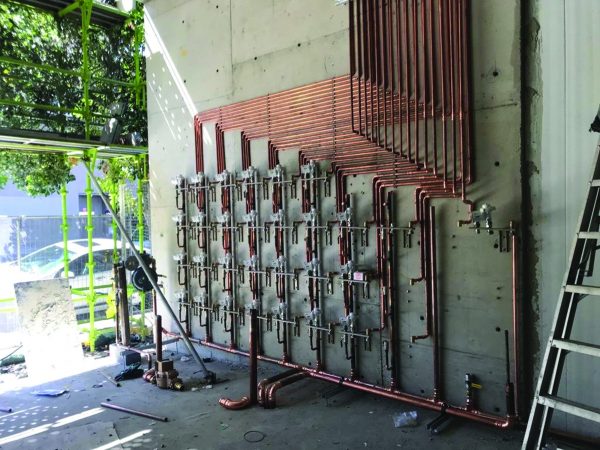 Fivestar plumbing is a small business in Sydney that gained attention with a piece of work that is currently a trending concept for plumbers: installation works of art.
Beautiful pipework is for plumbers what beautiful brush strokes are to an artist. 'Sweet' installation pieces are almost like an impressionist painting, pleasing to the trained — or even the untrained — eye. A good plumbing installation is craftsmanship, precision and detail that will result in an entire piece of fine work. It involves hard work, a strong eye, imagination and talent.
Fivestar plumbing's managing director Wahib Shanferly had that kind of vision. When on site for a large job in Cronulla, he explains how he saw an opportunity to create a piece of work that would shine.
"We were doing 28 luxury apartments in Cronulla, working for tailors there. Originally they had all the gas metres in the lobby areas. They wanted to remove them from there and locate them all in the loading dock area on the road. We knew there was going to be a lot of work involved, so we thought 'Ok, no problem, this is an opportunity'."
This kind of work is the recognition of great craftsmanship within the plumbing trade, which could be described these days as a bit of a lost art. Installations such as these ones are so often on the inside of buildings that even if they are works of beauty we fail to be able to witness it. For those wanting to see this kind of work in person, all you need to do is head to Cronulla and walk on by.
"I figured I could take the installation from where you can't see it, really take advantage of the situation and showcase the work from the outside. I knew what the end result could be," says Wahib.
The Fivestar plumbing job took only two weeks to complete from start to finish. Wahib explains how there are still plumbers out there who want to see and do good work, and why it's important.
"We made sure we put the right guys on the job and we did a beautiful job of it. We wanted to show that there are still good quality tradesmen out there who take pride in their work. Lately the quality of people has just dropped dramatically, it's really bad."
Wahib explained that from the initial design phase to the installation stage there were only four people involved. The building process took only two.
Other external installation pieces have garnered similar attention on social media with similar amounts of appreciation expressed alongside the installation photographs.
For Wahib and his team it is a celebration of a company who take pride in concepts, pride in their ideas, and above all pride in their craft.
"I thought I would turn this into something."