CPC Navajo Nation plumbing project delivers new solutions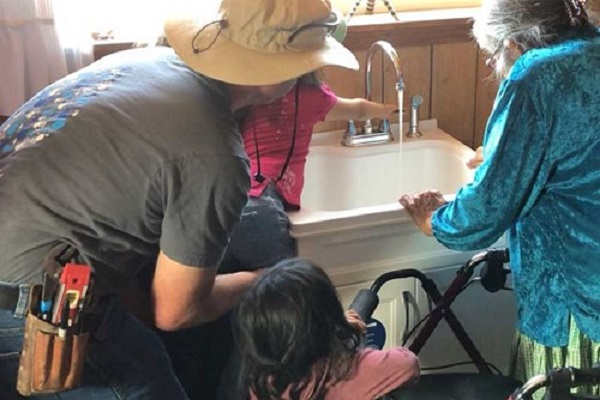 Representatives of the International Water, Sanitation and Hygiene Foundation (IWSH) have completed a new outreach project in the Naatsis'áán Chapter which saw the team install new water supply and septic systems at the Arizona warehouse.
Further developing a working relationship established through the Community Plumbing Challenge (CPC) Navajo Nation program and IWSH-DigDeep Navajo Water Project collaboration, the project installed new systems at the Naatsis'áán Chapter House while the main house is under renovation.
"It has been an incredible week; a lot of work, a lot of prep, a lot of ups and downs, but in the end, we have done as we said we would and delivered a new plumbing system that is going to serve the Navajo Mountain Chapter for years to come," IAPMO education and training director and one of the IWSH team members Randy Lorge says.
"It might not look like much, but now that they have this new restroom facility in place, the chapter will be able to move forward with their expansion."
Navajo Mountain project manager for DigDeep Shanna Yazzie speaks on the efforts by both organisations: "IWSH and DigDeep working together is a great accomplishment for the next step for the Navajo Mountain Chapter as they continue servicing the community from the renovated, temporary building."
"Communication, teamwork and having local skilled contractors was vital to the success of this latest project."