A recent contamination event in New South Wales provided a lesson in backflow containment cross connections, contamination and leak detection. Peter McLennan reports.
Backflow incidents happen more often than you probably think. But why do cross-connections continue to happen when we have trained professionals working on our drinking water? Is it laziness, attention to detail or just plain ignorance?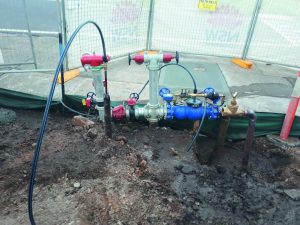 The following happened in May this year and could have resulted in serious health issues for unsuspecting consumers.
A large New South Wales water utility recently experienced an unprecedented contamination event. Although no ongoing issues have been recorded, it highlights the potential for unrecognised contamination of the drinking water supply in both private onsite services and network infrastructure.
The contaminant: fluorescein. A brightly coloured chemical product often used to identify leaks in sewers and rainwater systems. It is not made for use in drinking water as the following dictates:
Topical, oral, and intravenous use of fluorescein can cause adverse reactions, including nausea, vomiting, hives, acute hypotension, anaphylaxis and related anaphylactoid reaction, causing cardiac arrest and sudden death due to anaphylactic shock.
The most common adverse reaction is nausea, due to a difference in the pH from the body and the pH of the sodium fluorescein dye; a number of other factors, however, are considered contributors as well. The nausea usually is transient and subsides quickly. Hives can range from a minor annoyance to severe, and a single dose of antihistamine may give complete relief. Anaphylactic shock and subsequent cardiac arrest and sudden death are very rare, but because they occur within minutes, a health care provider who uses fluorescein should be prepared to perform emergency resuscitation. (Source Wikipedia)
The investigation has identified two possible sources of contamination:
Fluorescein may have been introduced to locate leaks in the newly installed fire service and interconnected pipework
Uninstalled pipes and fittings may have been contaminated onsite, during transport or a deliberate action
A new fire and domestic service was being installed in a public school, closed for the school holidays.
The fluorescein travelled through the new fire and domestic services into the existing domestic service which had been cross connected for testing purposes.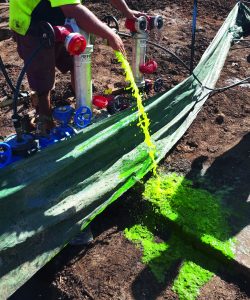 The existing 40mm water service and meter at the school did not have a backflow containment device in place which allowed the fluorescein to travel into the network main, impacting several residential properties.
Tap testing of the onsite outlets which included drinking bubblers produced large volumes of coloured water, fortunately it was a school holiday period.
This cross-connection event, if not for the presence of the fluorescein may have gone undetected and highlights the need for due diligence when working on drinking water supplies.
The introduction of contaminants into any water supply could have fatal outcomes as experienced with historical cross connection events.
Our community has a reliance on licensed plumbers and onsite regulators to support quality plumbing installations and help protect the drinking water supply used by the community.
The unprecedented growth in the construction industry is facilitating the need for better regulation and compliance standards.
The safety of the drinking water supply should be of paramount importance whenever plumbing work is carried out.
Backflow prevention and cross connection control is integral to keeping the drinking water safe and ensuring the health and amenity of the public.
Plumbers need to keep up to date on regulations and Standards so the sooner a continuing professional development programme is introduced to cover aspects like backflow prevention the sooner accidents like this become rare.