Looking for an easier way to install new shower bases, vanities and baths? This plumber might just have the answer.
It's often the simple things in life that are most enjoyable.
That first sip of coffee at six a.m. is one. The sound of a beer bottle cracking at six p.m. is another. And then there are those little things that can make the biggest difference on the job site. Like a waste pipe extender for example.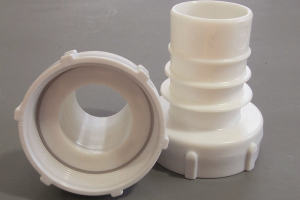 As is often the case with little plumbing products that make a big difference, Drop Seal was developed by a plumber, for plumbers. It was born out of frustration and it's one of those things that when you come across, you'll sit back and ask, 'Why didn't I think of that?'
Peter Charlton was sick of being in pain after snaking his arms through concrete channels around Melbourne bathrooms.
"I was shredding my arms to pieces when attempting to connect waste pipes to shower bases through concrete slabs," says Peter.
"At the same time, when renovating a bathroom that had a cracked poly marble base, I would have to take a tile off from above the base, pull the shower screen off and then smash the base out.
"Alternatively, if it was a concrete slab, I'd have to cut a channel out, pull up tiles to access the waste pipe and do up the trap. Finding tiles to replace the existing ones was always difficult.
"Two storey houses were another prospect altogether. It always involved a hole in the ceiling, plaster work and a new paint job. It was a nightmare," says Peter.
On top of all that, Peter explained that in the past, when installing bathroom bases into concrete slabs, he had to make up his own traps. And while this is probably something a lot of plumbers still do, the problem is, they aren't WaterMarked.
He knew there wasn't an easier way at the time, so he invented one.
Drop Seal is a waste pipe extender that aims to save time, money and precious arm skin when installing shower trays in 50mm waste outlets or bath and vanities in 40mm waste outlets.
"I came up with the idea around 2010, before I had it designed, patented and WaterMark level 2 approved."
As Peter explains, it takes a while to get a new product to the market, especially when plumbers are so accustomed to doing things the way they've always done them.
"It's a bit like trying to teach an old dog new tricks. It can be hard to change the mindset of plumbers as we're creatures of habit, but it seems a lot of the younger guys are taking notice and adopting new things."
The product has been on the market for roughly five years now and is starting to make serious inroads, with plumbers able to source it from most major retailers.
"It just makes life a whole lot easier," Peter says.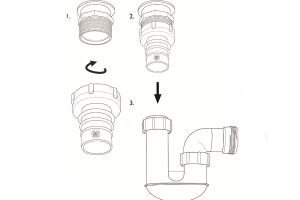 Installation with Drop Seal can be achieved via an easy three-step process:
Hand tighten Drop Seal to the bottom of the 40mm or 50mm waste pipe outlet of the shower base, bath, vanity, reducer or puddle flange.
Line up the p/s waste trap to the centre of the waste pipe outlet and support the bottom of the p/s trap.
Insert Drop Seal into the 40mm or 50mm p/s trap and set the shower base, bath, vanity, reducer or puddle flange in place and set to floor.
Drop Seal's patented rubber lug design ensures it will seal inside of 40mm or 50mm p/s traps.