Are waterless urinals a health hazard or a water saver's friend?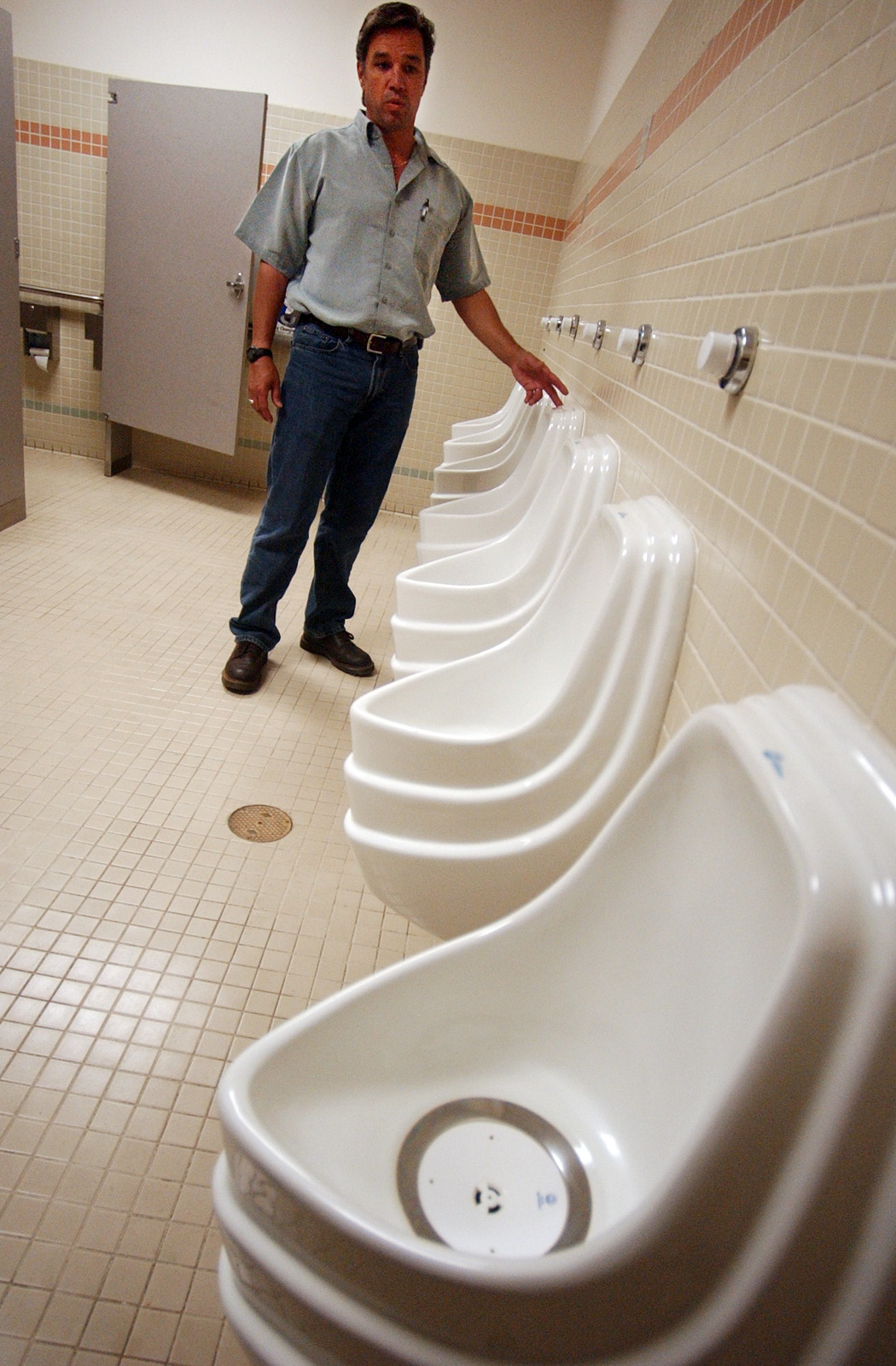 It's not often that plumbing makes the daily news, but in late 2005 the Los Angeles Times ran a story about a controversial ruling on waterless urinals by the International Association of Plumbing and Mechanical Officials (IAPMO) Standards Council.
The controversy began in early 2005 when the Council ruled that waterless urinals would not be included in the United States' Uniform Plumbing Code.
That decision was subsequently appealed by waterless urinal manufacturer, Falcon Waterfree Technologies, which secured the support of 20 California water districts in presenting its case.
However, at the November appeal hearing, the anti-waterless-urinal case was argued by a sanitary engineering expert, supported by the California State Pipe Trades Council in association with grass-roots lobby group, Communities for a Better Environment.
Dr Fox argued that "… the no-flush urinal ignores hard-learned lessons on sanitation and reverses over a century of practice by failing to provide consistent cleaning of the urinal wall and replacing the permanent seal with one that has to be changed every 30 to 90 days."
Furthermore Dr Fox noted apparent deficiencies in waterless urinals relating to alleged sewer gas leakage, odor, wall deposits, sealant integrity, pipe deposits, maintenance and aerosolization.
It was a compelling argument. After all, the main function of the permanent water seal and flush action in modern toilets and urinals is to prevent sewer gases and pathogens – such as dysentery, typhoid and SARS – from finding their way into the bathroom or restroom environment.
Yet waterless urinals have been installed in many different kinds of buildings in the US including schools, universities, sports stadiums, McDonalds' restaurants, Wal-Marts, resorts and offices.
For every reported failure, you'll find a success story about how the flush-free fixtures have brought water savings and other benefits to that facility without apparent health problems.
So what's the case for waterless urinals – and should they be allowed in the US and other countries with rigorous national plumbing Codes?
Floating barrier to sewer gases
The United States National Energy Policy of 1992 requires urinals manufactured after 1 January 1994 to use no more than 3.78L (1 gallon) per flush. The previous standard was 11.35L (3 gallons) per flush, but higher flush volumes are common in older buildings.
This means that replacing urinals in a facility more than 10 years old with water-free ones offers an opportunity to save water, sewer, installation and maintenance costs, since they require no water to flush, no piping, and no flush valves or other control hardware.
According to European company Ernst (www.ernstsystems.com), the first water-free urinal was invented in 1894 by Swiss engineer Fritz Ernst.
The modern Ernst Water-free Urinal is a specially designed syphonic trap containing a biodegradable, low-density, viscous barrier liquid that floats on top of the urine to form a seal. This floating seal prevents drainpipe odors from coming back into the restroom.
Most water-free urinals available today – such as Falcon, Uridan, Duravit, Waterless and McDry – also use this floating seal principle, based on a barrier liquid either supplied in a pre-measured amount with a replaceable cartridge, or as a refill for topping up liquid seal traps at specified intervals.
There is another type of no-flush urinal with a mechanical trap that automatically closes after use. Brands based on this principle include Franke, Keramag and Sphinx. (US sources interviewed for this story stated that the US Code prohibits the use of traps with moving parts for protection against sewer gases.)
The seal's the thing
In the US, the growing demand for 'green' offices and commercial buildings – boosted by the launch of a building rating system called LEED™ (Leadership in Energy and Environmental Design) in 1999 – has led to rapid uptake of water-saving technologies.
Falcon Waterfree Technologies offers a range of vitreous china urinals with a replaceable liquid-seal cartridge, and its website (www.falconwaterfree.com) has many examples and case studies documenting annual water and sewer use savings for customers.
The company's vice-president government affairs, Danny Gleiberman, says the no-flush operation also reduces opportunities for vandalism (no handles or valves to damage) and fits in with the 'touch-free' restroom concept.
According to Mr Gleiberman, the Falcon Waterfree cartridge is the only liquid-seal trap in the US with a bayonet locking device that allows the replacement cartridge to be firmly locked in place, preventing the escape of sewer gases.
"As to the objection that no-flush urinals are less hygienic than flushing ones, we can cite independent scientific research that shows this is not the case. Water and dampness provide a breeding ground for pathogens, and the aerosol action of flushing spreads them to all surfaces in the restroom."
Installation and maintenance
Like any plumbing fixture, water-free urinals need to be installed and maintained according to manufacturers' instructions and plumbing regulations.
"One of the requirements in the US plumbing code is for a minimum (downward) slope for drain pipes in all plumbing applications," Mr Gleiberman says.
"However, with retrofits, many of the old piping systems installed in the past don't meet today's code.
"We train installers on retrofits to make sure that the correct slope for the code is there so waste is allowed to drain away."
Another training point is the proper use of cleaning chemicals, because improper cleaning can break down or flush away the biodegradable sealant in water-free urinals. Mild cleaners are recommended and, indeed, will do the job – without water in the urinal, there is no mineral build-up and studies show there are fewer bacteria in the bowl.
"There is not any more work required for cleaning staff to clean water-free urinals – it's just a bit different," Mr Gleiberman says.
"We make information available wherever possible – the printed instructions that come with the replacement cartridge have a pictorial diagram illustrating proper maintenance and cleaning, along with our phone number and website printed directly on the cartridge."
An urban planner by trade, Mr Gleiberman is on the Board of the Los Angeles chapter of the Green Building Council, and has a strong commitment to sustainable development and the LEED rating system.
Testing the water in Asia
Falcon Waterfree cartridges can now be found in a range of urinals sold in China under the brand-names American Standard (US), Inax (Japan), HCG (Taiwan) and Sunnytone (Singapore and Malaysia).
Ditmar Gorges, executive vice-president in charge of Falcon's Asian market and based in Manila, says that interest is particularly strong in northern China, where clean water is scarce and where water supply and sewer rates are high, compared to the south.
"In China there is a huge commitment from the government to do something about water conservation in the north. This is driven by an organisation called NDRC – National Development and Reform Commission – which supervises the Ministries and sets all kinds of policies, from the environment to the price of coal.
"The NDRC is keen to consider making water-free urinal technology mandatory in some regions."
Another market that is responding to water-free urinals – and at surprising speed, according to Mr Gorges – is the Philippines. In this case, it was not the government behind the push, rather CEOs of companies such as McDonalds and local fast-food rival, Jollibee, keen to establish their credentials as good corporate citizens.

From flush to flushless
The Sloan Valve Company (www.sloanvalve.com) is a name synonymous with flush-valve technology in the US.
William Elvis Sloan designed the Royal Flushometer in 1906 to replace the old high-volume cistern-type water closest, which flushed 23L (6 gallons) of water per flush. The Royal remains the company's biggest selling flushometer, gracing millions of flushing urinals throughout the world.
In recent years, Sloan has turned its attention to helping customers gain points towards LEED certification.
Now it offers water-free urinals (with Falcon cartridges), alongside solar faucets, dual-flush commercial flushometers, tank-style pressure-assisted flush toilets and electronic sensor-activated urinal valves.
"There is a definite trend towards incorporating water-conserving measures within new building designs," says Jim Allen, LEED-accredited water conservation manager with the Sloan Valve Company.
"A recent study reported that in 2004, approximately 2% of the new US non-residential construction market comprised green buildings, which translates to a $3.3 billion a year industry, a figure that could rise to $10 billion by 2010.
"Because water conservation is an integral part of the LEED program, water-saving technologies are bound to experience significant growth as this trend continues.
"In some cases, water costs in the US are doubling and tripling. This is raising the consumer's awareness of the value of water and driving conservation efforts.
"Water-free urinals are a more efficient means of eliminating waste, and while it seems counter-intuitive that a flush-valve manufacture would market such a technology, it's absolutely in alignment with our history and our mission.
"We have water-free urinal installations in applications ranging from schools, hospitals, and office buildings to stadiums and airports.
"They do, however, require the commitment of building supervisors to keep their cleaning and maintenance crews properly trained and educated. But, when properly cared for, the savings can be tremendous."
In the front-line
Water conservation is critical to California, where the debate on flush versus no-flush urinals has caught the public's interest. Already the State imports water from the neighbouring States of Arizona and Nevada and from the Colorado River.
A keen supporter of the technology – Michael Foster, Green Building coordinator with the City of San Jose, California – has become used to meeting resistance when seeking approvals for new or retrofit installations. Mr Foster's role is to ensure that sustainable design principles are incorporated into the design and construction of San Jose's public facilities.
San Jose's potable supply is supplemented by a system that supplies high-quality recycled water from its tertiary treatment plant to public, commercial and industrial customers in three cities through a 100-mile-long pipeline.
Public and some private sector facilities near the pipeline must be connected to this system in order to reduce potable water use. The recycled water is used for flushing toilets, landscape irrigation and air-conditioning cooling towers.
During summer months, San Jose uses up to 56 million L (15 million gallons) of recycled water.
"California tends to lead the way when it comes to environmental initiatives. As an example, we have the most stringent energy code anywhere in the US," says Mr Foster.
"But, at the moment, water-free urinals are seen as a novelty by the local plumbing community and, as a result, have not been fully embraced."
Approval process
"To get a waterless urinal approved in a San Jose facility, you have to apply for an alternative method and means, an application proving the product you're installing is equal to, or better than, what is required by the existing plumbing code.
"The reason is that the plumbing code calls for a 'flushing action' in the toilets.
"San Jose currently has two city facilities with water-free urinals, out of half a dozen projects constructed over the past four years. The projects with water-free urinals were approved by a city plumbing official who was supportive of the concept.
"The objections depend on who you talk to and when you talk to them. One day, it will be that water-free urinals don't work. The next day, it's that they breed bacteria and other airborne pathogens.
"Our experience in the field indicates that waterless urinals are a viable alternative if we can overcome scepticism about this new technology."
Mr Foster knows of at least one case where waterless urinal 'failure' was, in fact, a lack of understanding on the part of facilities managers to ensure that maintenance staff where following manufacturer's instructions.
Mr Foster visited the site and discovered that the replaceable cartridge had not been changed over at the specified interval. After maintenance staff had been instructed to follow the correct replacement and cleaning procedure, the odour problem disappeared.
"When we went back later and asked the maintenance staff, 'Does it take you more time to do it?', they said, 'No. The only difference is we have to change the cartridge'. – and that takes all of about 30 seconds!"

Seeing it first hand
What about those plumbing officials who have doubts about the effectiveness and safety of waterless trap technology? You can't go past seeing the evidence first-hand, says Mr Foster.
"Software developer Adobe Systems Incorporated, manufacturer of Adobe Acrobat and other desktop publishing software, wanted to retrofit its three office towers with water-free urinals.
"The city plumbing official had reservations, but he did allow the company to install two pilot fixtures alongside two traditional fixtures in their newly completed third tower for comparison testing.
"A year later, they pulled the urinals off of the wall, inspected them, and found, if anything, that the waste lines serving the waterless urinals were cleaner and had less build-up than the traditional urinals.
"On the basis of that study, he concluded that water-free urinals should be, and subsequently have been, approved for Adobe Towers.
"The new policy in San Jose is that waterless urinals can be approved for commercial buildings that have professional building maintenance staff.
"Right now, waterless urinals are on the cutting edge – and it takes a while for people to embrace new technologies."
The right conditions
Waterless urinals are not the only way of saving water in the toilet – dual-flush systems, for example, can also contribute significantly to water conservation.
But there may be a good case for using them if you can answer a few key questions in the affirmative:
– Are the connecting drainlines Code-compliant, i.e. do they have a minimum positive slope?
– Have maintenance and cleaning staff been instructed on correct procedure for maintaining the liquid-seal trap (i.e. cartridge changeover or barrier liquid top-up at manufacturer-specified intervals; use of mild, non-alkaline cleansers)?
– If odor is a problem, are surrounding surfaces, particularly porous ones such as grout in tiles, washed down regularly to clean up 'slops'?