Zip Water Wins Design Awards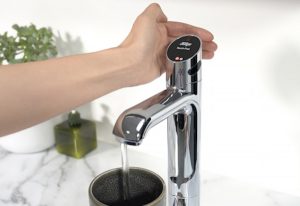 Zip Water has been recognised by Australia's peak international design awards, the 2021 Good Design Awards Week, receiving two prestigious Good Design Award Winner accolades in the Product Design, Domestic Appliances category for both the HydroTap Touch-Free Wave (pictured above) and the HydroTap Classic Plus.
The two HydroTaps are stand-outs in the Zip Water product line, with the HydroTap Classic Plus presenting a beautiful, more intuitive redesign of the company's flagship product – the HydroTap, and the HydroTap Touch-Free Wave showcasing the company's innovation credentials with its contactless solution for a world still reckoning with COVID-19.
Zip Water Marketing, Strategy & Innovation Director, Mike Abbott, said the awards are an outstanding achievement and recognised the company's leadership in excellent product design.
"To receive two Good Design Awards is an incredible honour. We pride ourselves not only on our innovations but our designs as well.
"It's important to us to create a product that does what it says it will, and does it in style. We would like to thank the jury and Good Design Awards for this recognition," Mr Abbott said.
The Good Design Awards are the highest honour for design and innovation in the country and reward projects across 12 design disciplines and 30 subcategories. The 2021 Good Design Awards attracted a record number of submissions with 933 design projects evaluated by more than 70 Australian and international Jurors, including designers, engineers, architects and thought leaders.
The Good Design Awards Jury praised the HydroTap Classic Plus, commenting: "The silicone touchpad with antimicrobial protection is also a really nice improvement on the previous design. The overall form is refined and sleek."
They were also impressed with the HydroTap Touch-Free Wave, stating: "Promoting the use of tap water for drinking is healthy for the individual and the environment. This product is well-considered in both detail and how it fits in the environment.
"It's also a well-considered response to the changing world we live in post-COVID. The gesture control is intuitive and delivers real end user benefit.  Overall, a standout project that ticks all the boxes for good design in this category. Well done."
For more information on the HydroTap Touch-Free Wave, visit: www.zipwater.com/touchfreewave
For more information on the HydroTap Classic Plus, visit: www.zipwater.com/products/hydrotap-range