Zip Water unveils western Sydney manufacturing expansion
Zip Water has cut the ribbon on a new manufacturing line at its home in Condell Park, where it has designed and manufactured its world-leading drinking water appliances since the days of black and white television.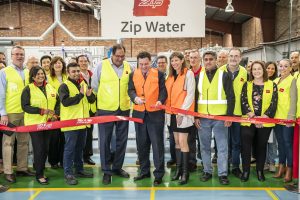 The factory expansion is Zip Water's largest-ever investment in its homegrown operations – a $6 million injection in Australian innovation and ingenuity that will enable the company to double its manufacturing capacity as it keeps pace with growing international demand for its flagship product, the Zip HydroTap.
Demand is growing from within both existing markets such as Australia where Zip drinking water systems are a much-loved fixture in many homes and workplaces, and new markets such as the United States – a market that hasn't seen anything like the HydroTap before.
Zip Water president John Doumani says the manufacturing expansion marks an exciting milestone for the company and for its home in Sydney's west, where it has operated from since it was founded by Michael Crouch in 1947.
"Our Condell Park home is pivotal to our success, it's where we innovate and create our world-leading instant boiling, chilled and sparkling filtered water systems, which are sought out in over 75 countries around the world.
"Our $6 million investment in expanding our factory means we will be able to more than double our manufacturing capacity – which is critical as we enter new markets such as the US and China and keep pace with growing demand.
"It's a source of great pride that no matter where in the world a Zip drinking water system is found, it was engineered and manufactured right here in Sydney's western suburbs.
"The investment will not only help ensure that manufacturing remains in Condell Park for years to come but is upskilling our people, many of whom live locally, through the state-of-the-art technology and the training we are providing to employees," John says.
NSW Minister for Jobs, Investment, Tourism and Western Sydney, Stuart Ayres, joined Zip Water in unveiling its manufacturing expansion, celebrating its significance for Sydney's western suburbs.
"Zip Water's investment in its Condell Park operations will play an important role in ensuring manufacturing continues to thrive in western Sydney, providing job security and livelihood for the people it employs and the many local and Australian businesses that supply it.
"This is a wonderful example of our State's potential to perform – and take the lead – on the world stage. It is also yet another significant step towards making western Sydney the country's capital for advanced manufacturing," says Stuart.
From its factory in Condell Park, Zip Water has exported to the world for over 30 years and its taps can be seen in iconic buildings across the world from London's Buckingham Palace to the world's tallest building the Burj Khalifa in Dubai.
Mr Ayres and the Member for East Hills, Wendy Lindsay, toured the new manufacturing line at Zip Water's Condell Park facility today and meet with some of the factory-workers who are being upskilled to use the new technology.
Ms Lindsay says the expansion is great news for the local area and the people living in the East Hills electorate.
"More than a third of Zip Water's factory and warehouse team live within 8 kilometres of the factory. It's fantastic to see this investment being made into developing the skills and expertise of so many local people," says Wendy.
Zip Water has a history of market-firsts, creating the world's first on-wall instant boiling water system in 1975, which made the company an Australian household name. Its commitment to innovation has positioned the Zip HydroTap as the world's most advanced drinking water system.
The company's latest innovation is the Zip Micro, its smallest drinking water system yet that fits under almost any bench and delivers instant boiling and chilled filtered water at the touch of a button. Designed for workplaces of up to ten people, the Zip Micro, caters to a new market of workplaces – beyond the lavish CBD fit-outs pushing out into the regions and small towns.
Zip Water's industry-leading products are making the world sit up and take notice. Having recently launched into the US, consumers there can now purchase the world's most advanced drinking water appliance at premium kitchen and bathroom product distributors across the country from California to Florida.
The HydroTap has already proven popular among Americans – at this year's Kitchen and Bathroom Industry Show (KBIS) in Las Vegas, the largest trade show of its kind in North America, the Zip HydroTap was awarded 'silver' against over 600 entrants in the kitchen category.
Zip Water is living proof that homegrown innovation can compete in this global economy. Zip Water employees over 700 people worldwide, including over 300 people at Condell Park, where Zip Water manufactures products to supply to the world.