Turn your gutters into art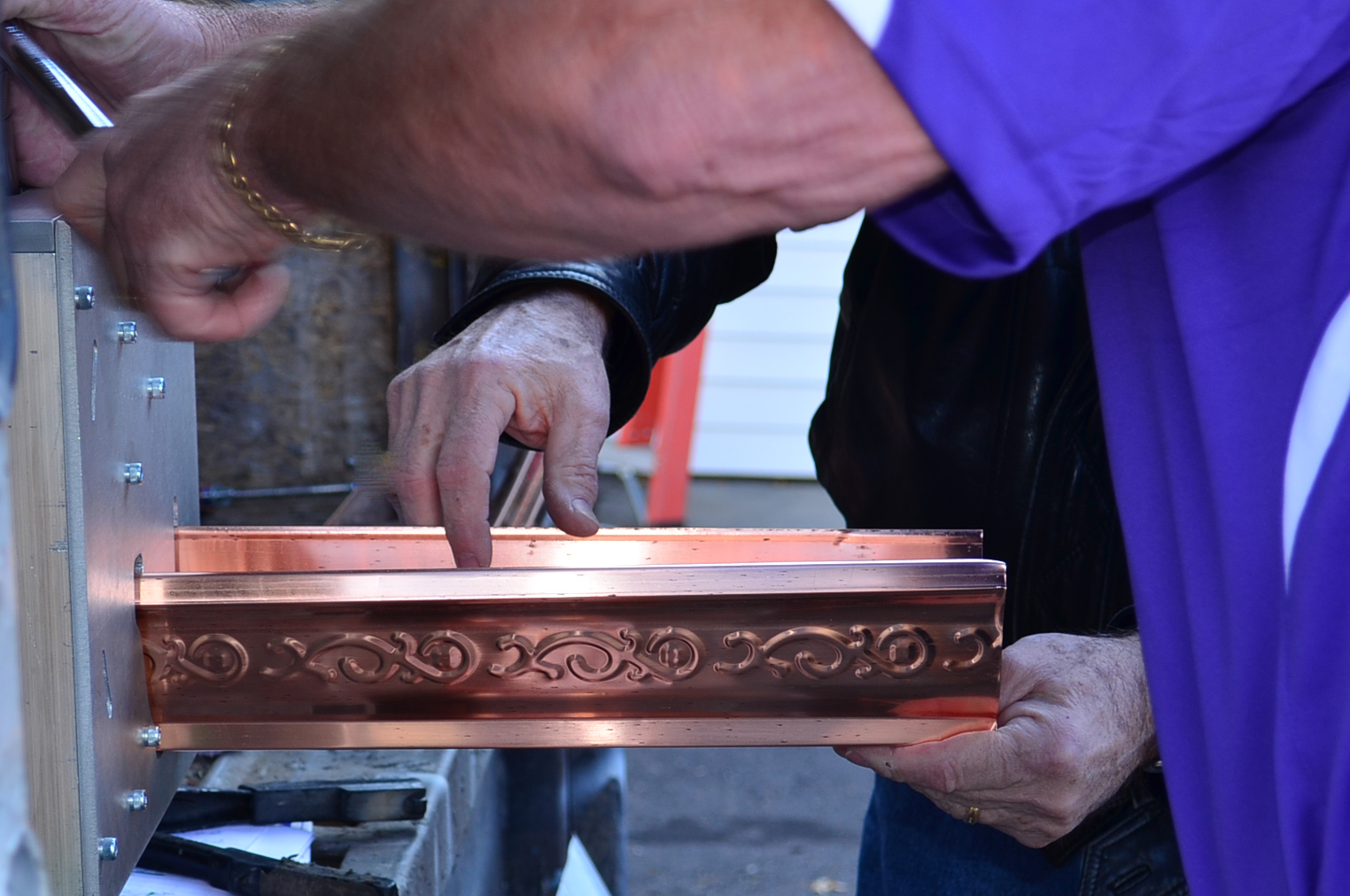 A new technology developed in the US transforms gutters into decorative features, and provides a new way for roof plumbers to upsell to consumers. Callum Fitzpatrick explains.
Visually speaking, the humble rain gutter is not the most glamorous of features to adorn a house. Take a walk down almost any street and you're likely to see a host of eye-catching door designs, fancy window frames and maybe even some colourful brickwork. But when it comes to guttering, there isn't much to set apart one trough from another.
However, that isn't to say that it shouldn't look appealing; and this is something that US company New Tech Machinery has recognised.
Founded in 1991, New Tech Machinery manufactures portable roll forming equipment to roof plumbers, gutter contractors and in-plant manufacturers worldwide.
By feeding sheet metal into a sophisticated machine, contractors are able to create roof panels and guttering onsite and on-demand, to the dimensions they require.
Now the team has taken this a step further, by introducing GutterArt, a clever system which attaches to its existing MACH II guttering machine and embosses the metal, to transform an ordinarily mundane-looking home necessity into a more decorative feature.
"It almost makes your house look like it's wearing a crown," says New Tech Machinery chief operations officer Roger Geer.
"We noticed that nobody else had ever really done anything to try and enhance the look of a gutter. We knew that we were capable of changing that, and it would also give an added selling point for roof plumbers – that's why we introduced GutterArt.
Roger adds that the system itself is incredibly easy to use.
"All you need to do is attach the embossing unit to the exit end of a MACH II gutter machine, then you push a button and as the formed gutter exits the system, it runs through the embossing unit and is shaped to the pattern you have chosen," he says.
"It couldn't be easier to operate, and it's very quick."
There are a number of tasteful patterns available, which can all be matched to the décor of the outside of the home and New Tech Machinery even allows you to request a customised pattern.
However, Roger says that GutterArt isn't just about spicing up the look of a customer's house – it also provides a viable way for roof plumbers to boost their profits.
"GutterArt allows a company to acquire something that is completely unique, that nobody else can offer. Then they can use this selling point to charge a higher price for a decorative install," he says.
"In an industry like guttering, there isn't much that sets one company apart from another – aside from price. This allows you to stand out easily and offer something a little bit different.
"You'll be surprised by how many people want this when they are given the option.
"It even allows you to carry out a 'chop and drop' service for gutter installers and charge them for the service."
Roger adds that GutterArt even has the potential to affect the wider property market.
"We've seen that this greatly increases curb appeal for homebuyers, which in turn can affect property value," he says.
Looking to the future, New Tech Machinery is set to add new patterns to the GutterArt portfolio. Roger says that although the product isn't currently available in Australia, the company is looking at increasing distributorship to crown the houses of homes down under very soon.
Contact:
New Tech Machinery
www.newtechmachinery.com