Training the plumbers of tomorrow, today
For a number of years now, the Plumbing Industry Climate Action Centres (PICAC) have been providing integrated education and training programs in advanced areas of plumbing and gasfitting in Brunswick and Geelong, Victoria.
PICAC's facilities are second to none and include the Fire Protection Centre of Excellence, the Occupational Health and Safety Centre of Excellence, a demonstration Green Plumbing House, world class reticulated water systems, the newest technology in water and energy efficiency. By its own admission, showcasing the world's very best, leading edge technology means PICAC is training the plumbers of tomorrow, today.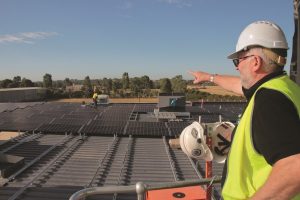 Such has been the success of PICAC in Brunswick, Victoria, that in November 2014 the Andrews Government announced it would support the development of two new PICACs in Geelong and Narre Warren. With the Geelong site successfully completed and now delivering training, we were eager to see where things were at in Melbourne's southeast. Needless to say, it's an impressive structure, both in a tangible and intangible sense.
"The building itself incorporates contemporary plumbing product. But we've gone beyond that. The plumbing is a proud aspect of the building, so at every opportunity we're looking to expose it. Plant rooms are glassed features and pipework is exposed wherever possible," says PICAC chief executive officer Shayne La Combre.
As has been the case with all PICAC buildings, ideas and inspiration have been drawn from across the globe, to ensure the centre remains contemporary while delivering training excellence for our industry.
"The biggest challenge for plumbing training, or any sort of training really, is staying contemporary. But staying contemporary, just to ensure you're up to date with 'now', is almost conceding the lead," explains Shayne.
"We're constantly asking ourselves how we can get in front because we need to ensure our industry is always training for the future. We're investigating how certain technologies will have an impact on our industry while trying to pre-empt how we can deliver training for careers that don't even exist yet.
"From the industry's perspective, we're not going to be left high and dry. We're not leaving it to the likes of government regulators to say, this is the direction you need to take. A place like this will be charting the direction," says Shayne.
While this is all conceptual at this stage, it remains to be seen how the Narre Warren site will capture those visions; however, the industry needs the capacity to deal with change in the future. And that's exactly what Shayne and his team see as the purpose of this building.
As per the two existing training facilities, the Narre Warren site is not being set up to compete with local TAFE's and other registered training organisations, but rather exist to complement them.
"This is the way of the future for training in this country. It's not just a 3-year component of an apprenticeship; it's about a relationship with the industry's training arm to make sure career trajectory is taken as far as it can go."
And a big part of ensuring students are given the best possible chance to achieve that is via PICAC's partnership with the International Association of Plumbing and Mechanical Officials (IAPMO). In fact, a third of this building will be dedicated to product testing, standards development, innovation and knowledge sharing.
IAPMO is the largest plumbing certification organisation in the world. It entered the Australian market some 10 years ago and has been growing ever since.
IAPMO and PICAC have worked in parallel toward advancement of the plumbing industry for years and this decision consolidates many of those efforts and gives both organisations access to world-class resources and professional expertise.
The idea behind IAPMO investing into the centre and setting up its head office and testing labs (including a gas laboratory) at PICAC is to create a true centre of excellence, from which the industry as a whole will benefit.
"To grow and to become number one you need resources and a big part of the resources equation is locations," says IAPMO managing director Paul Bonsak.
"We've had a close relationship with PICAC since the beginning. Personally I've had a close relationship with the CEO of the company for a number of years. As many would know, they're doing a lot to protect the plumbing industry and raise the standards. With that in mind, our philosophies are aligned as through our work, we endeavour to protect our community as well as develop and protect our licensed trade to ensure it maintains the standard that Australia is accustomed to.
One of the key benefits both Shayne and Paul see from this close working relationship is the ability to learn from one another, as well as keep plumbers abreast of any new products before they hit the market. All of the products making their way through the lab can be put on display where students will have immediate access to them. From there products can go straight into the training environment. On top of that, an auditorium will provide the perfect platform for knowledge sharing and industry forums.
And this is where the footprint of the building promotes ongoing innovation. It isn't just a shed that's been converted. It's a purpose-built facility. On top of that, it's Australia's first net-zero energy (NZE) education and research centre.
With climate change being a very real thing, there is a challenge to architects, designers and builders to produce sustainable buildings.
Not one to back down from a challenge, FMSA Architecture once again collaborated with PICAC to design an energy-efficient building that maximises northern exposure to both the ground and first floor.
A net-zero carbon building is highly energy efficient and powered from on-site or off-site renewable power. This particular building will generate enough energy to support its own requirements. Such a feat has been achieved via a combination of the geothermal system, solar technology, an airtight building, roof design and a 375-kW photovoltaic (PV) system.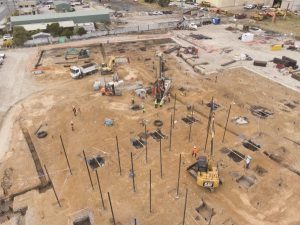 "It's the first time it's been done in the Southern Hemisphere. We've taken a lot of American ideas and added multiple layers to them," says Hutchinson Builders site manager Nick Hollier.
That's not to say it's been an easy road though.
"One of the hardest aspects of the build was the fact the geothermal was integrated into the structural. That hasn't been done here before. The fact that we have thermals going into the ground is normal. It's more the fact that of 580 piles, 190 of them have waterlines in them, 28 of which descend one hundred metres into the ground.
"We had already had the base down, ready for slabs because none of us had coordinated this type of project before. There is 7km of waterlines horizontal and 7km vertical. The concreter had to come back through and work around 7km or vertical waterlines and 7km of vertical waterlines, tidy it all up and set his slab up. You can probably imagine what kind of nightmare that is. It was a massive challenge. It took us six months to get out of the ground. It would normally take two months at best."
As they say though, nothing worth having comes easy, and Hutchinson Builders and its consultants took a boutique geothermal system and expanded it to a fully integrated building system, with the outcomes being a net-zero energy building.
Nick explains that while the upfront investment was high, through research, discussions and experience from the plumbing industry in the Northern Hemisphere a 5-7 year payback is anticipated.
When you consider this incredible achievement coupled with the training, testing and collaborative works on the horizon, it's fair to say the industry as a whole has a lot to look forward to.
The official opening of PICAC Narre Warren will take place on 10 September, a day before World Plumbing Conference begins, with visiting international guests set to take part of the proceedings.