Have you ever wondered what kind of testing is performed on a plumbing product carrying the WaterMark logo? If you've assumed it's a mix of hydrostatic pressure testing and some dimensional checks, then principally you are not far off the mark. Terry Nguyen explains.
Before I explain what kind of testing is performed on a variety of plumbing product, I think it's important to understand how the WaterMark scheme is administered and regulated.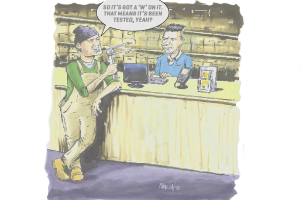 In 2013, the Australian Building Code Board (ABCB) inherited the WaterMark scheme from Standards Australia. During this transition a few changes to the mechanism of the WaterMark scheme were made to simplify and better manage risks associated with plumbing products.
As it stands, the ABCB are responsible to set out the rules on how each Conformity Assessment Body (CAB) is to conduct business when reviewing and auditing a product undergoing a new WaterMark certification or annual licence re-evaluation.
Each CAB is granted a certification to perform its duties by JAS-ANZ who is responsible to monitor the rules of the scheme and certification practice governed by ISO 17028. With the use of standards (such as Australian or joined with New Zealand and WaterMark Technical Specifications), products are directly assessed for a minimum level of performance.
After a CAB performs a product review, an applicable standard is nominated for a NATA accredited laboratory to execute product performance testing.
Standards are initially prepared by a formed committee that represents manufacturers, industry groups and subject matter experts. Periodically, and often forced by product innovation, standards are required to be updated. For example, the use of materials other than brass used in tapware requires standards to be revised to ensure that the longevity and quality of the product is maintained without imposed risks of property damage.
Australian Standards used for plumbing products are some of the strictest in the developed world, which is why we're the only continent that has access to potable water from coast to coast.
So what kind of testing is being mandated by Australian Standards and WaterMark Technical Specifications to validate the use of the WaterMark logo?
From experience individual products such as fittings, valves and pipes are vigorously tested for dimensional compliance, strength, performance and endurance testing, while appliances such as a beverage dispenser undergo far less.
From the table, it is obvious that appliances such as beverage dispensers, douche seats and water filters undergo fewer tests than individual products such as ball valves or tapware.
The difference in the prescribed testing of each Australian Standard is simply based on risk and degree of use. A ball valve or hex nipple will be used in a multitude of applications such as in walls, ceilings, under sinks and even buried. Therefore, it is imperative that these products have the longevity to survive an array of conditions while not needing regular maintenance or cause unexpected failures.
Contrary to that, an appliance such as beverage dispenser that sits on a countertop or floor is easily accessible and in easy reach of repair. Some may argue that in the event of a catastrophic failure either a beverage dispenser or a leaking ball valve has the potential to cause similar damage to property. In any case, failures are monitored and if a product continues to cause plumbers, homeowners and insurance companies' heartache then committees of the Australian Standard are often forced to re-evaluate the minimum level of performance giving rise to further testing regimes and the release of amendments and re-issue of the product standard.
Appliances are simply tested for compatibility and hydrostatic strength at twice the maximum operating pressure at the maximum temperature rating of the appliance. The thread form of these plastic threaded inlet connections are simply checked for water tightness and compatibility to a British Standard Pipe (BSP) thread.
Compare that to a metallic threaded connection, where the fitting thread is not only subject to a range of mechanical tests but also undergoes a highly precise dimensional assessment to validate the thread form.
Committee members and subject matter experts share knowledge and evaluate risks to apply the most appropriate and functional test methods to each product or appliance.
Before installing a product always make sure there is a WaterMark logo and licence number clearly on display. If a product appears faulty or has an unusual design characteristic be sure to contact your supplier or manufacturer for clarification. Alternatively, you can review the currency of a WaterMark license through the ABCB database www.abcb.gov.au/Product-Certification/WaterMark-Certification-Scheme/WMPD-Search.
Should you have any queries regarding WaterMark certification or product performance testing feel free to drop us a line.