TMHA announces first range of Huski mini-excavators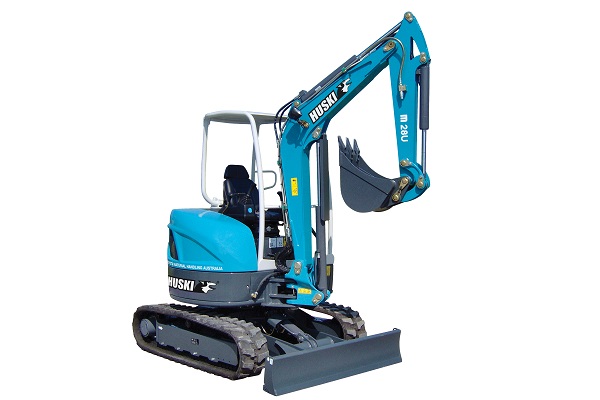 Toyota Material Handling Australia (TMHA) has announced its range of Huski mini-excavators featuring high break-out force and zero tail-swing. The range will consist of seven models including one 1.3t short-radius machine and six Zero TailSwing models starting at 1.6t and going up to 6t.
The range will debut at The National Diesel Dirt & Turf Expo between 15 and 17 May 2020 at the Penrith Panthers Showgrounds in Sydney and full supply of the range will be available by Q3 2020.
"Mini excavators are a natural progression for our business as they fit perfectly with our current range offering," Huski construction equipment product manager Matt Meddows says.
"This has been a long time coming. A lot of customers have been asking about excavator offerings for many years and we are proud to announce we now have a range with powerful break-out force and zero tail-swing in tonnages of 1.6, 2.2, 2.8, 3.8, 5.8 and 6.0.
"We know that operators trust our skid steer loaders because they've proven reliable in the field for three decades. Now, if they're looking for a new excavator, we can bring all the assurance of the Huski brand to them for those needs, as well.
"It was about us finding a machine we were confident would meet the standards that we base our reputation on.
"We now have the right partner to build our Huski excavators – which feature Kubota-engines – to our specifications."
The machines have been made in Italy for the last 25 years by a company founded in the early 1960s. It was certified ISO 9001 in 1999 and has since continually grown and refined its manufacturing processes.
"Fundamental to Huski excavators' robust construction and functional design is excellent quality-of-materials, high technological content of components and the strict inspection of production and assembly processes," Matt continues.
"All models in the range feature leading performance and high safety standards. They will be competitively priced and backed by the reputation that extends to all our machinery under the TMHA banner."
The range will come generously equipped as standard with many options available.
"The Huski mini excavators will feature many options when they arrive in Australia. These options will include factory quick-hitch piping, blade-float options on all models (and standard from 2.8t upwards) and extended counterweight options from 2.8 to 6t machines," Matt explains.