Social Enterprise Offers Touch-Free Soap Dispensers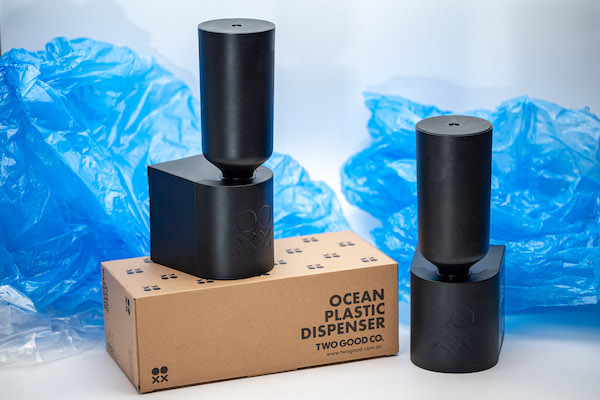 Two Good Co and Charter Hall have begun installing 3,000 touch-free soap dispensers in offices around the country, made with recycled ocean waste by vulnerable women who are now getting a fresh start and financial independence.
Protect and Connect Soap is the latest initiative from Two Good's ongoing collaboration with Charter Hall, to support, empower and employ women who have survived domestic violence and homelessness. This initiative is part of Two Good's Work Work program, which has helped 65 women rebuild their lives, their confidence and break free from the cycle of disadvantage.
Protect and Connect Soap has already removed more than 1.25 tonnes of plastic from the ocean, given vulnerable women on-the-job training and employment, while creating a locally-sourced, high- quality and sustainable soap and dispenser.
Founder and CEO of Two Good Co, Rob Caslick, said what began 15 years ago as a cook-up for those less fortunate on the streets of Kings Cross, is now a booming social enterprise.
"I'm so proud of what Two Good is achieving for each of the women who have come to us for help. To date, we've provided more than 35,000 hours of paid employment through our Work Work program with the support of Charter Hall," said Mr Caslick.
"Our ongoing collaboration with Charter Hall has provided resources significant enough to give our most vulnerable women the love, support, independence and self-confidence to thrive beyond their adversity.
"Now, with the launch of Protect and Connect Soap, we are anticipating Two Good will be able to reach our target of employing 36 women in 2022, but we are planning to see this figure double in years to come," said Mr Caslick.
Charter Hall is now installing Protect and Connect Soap across its national office portfolio, including prime CBD addresses such as No.1 Martin Place and 333 George Street in Sydney, 130 Lonsdale Street in Melbourne, GPO Exchange in Adelaide and 175 Eagle Street in Brisbane. The partnership will also extend to a further 34 managed assets covering over 600,000 sqm of workspace across Charter Hall's $23b office portfolio.
Charter Hall's Chief Experience Officer, Natalie Devlin, said, "Together with our facilities management partner CBRE and Two Good Co, we are driving positive social outcomes, while providing an essential product for our tenant customers."
"We look forward to extending our partnership with Two Good to supply its premium amenities across our office portfolio while supporting their critical work work, helping disadvantaged women in our communities."
"Through our active partnership approach, we have the ability to enhance workplace experiences, provide widespread community and economic impacts and help change lives, for good. This extends to every aspect of our business, from major community partnerships with our tenant customers to the choice of amenities in our bathrooms and premium end-of-trip facilities," said Ms Devlin.
"We always ask ourselves; how do we have the greatest possible social benefit with the least impact on the earth? This partnership allows us to sustainably scale our programs while leaving a positive legacy for the environment. We couldn't be more chuffed," said Mr Caslick.
Lynda is one of the women who found Two Good when she was at her lowest and suffering with severe anxiety. The support and opportunities Two Good provided, including employment with Work Work, helped Lynda rebuild her life.
"Heading into my first day at Two Good, I remember sitting on the morning train, my head against the window with tears streaming down my face," said Lynda.
"Two Good loved me back to life.