RIDGID FlexShaft drain cleaner
RIDGID claims its new FlexShaft machines are lightweight, compact and highly efficient machines that deliver wall-to-wall clean.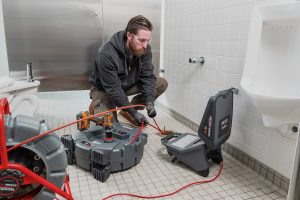 There are two models in the FlexShaft range: K9-102 clears 1¼" to 2" drain lines up to 15m and the K9-204 clears 2" to 4" drain lines up to 21m. FlexShaft machines can also be operated while an inspection camera is in the line, letting you see while you clean. No other soft blockage expert can do that.
Wall-To-Wall Clean: Chain knockers expand for full pipe cleaning
Simultaneous Camera Use: FlexShaft machines let you keep your camera in-pipe while you work
Increase Productivity: Faster setup and clean-up, quick cleaning, and cordless convenience for additional time savings
Customise Your Machine: A full range of chain knockers and accessories are available