MRWA approves Geopress K to help protect valuable water assets
Melbourne Retail Water Agencies (MRWA) has approved Viega's Geopress K piping system to be used in the management and protection of the city's major water resources. This comes after a successful field trial with a Victorian Government-owned retail water corporation which supplies around 100 billion litres of drinking water annually.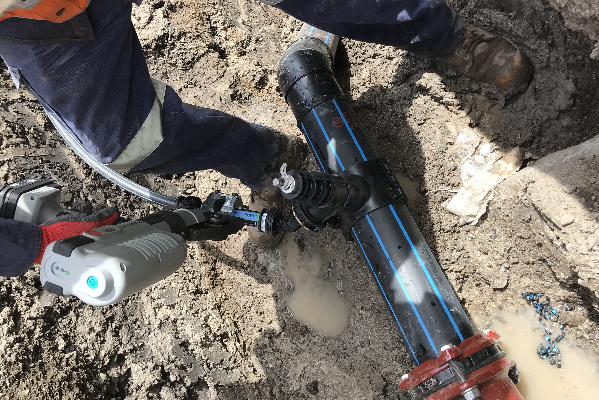 Engineers at City West Water, which provide drinking water, sewerage, trade waste and recycled water services in Melbourne's central business district, inner and western suburbs, describe the system as a game changing product.
"I see Geopress K as being a major player in the market and changing the way works are done," Programmed Water operations manager Dylan Thomas says.
The Geopress K is manufactured from first-grade Polymer materials and non-ferrous components, making it a more efficient and cost-effective method for SDR11 HDPE pipes for potable water and recycled water applications.
"The only options we had to connect poly pipes prior to Geopress K were either welding techniques or mechanical fittings and both can be problematic," Thomas says.
"Welding take specialised equipment and is not maintenance-friendly – your only option is to cut out and replace damaged pieces – while mechanical systems don't react well to movement, so when atmospheric conditions cause pipes to shrink and expand, the fittings can move and fail."
With plenty of water being lost each year due to ill-fitting and leaking pipes, the Viega Geopress K not only gives users a peace of mind but saves money.
It features a tapping valve which combines a tapping band and isolation valve for quick and easy installation of underground supply lines.
"There's nothing else like it in the market," Viega civil and utilities account manager Glenn Lewindon says.
"Live tapping of the main supply line takes only a few minutes. And, due to the integrated miller for PE pipes, drilling can be carried out without having to use an external drilling machine – or disconnecting water from the main line."
The system is free of elastomers and its glass fibre-reinforced, high-strength polymer connectors feature internal sealing, which allows pipes with damaged surfaces to be permanently pressed without preparation.