Korea takes out plumbing and heating gold at WorldSkills
The 45th WorldSkills competition has been run and won with Woo-Eui Jo of Korea taking gold in Plumbing and Heating.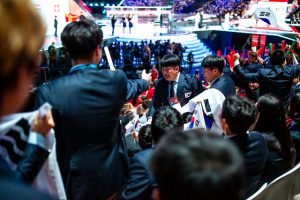 The silver medal was awarded to Yingzheng Yang of China, while Patrick Keating of Australia and Patrick Grepper of Switzerland shared the bronze medal.
Medallions of Excellence were also awarded to competitors from 13 countries: Dominik Philipp (Germany), Nicola Batliner (Principality of Liechtenstein), Tsubasa Hakoishi (Japan), Dimitriy Bourgier (France), Thomas Thomas (UK), Dmitriy Malinov (Russia), Mathias Fill (Austria), Anton Hasenstrauch (Sweden), Raimundo Farias (Brazil), Jack O'Donnell (Ireland), Sander Damsma (Netherlands), Che-Wei Hsu (Chinese Taipei), and Balazs Mate Torok (Hungary). In total, 31 countries were represented in the Plumbing and Heating competition at WorldSkills Kazan 2019.
All results from the competition may be viewed at worldskills2019.com/en/event/results/.
A total of 1,354 competitors from 63 countries and regions competed, and medals were awarded in 56 skills.
Next year, the WorldSkills competition will be held in China for the first time. WorldSkills Shanghai 2021 will be held from Sept. 22-27, 2021, at the National Exhibition and Convention Centre, the world's largest freestanding building and exhibition complex.