Kiwi's do it better… but of course they'd say that
A proactive approach, advanced technology and an all new approach to campaign delivery combine to ensure the Kiwi's are staying ahead of the regulatory curve. Plumbing Connection reports.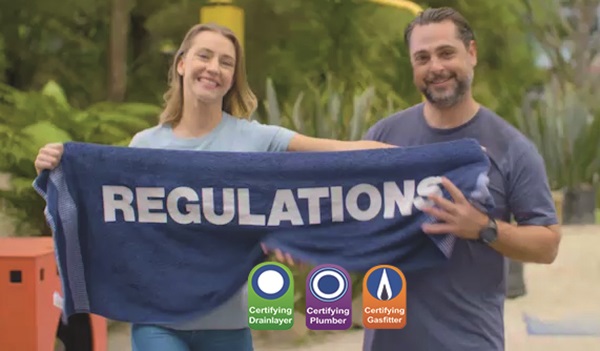 As a trade regulatory body, you are responsible for the registration and licensing of tradespeople, ensuring that those carrying out regulated work are competent, and tasked with promoting and safeguarding the health and safety of people, their property and the environment.
In this challenging domain, it is no easy task holding the attention of your key stakeholder groups and the public.
"To stand out in New Zealand, our organisational offering – being something quite different for a regulator in this area — has been crucial to our success," says Plumbers, Gasfitters and Drainlayers Board (PGDB) Chairman Peter Jackson.
"In today's fast-paced world, innovation has been the key, whether through the implementation of new technology or providing a more robust service."
When asked what's new for the PGDB in 2019, "optimising our core business will be what is critical to our long-term impact", says Peter.
"While it's one thing to drive your organisation towards success through innovation, it's another to properly safeguard it for the road ahead."
Over the last two years the PGDB has been solving its challenges in the regulatory space through the development of the Report-A-Cowboy app, serving as a reporting and intelligence tool to swiftly deal with unauthorised work. The app with more than 13,000 downloads – by both consumers and tradespeople – is doing its job effectively.
An industry public awareness campaign (Sort the Pros from the Cons) was implemented, greatly elevating the three main consumer protection messages. With messaging expanded to reach and raise awareness with those immigrating to New Zealand, the campaign is now gaining exposure to millions of people.
Chatbot technology is improving the organisations customer service and reducing manual handling of enquiries and increasing efficiency. AI-powered, the bot is serving up answers to multiple consumers and tradespeople at the same time on a 24/7 basis.
A new form of Continuing Professional Development (CPD) is another initiative that New Zealanders are now well acquainted with. Linked to the academic knowledge and practical expertise required for each particular trade, this professional development is chosen by the industry and delivered for the industry.
Forty three merchant sponsored roadshow training events are now successfully up and running nationwide, assisting practitioners to solve new challenges, understand new product technology and maintain their competency and compliance knowledge base.
"We've gained a lot of insight through our chatbot technology", says Peter.
"In 2019, you can expect to see increased performance in our service with a new advanced approach to the NZ relicensing system and a remodel and upgrade of the website.
"We will continue to remain responsive to industry challenges and ensure our practitioners are equipped to solve them through our CPD programme of events.
"For example, New Zealand has one of the highest reported rates of Legionnaires' in the world. A strain found in potting mix accounts for two-thirds of outbreaks; however, the risk from waterborne Legionella in hot water systems and aircon cooling towers is still a primary focus. Legionnaires' often goes unreported due to the difficulty in distinguishing the illness from other, more common, forms of pneumonia," says Peter.
Acting on this research and evidence will see PGDB adding this topic to the CPD programme.
"We want to make certain our practitioners are installing systems properly and working smarter in mitigating the risk of this bug spreading in our communities," says Peter.
"Another aspect of our core business for 2019 will be maximising our existing efforts in public awareness through our Sort the Pros from the Cons campaign.
"Our efforts to build awareness are helping consumers become familiar with our trades, has built a strong reputation for those who hold the NZ Practising Licence, and informed on the health and safety and insurance aspects of unauthorised work.
"Over the past two years, by repeatedly exposing this campaign to our target audience and delighting them with a new visual experience each time around the three main messages, we have earned a lot of trust and loyalty.
"The campaign has gone a long way and achieved considerable reach. It has a defining purpose that truly delivers through to every touch point," concluded Peter.
The PGDB's next campaign launches during the first week of February 2019.