Grundfos – Largest CR Pump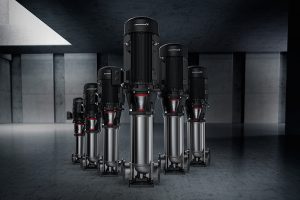 To celebrate the momentous milestone of delivering 50 years of world-class energy efficiency for industries worldwide with its renowned range of CR pumps, global water solutions leader Grundfos has released its latest CR 255 model. As Grundfos' largest vertical multistage inline pump to date, this latest addition to the CR portfolio will take current energy efficiency and performance standards for vertical multistage inline pumps to the next level.
Grundfos' range of CR pumps are the world's first vertical multistage centrifugal inline pumps, and are used predominantly for water supply, water treatment and almost all industrial solutions – including those for high-pressure, hot, dangerous, flammable, and aggressive liquids. Since its inception, over 3.5 million CR pumps now serve industries around the globe.
Industrial operations across different sectors – from semi-conductor manufacturing to food and beverage processing – can be water- and energy-intensive. Despite having one of the driest climates in the world, over 15 million megalitres of water are consumed by industries in New South Wales alone annually. With the need for a constant flow of large quantities of water, the Grundfos CR range is the most efficient way of handling the production process.
Grundfos' largest vertical multistage inline pump, the new CR 255 model delivers water pressure of up to 400m and achieves a maximum water flow of up to 320m3/h, the equivalent of supplying water to 9,500 people. For industrial processes such as water booster supply, similar large Grundfos CR pumps have demonstrated improved performance by up to 30% compared to regular pumps.