Get it right the first time
Contractors that fail to guard against defects are likely to be dropped right in the poo. Brian Seymour outlines the risks and remedies.
No one in the construction industry is happy to receive a defects notice, known in the industry as the $#!t List.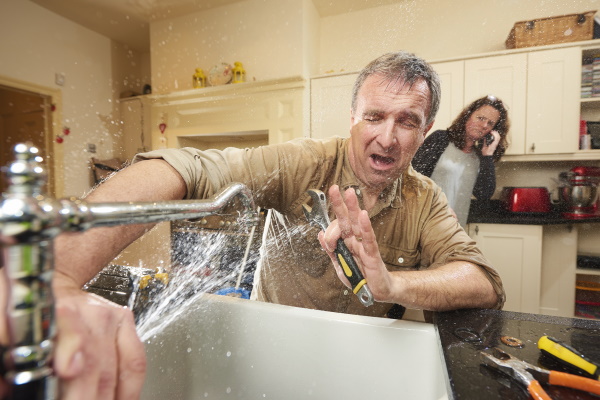 Many plumbing contractors have no idea of how much defects cost, yet the amounts are often substantial.
It's too late to look for savings after the defect notices arrive: such work needs to be at the beginning of the contract. Contractors' lack of attention to quality management at an organisational and project level has made defects a pervasive feature of the industry.
Experts believe that defects affect the productivity of a project at least three times over, based on:
– initial installation;
– re-doing the task, and
– using productive hours that could be applied to other tasks.
When overheads are considered, the total cost can be a great deal higher.
Sole trader contractors may think this applies only to large companies. However, when considering costs as a proportion of income, the percentages could be much higher for the small contractor.
Suppose a customer calls the contractor back to secure a new power outlet that's been loosely fitted. It means an interruption to the job on hand of half an hour travel each way and 10 minutes on site.
This is a loss of one hour and ten minutes of productive time from an eight-hour day, or 15%. Further, what effect did this absence have on the current job?
The cost of defect rectification can easily eat up any profit, and lack of attention to quality management often results in errors going undetected until a problem arises. The saying 'do it once, do it well' should be entrenched in every company's policies to prevent unnecessary costs and improve customer retention.
Every contractor needs a system of inspection and checks to avoid persisting with defective works that may become apparent during the latent defect period. Even if the company has a quality assurance plan, it may require a revisit to ensure that defects have been fully dealt with In quality control.
There is much research on rework costs in the construction industry. For example, the United States and Sweden have recorded 5.9% and 12.9% respectively. However, companies need to examine their own rectification costs.
The causes of defects vary between projects, but there are some commonalities. These include poor contract documentation, poor co-ordination and planning, non-implementation of quality management practices and ineffective use of information technology.
Building industry regulations and authorities' actions are constantly changing, and contractors should be aware of how this will affect their operations.
Apart from external demands, defects are caused by failures related to:
– design,
– production planning,
– site management,
– workmanship,
– material delivery;
– plant & equipment; and
– sub-contractors.
Lack of design
The author of the original contract documents or the contractor's own design and installation can be the source of defects.
For example, the contractor installs a main switchboard in a switch-room. This was nominated on the original plans, yet it breaches the minimum space requirement.
This is a defect. Who is responsible? The contractor denies responsibility for the room size. The designer denies responsibility for plumbing regulations.
Poor production planning
This can come about through a lack of knowledge and experience among personnel.
To reduce the possibility of defects, the contractor must be mindful that planning is more than creating a schedule. It involves logistics – actively dealing with the effects of any changes. Recovery plans must set out how to best deal with them and must show an understanding of constraints.
Abandoning proper planning steps under pressure will result in greater risks being introduced into the process.
Site management
Site managers or supervisors are required to keep within the timescale and budget of a project, and must deal with any delays or problems.
The role involves managing staff, monitoring the schedule, leadership capabilities, managing quality control, health and safety checks, and inspecting the works. If any one of these responsibilities is ignored, defects will occur.
The site manager must be involved before any site activity takes place. This means being responsible for communications between all parties engaged in the on-site development of the project.
There is a reciprocal obligation on the supervisor and contractor to notify each other as soon as they are aware of the potential for a defect.
Most plumbing systems are installed during the framing stage of construction when interior walls and ceilings are accessible. Re-working after a structure is built can require the removal and replacement of wall surfaces, leading to major problems and cost.
Workmanship
Many installation defects are due to negligence and insufficient effort being put into quality control.
Mistakes and miscalculations can lead to expensive repairs or even lawsuits.
Low skill levels, unsuitable equipment and materials, and lack of project management are just a few causes of poor workmanship.
It is up to the workforce at every level to meet proper standards of quality, care and expertise. The plumbing industry is a skilled trade, and workers should understand the importance of following proper protocol and quality processes.
Material delivery
Research shows that material delivery problems such as delays, defects and incorrect quantities are common in the building industry.
These problems often affect costs, quality and schedules. This contributes to disorder at the site, extra handling, breakage and loss of material – a costly and unnecessary waste.
Unsuitable materials or methods, wrong information or outdated drawings can affect:
– suppliers' minimum order quantities;
– price variations for varying quantities (with half a full load the transport cost doubles per unit of material);
– storage requirements (on-site or paid);
– materials handling (crane, forklift, more staff).
– schedule for lifting out of hours;
– availability of space in the installation area;
– hours when delivery vehicles are allowed on-site;
– site entry permit;
– cost of traffic control; and
– payment for uninstalled materials stored on site.
These issues need to be dealt with before installation work starts. Also be aware that variation orders can contribute to the above issues and create defects.
Plant and equipment
A wide range of equipment and tools need to be fit for purpose, maintained, inspected and used in accordance with safe systems of work.
To mitigate defects the contractor must ensure that:
– all plant is safe;
– all staff members using plant are appropriately trained and competent;
– all plant and plant designs requiring registration are identified and registered;
– all plant is correctly maintained during its lifecycle.
This includes ensuring that the following principles are applied in all instances:
– risk assessments are conducted, including reviewing safety information from the supplier;
– competency and licensing requirements;
– complete training for the plant or equipment;
– safe work instructions are developed;
– emergency procedures are highlighted, including shutdowns; and
– effectiveness of the above is regularly monitored.
Sub-contractors
To keep defects to a minimum include these steps:
– Subcontract documentation identifies the correct entity and licence number for the subcontractor and ensures that the subcontractor is appropriately licensed for the work.
– Subcontract documentation clearly sets out the scope of work and the subcontractor's responsibilities, including for defect rectification and warranties.
Contract administration processes must support the main contractor's position in the event of a complaint – eg: contractual directions to rectify, variation directions and certifications of progress. Any certification of subcontract work should be qualified to exclude any defective work apparent at the time of certification.
Plumbing works must be safe and compliant
It is important to note that the subcontract document does not alter the contractor's responsibility to properly supervise the works all through the defect liability period.
Contractors are only as 'good' as their subcontractors are. Therefore, subcontractor selection is crucial to success and the lower level of risk they face.
A word of warning
No matter what size the business, in the worst-case scenario any defects can be major OHS problems possibly culminating in industrial manslaughter.
This is a crime in which the action or inaction of an employer results in the death of an employee. Industrial manslaughter usually has a much broader scope than standard criminal manslaughter. To date only Queensland and ACT have the law in place, and Victoria's law will come into effect on 1 July 2020.
In Queensland, the maximum penalties for industrial manslaughter are 20 years in prison for an individual (no fine is available) and $10 million for a body corporate.
In Victoria the following maximum penalties apply:
– a maximum of 20 years in prison for individuals; and
– a maximum fine of $16.5 million for a body corporate.
Any entity that owes applicable duties to ensure the health and safety of a person in the workplace can be charged with workplace manslaughter. An entity includes a person, body corporate, unincorporated body or association, or a partnership. The definition includes government entities and their officers, but not employees or volunteers,
In Victoria, a person will be guilty of workplace manslaughter if they engage in negligent conduct that amounts to a breach of an OHS duty owed to another person, and that conduct causes the death of the other person.
The above precis of the industrial manslaughter guidelines are for information only, and readers should research the laws in their own state.