Crescent Lufkin's Shockforce tape measure
Crescent has introduced a tough tape measure, crafted to endure the demands of tradies in some of the most volatile conditions.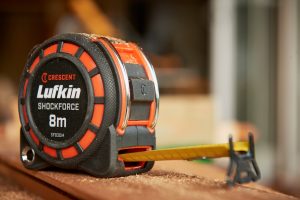 Living up to its name, the Shockforce can withstand a drop of up to 30m thanks to the rubber overmold housing and dual metal guardrails which offer superior impact protection. Reinforced screw connectors with locking ferrules will keep the tape secure inside while holding everything in place, preventing the product from splitting.
The narrow, nylon coated blade keeps the weight of the Crescent Lufkin Shockforce down, while also adding extra protection to extend the life of the blade.
The Shockforce's compact size will fit perfectly in your hand, but don't be fooled by how lightweight it is. Boasting a 4m standout, measuring has become a whole lot easier. Additionally, the double-sided vertical marking makes for quicker and easier measuring to help you get the job done faster.
Although the Shockforce can survive significant drops, the integrated tether slot provides increased safety by allowing you to tether the tape measure when working at height. Not to mention, the steel pivot point can also help you draw perfect arcs and circles. Thanks to the diamond-coated 360-degree end hook, the Crescent Lufkin Shockforce will give you 50% more gripping power to prevent slippage, making working on your own that little bit easier.
If you're after a highly durable, all-rounder measuring tape, the Crescent Lufkin Shockforce might just be the answer.