Bendigo joins the 'no dig' plumbing revolution
Homeowners and businesses in Bendigo and central Victoria can save thousands of dollars when it comes to blocked, leaking or damaged pipes with the launch of a new technology.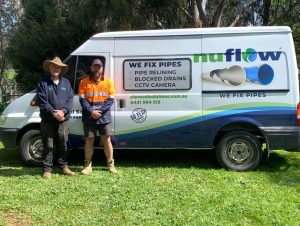 Nuflow Pipe Seal Solutions at Bendigo has a unique system of relining pipes from the inside, meaning no digging or excavation is required, with the work guaranteed for up to 50 years.
Franchise owner Phil Kelly says the system is a real game changer when it comes to plumbing repair work and the first time it's been seen in the area.
"You'll never know if you've got blocked, leaking or damaged pipes until the problem literally surfaces, and in most cases it's too late," Phil says.
"Nuflow helps in two ways, firstly to fix the problem without ever having to dig the pipes up, which can be an expensive exercise and cause all sorts of inconvenience.
"More importantly we provide pre-house purchase and home renovation inspections to ensure you don't end up in an emergency situation in the first place."
Nuflow's technology is only a fraction of the cost of digging and can fix even the trickiest of problems usually within a day.
"Using the latest CCTV camera equipment we pinpoint the exact location of blocked or damaged pipes, clear them then use one of our innovative products to fix it from the inside," Phil says.
"Relining can be carried out on all kinds of pipes, including clay pipes that are clogged by tree roots.
"Our process makes them stronger than they were before and we can even address difficult joins, bends and dead ends."
Phil, along with his wife Marg and son James have joined Nuflow as a franchisee to offer the unique full pipe rehabilitation service for residential, commercial and government work.