Justin Felix catches up with well-travelled industry stalwart Grant Stewart to learn about his role in plumbing, both in Australia and around the globe.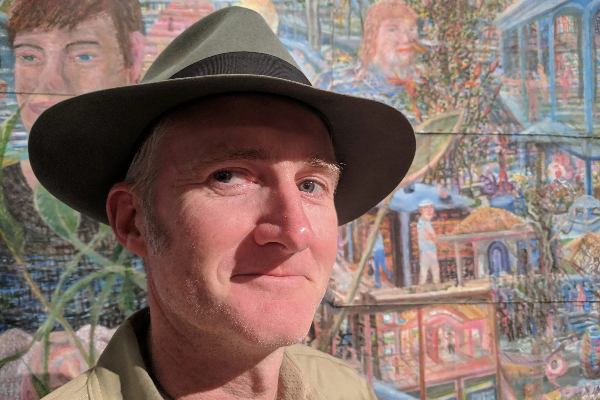 When most people think of plumbing, they conjure up images of utes, pipes, tools and toilets. You and I know a career in this industry spans far beyond those four objects though.
Perhaps you aren't quite aware of just how far plumbing can take you though. Grant Stewart knows all too well that the world really is your oyster when it comes to this proud trade.
While his journey is a fairly unique one, it demonstrates that opportunities abound well beyond those on the tools.
On the day we spoke, IAPMO Group international program director Grant Stewart was preparing for a 10-day trip to Indonesia as part of his work with the International Water, Sanitation and Hygiene Foundation (IWSH) and the Community Plumbing Challenge (CPC).
The project's initial focus will be the design and construction of a new public toilet and hand washing facility, intended to support ongoing efforts to drive further tourism to the village alongside improving local sanitary conditions for residents and the surrounding community.
The program saw a skilled international volunteer team comprising plumbers, architects and engineers collaborate with local community host partners to develop a design and work plan which is due to be built during a larger project in May.
As it turns out, this type of working week is far from unusual for Grant, who attributes much of his career progression and opportunities to WorldSkills.
"I started my apprenticeship in 1992 and went through the Master Plumbers group training scheme in New South Wales.
"I then completed my plumbing licensing course at a TAFE in Wollongong. Toward the end of that I competed in a regional WorldSkills competition in 1996. I was lucky enough to win it. From there I was invited to a national competition in Canberra the following year," Grant says.
He still can't quite believe he won that competition too. It proved pivotal though as from there he was invited to compete in the international competition in July 1997 in St. Gallen, Switzerland.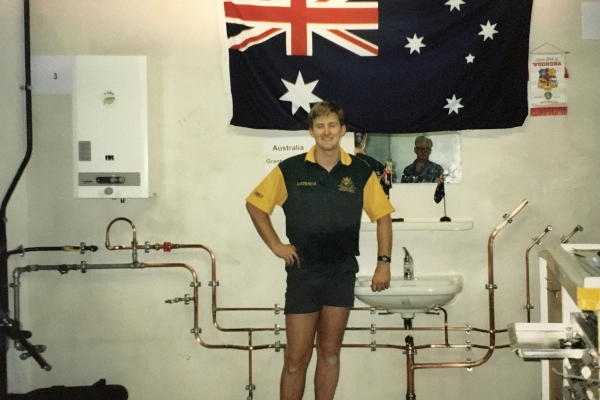 "As a young bloke, I was pretty scared, especially with the foreign language and just being in Switzerland, but I ended up getting a bronze medal. That led to a lot of opportunities as well."
The following year the founder of WorldSkills Australia put together a skills taskforce called 'Skills Across the World' and Grant was invited to Zimbabwe to share skills with people who didn't have the opportunities to learn and acquire them themselves.
"That was an incredible experience. Living in a rural village pretty far from anything was a real eye opener. That got bigger the following year and I took on a team leader role. There were 14 of us there.
"I quickly discovered there are plenty of opportunities overseas work-wise for a plumber," Grant says.
Canada and Europe (working on the tools) beckoned beyond Zimbabwe before Grant eventually settled back in Australia in 2003.
When he came back to Aussie shores he got involved in WorldSkills in an even greater capacity. The gentleman who had been running it had decided it was time to move on so Grant took it on. He was involved in a bunch of roles including National Chief Judge, International Chief Expert and Assistant Technical Delegate. He also worked as a plumbing instructor at the Illawarra Institute of Technology's Wollongong campus.
It's fair to say Grant enjoys being busy. And he continues to do so in his current position with IAPMO, which engages WorldSkills for recruitment.
"I started at IAPMO at the end of 2015. I had met Russ Chaney in Leipzig 2013, who was the then chair of World Plumbing Council and we got chatting. We realised there were many synergies between my background and what IAPMO was doing. It set me on a new path and we've achieved great things thus far," Grant says.
At last year's World Plumbing Conference, I heard Grant talk about the 45th WorldSkills competition in Kazan, Russia, and the 'Champions' sustainability project which ensued.
Champions and experts from over 30 countries and regions joined efforts to deliver three new toilets and washrooms to the Derbyshkinskiy Orphanage. Reusing some of the materials from the Plumbing and Heating Test Projects including the steel frames, pipes, and ceramics, they assembled the toilet and washrooms at Kazan Expo in a special
Team Project on the final day of competition, ready for transportation to the Orphanage where they were installed in the days following WorldSkills Kazan 2019.
The Plumbing and Heating Champions project was a collaborative effort between several organizations including IAPMO.
The International Water, Sanitation and Hygiene Foundation – also known as IWSH – is the charitable arm of The IAPMO Group, and the platform through which the organisation's philanthropic and community-based programs are delivered.
These projects have provided ongoing opportunities for WorldSkills Champions to further their personal and professional skills development pathways ever since.
Needless to say, Grant feels forever indebted to WorldSkills and encourages young plumbers, new to the game, to get involved. As you can see, the opportunities and exposure to new learnings and people are truly endless.