A smarter way to tackle leaks
Leak monitoring devices and software is a growth market in an industry seeing an all-time high in the number of water damage related insurance claims. Anna Hayes finds out what's on the market.
To some extent, we've all been there: you nip to the shops and come back to find your flexi hose has burst and your washing machine's leaking all over the floor; or worse, you've gone on holidays and the pipes have packed in, leaving a mess all over the house you cleaned from top to bottom before you left.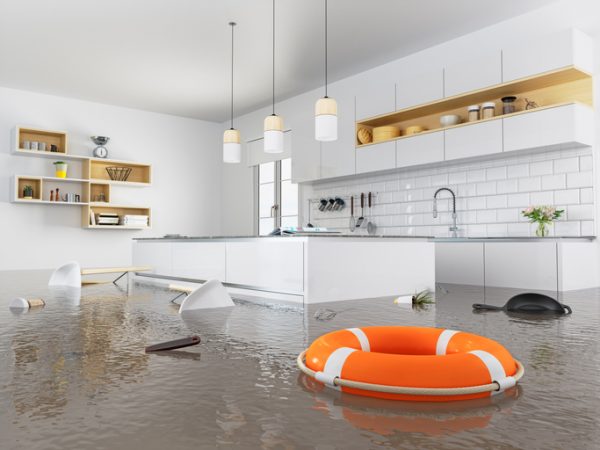 A recent report by insurance company Chubb, 'Get Smart About Water Leaks' shows that internal water damage is now a more common and costly risk than fire and burglary. While some of it can stem from natural disaster and weather catastrophes, the vast majority of it comes from man-made issues inside the four walls of the building.
The report found that in the past ten years the frequency of sudden burst water pipes had nearly doubled, with the average water damage claim increasing by 72% in the past five years. The report attributes this to the increasing number of plumbed-in appliances in homes as well as extra bathrooms on upper levels, and open-plan spaces.
According to the report, the leading causes of water damage in Australian homes are: burst flexi hoses; water damage from appliances; blocked gutters; and blocked drains.
Similar research in the US showed that 94% of homeowners have smoke/fire alarms in their homes but only 1.5% have water shut-off devices. No such figure for the latter exists for Australia but, given the slow uptake on such technology, it is expected to be lower.
Lisa Kable from Understandinsurance.com.au, the Insurance Council of Australia's consumer education initiative, attributes the rise in leak-related claims to the increased use of flexible hose pipes, their treatment and the variance in quality of the product.
She stresses that insured parties would need to consult their respective insurance companies as regards premium incentives once a proposed app or device was proven to work.
There are two main methods for combating leaks – leak detection and water shut-off devices which, installed together, can provide great peace of mind for plumber and homeowners alike.
Traditionally, the plumbing sector has been slow on the uptake of technological innovation but with more and more IoT-enabled devices and appliances, it is only a matter of time before the complete smart home exists.
So what's on the market in this area?
While StreamLabs' Control system isn't available in Australia yet, it is a system that gives the homeowner insights and total control over their plumbing system, the aim being to protect homeowners from being one of many water damage claims that happen each year.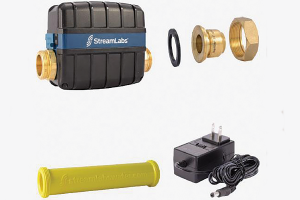 The system can also identify leaks that, while not necessarily causing damage, could hike up water bills.
The StreamLabs Control uses patented ultrasonic technology to measure the amount of water being used – it learns the home's water usage pattern and so can alert the homeowner if there is a differentiation from this. The water can be shut off via the app by the homeowner, or it can be set on the Control to automatically shut off if the homeowner is not near their phone.
Reliance Worldwide Corporation (which owns StreamLabs) product manager Abhishek Shrestha says that the main driver behind the Control system was a desire to protect most people's most precious asset – their home.
"Many people who have not had a water damage claim don't realise how disruptive it can be to a household; in many cases the family must vacate the house for an extended period of time while the repairs are undertaken."
The Control system must be installed by a licensed plumber and Abhishek says that it offers peace of mind to the homeowner, and reputational kudos for the plumber in question.
"Rather than fixing problems when they arise, the Control provides the home owner a level of visibility and control that is a preventative measure instead of a reactive one. Offering that peace of mind and security is going above and beyond from a customer service point of view. The plumber's role can be more focused on preventative maintenance rather than fixing the damage after it has occurred."
In the US, where the Control is already available, a number of insurance companies give discounts on insurance premiums for installing this device. Abhishek says there have also been instances where insurers are making it mandatory to install such a device in houses that have had previous water claims.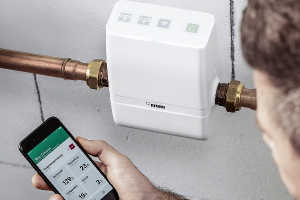 REHAU's RE.GUARD is a similar system. Identified as a largely untapped opportunity, they developed the unit as an additional offering in its range of products made for the professional installer. It must be installed by a licensed plumber.
The unit is installed in the main cold water line supplying the home; it can be used in all pipe systems, metal or plastic, and components that come in contact with water are lead-free.
Using ultrasound technology, RE.GUARD measures the water flow and detects abnormalities – a low flow may indicate a leak whereas a sudden high flow could suggest a burst pipe – and will automatically shut off the water and send a message to the homeowner, or building owner, via the RE.GUARD app. For further functionality, wireless floor sensors can be placed at strategic locations around the house to detect water leaks from appliances like, for example, a washing machine.
It also helps you to keep track of your water consumption.
REHAU ANZ technical director of building and infrastructure solutions Christoph Schrader points out that with water damage being one of the most frequent insurance claims some insurers in Europe have started offering discounts on premiums when a leak-detection device is installed, similar to discounts offered for houses with alarm systems installed.
"Such incentives are useful since they promote the installation of leak detection devices and, in turn, reduce the impact of water damage. Ultimately, this has a good potential of lowering insurance premiums generally."
Grohe's research on this subject goes back to 2017 when a survey of ten European countries showed the discrepancy between perceived water damage in households, and the reality of the situation. In the survey of over 2,000 Europeans, people believed that just 37% of households had suffered water damage – the real number was 54%.
As in other such surveys and reports, water damage was not perceived as the biggest concern to homeowners – it placed third behind fire and burglary.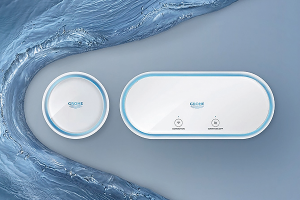 The causes of water damage are different too in Europe with burst pipes the main issue, followed by rain water coming through the roof, small leaks or cracks in pipes, water coming through the roof from a tenant above, and defective appliances.
Grohe offers two products – Grohe Sense and Sense Guard which work hand-in-hand to prevent water damage in the home.
Grohe Sense is a water sensor that sends an alert as soon as it detects water leaks, frost risk or senses humidity. On contact with water, it beeps and emits a pulsating red light as well as sending a notification via the Grohe Ondus app, giving the chance to stop the leak before it becomes a flood. It is best installed in leak prone areas such as under a kitchen sink, in the bathroom, or alongside appliances such as a washing machine.
Working in tandem with that is Grohe Sense Guard, a unit which is installed on a pipe and which allows for, among other things, the automatic and manual shutting off of the water supply – whether that's by the home or building owner leaving the house empty for a period, or an automatic switch-off if a pipe break is detected.
Sense Guard also detects leaks, frost risks and unusual water flow and sends an alert via smartphone app. It also tracks water consumption.