6 key tips to getting repeat business
If creating repeat business does not top your priority list, you need to revisit it immediately. Studies show that getting repeat business is much easier than acquiring new customers. An existing customer is already aware of your service and pricing policies. Some customers may even share a bond with your service team.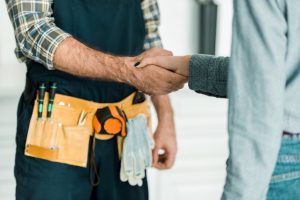 When trying to sell to an existing customer, you won't have to start from the beginning and can use customer information collected previously to customise your package. The customer too does not have to spend time getting familiar with your business or researching it. Here are a few tips that you can follow to generate repeat business:
1. Adopt a professional attitude
When it comes to winning over your customers, the importance of adopting a professional approach cannot be emphasised enough. Your conduct has a major impact on your brand's reputation. To present your business in the best light possible, always be clear with costs. Make sure your quotes include a break-up of your fees. Charging hidden costs is a big NO.
Your plans should be comprehensive and meticulous. Go the extra mile, if required, to offer custom, affordable, and sustainable solutions. Consider deadlines sacrosanct. Before starting to work on a project, create a communication channel between your team and the customer.
2. Periodically follow-up with existing customers
Customers have a short memory. A business that fails to reach out to its existing customers at regular intervals runs the risk of sinking into oblivion. Businesses that contact their customers only when they need to make a sale send a wrong message. When it comes to improving customer experience hot water supply company 1stchoicehotwater has found success using surveys and recommend using them to gather client feedback at regular intervals.
Send regular notifications regarding discounts, special offers and product launches. Mail newsletters, marketing collaterals and other documents that include information related to recent developments in your community and industry to your customers. Share DIY tips and how-tos.
3. Provide personalised customer service
To make your customers feel valued and special, you need to customise your interactions with them. Write your old customers personal, hand-written notes frequently. Wish them on special occasions such as their birthday and anniversary. In all your communications, address your customers with their first name. Offer multiple service channels.
Train your customer service reps to sound human when communicating with customers. Make recommendations based on the customer's past buying behaviour. To ensure that the customer does not have to suffer when the customer service rep attending them has to hand their case to another team, create smooth transitions.
4. Create a loyalty program
To reward your existing customers for choosing your business over the competition, design a loyalty program. Offer surprise bonuses to customers who have been shopping with you for quite some time now.
To show your existing customers that you appreciate their support, offer thank-you gifts. Use a tier system to reward initial loyalty. Partner with companies that share your vision to provide all-inclusive offers. When launching a new product, consider offering special access discounts to your loyal customers or providing them with limited-time exclusive access.
5. Host customer-only events
 If you are planning to launch a new product or technology, hold a customer preview. Supply refreshments during the meet. Invite your loyal customers to celebrate special occasions such as your business' anniversary.
6. Maintain and use a CRM system
 No matter the size of your business, consider using a CRM a necessity, not a matter of choice. CRM systems help capture important customer information related to their preferences. This information can be used by your sales, marketing and customer service team to come up with better recommendations.
Before calling a customer, a sales representative can take a look at the details related to past interactions with the customer. They can use this information to modulate their tone and message in a way that suits the customer's preferences.
Authors Bio: Zac Ronin is a customer relationship expert with a strong background in transforming businesses and connecting clients and employees with streamlined systems. He currently works on a consulting basis for 1stchoicehotwater.
Sources:
https://www.americanexpress.com/en-us/business/trends-and-insights/articles/8-ways-you-can-provide-more-personalized-customer-service/
https://www.bagabuilder.co.uk/blog/the-secrets-to-getting-repeat-customers-as-a-tradesman/
https://blog.hubspot.com/service/customer-loyalty
https://www.e3accountants.co.nz/17-ways-to-get-repeat-business/
https://smallbiztrends.com/2018/09/repeat-business.html
https://www.entrepreneur.com/article/242073
http://customerthink.com/7-clever-ways-to-help-you-get-repeat-customers/
https://www.business2community.com/sales-management/5-easy-tips-to-get-repeat-customers-02104835