West Side Stories: The WA plumbing sector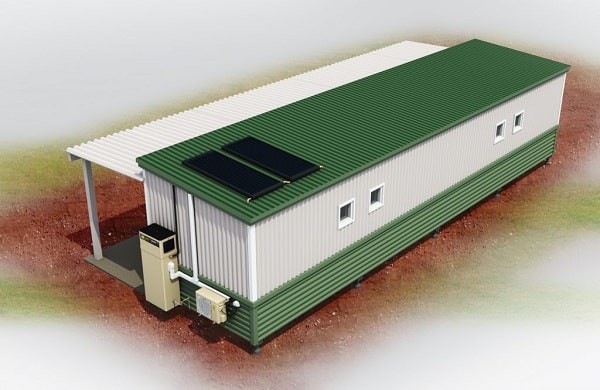 In the first of our series of articles focusing on state-based manufacturing that serves the national plumbing sector, Cameron Grimes takes a look at some of the innovations coming from the leading suppliers in the West Australian market.
From simple household water saving products to revolutionary advancements in waste management systems, the West Australian plumbing sector is providing some of the most ground-breaking plumbing solutions on both a national and international scale.
The following six Perth-based companies have provided Plumbing Connection with an insight into their most innovative and popular plumbing products, as well as any challenges they faced in the design, manufacturing and marketing processes.
Heat Trap Solar
Heat Trap Solar has a strong focus on providing both the local Perth and Australian markets with alternatives to fossil fuel hot water systems.
The Osborne Park-based company is well known for its  solar hot water systems, but also manufactures industry grade safety shower chillers in conjunction with mining corporation, Rio Tinto, which are implemented in mining  sites nationwide.
"Our chillers are the only products available worldwide  for retrofitting to installed eyewash safety showers, and
for which we have been granted Australian and international patents," Heat Trap Solar general manager Ashley Challenor says.
The company's shower chiller has curbed a serious  issue within the mining industry, that being the extremely  high temperature in stagnant water systems on mining sites. The shower chillers not only reduce the water temperatures to safer levels, but can also control bacteria growth, significantly reducing the levels of Legionella bacteria in water supplies.
Heat Trap Solar aims to work with more companies to ensure a consistent product standard is implemented across the industry.
Both the hot water systems and shower chillers have received Energy Saving Products of the Year accolades by the Master Plumbers and Gasfitters Association of WA and Building Commission Awards for Excellence.
"Our hybrid solar hot water heater provides sufficient  hot water for a family of four for less than $200 per year," Ash says.
"One of the challenges we faced during the development of the hot water system was marketing a locally made, highly efficient hot water system into an industry dominated by international competitors."
Doust Plumbing Products
Doust Plumbing Products has been making waves around the globe with its water-saving technologies for nearly 20 years. The company is best known for DoustValve, a variation on traditional tap washer systems, which was released in late 1998.
The system is renowned for its drip-proof technology and durability, and is widely used in both Australian and international commercial installations, with millions of units being shipped since its release.
The DoustValve was born in the family garage of company owner Philip Doust, who was driven by the lack of local products in a market dominated by international imports.
"I have always been fascinated with the way things work and how they could be designed and made better," Philip says.
"The tough part of the development process was that I had a young family. I had to work in the mornings as a plumbing contractor to keep the cash coming in, and in the afternoons I worked on making and bringing the DoustValve to the market.
"I knew instinctively that the DoustValve would work, yet we did some very extreme testing with prototypes before I spent on major tooling."
Doust Plumbing's latest product in development, the Rainwatch filter, is a patented filtration device that is designed to clean rainwater before being stored in tanks.
The filter promises to remove 99.9% airborne contaminants from rainwater and protect the water from being further contaminated by insects.
Holman Industries
Since 1966, Holman Industries has prided itself on providing creative irrigation, gardening and lighting solutions to the Australian market. Recently, the Osborne Park based, family owned business has entered the highly competitive plumbing product industry, and has already established itself as one of the leaders in the market.
Holman Industries offers a full range of plumbing solutions, including drainage, waste and vent (DWV), stormwater and PVC pressure fittings, pipes and grates. The company has successfully tapped into the international markets, having a large presence in both the United States and many European countries.
Holman Industries recently merged with Fabfit, a leading Australian-based plumbing fitting manufacturer, in order to quickly establish themselves in the market. Fabfit's manufacturing facilities allow Holman Industries to develop special fittings and assemblies for customers upon request.
The company recently introduced a Bluetooth operated tap timer into its Smart Irrigation Control line of products, which takes advantage of customer's smart phone and/or tablet devices.
The iWater app works in conjunction with the Holman tap timer and smart valve, which were both designed and manufactured in Holman Industries' Perth warehouse.
Australian Valve Group (AVG)
The main focus of AVG's business, since being founded in 2000, is manufacturing heating and control valves for both the Australian and international plumbing industries.
Along with providing products to suit gas storage, electric storage, solar hot water and heat pump system installations, AVG prides itself on the efficiency its Quickie range of products provides to plumbers.
Developed by the company's research and development team in Kewdale, Quickie kits promise to provide all necessary parts for various hot water system installations.
AVG managing director Peter Morris says that the company prides itself on providing unique and effective solutions that aim to benefit plumbers and their work.
"AVG is fortunate enough to have a talented team that is dedicated to bringing new and innovative products to the Australian plumbing industry," AVG managing director Peter Morris says.
"Having a wide range of products is just the beginning. Without our dedicated team, AVG wouldn't be where it is today."
Along with a reduction in time required to install hot water systems, the Quickie kits reduce the need for thread seal tape. An overabundance or incorrect use of thread tape can prevent male and female threads from fully engaging with each other.
"Considerations for our product designs also include conformity with the appropriate Australian Standards and installation code requirements, materials selection and cost," Peter says.
All AVG product designs and speculative work are conducted in Perth before being manufactured in Asia.
Galvin Engineering
Potentially high levels of lead in drinking water is an issue that has plagued Perth for the past few years, with a lack of local solutions halting progress in solving the issue.
Malaga-based engineering firm, Galvin Engineering, has been leading the charge in developing lead-free technology for use in schools, hospitals and public places such as parks, recreation centres and stadiums.
The company's GalvinClear technology is Australia's first lead-free push button tap that can hygienically rinse water at regular intervals in order to remove any stagnant water in its system.
The tap features an electronically activated system for use in schools and other areas where systems may be left unused for significant periods of time.
Made from stainless steel, the tap's construction ensures there is no risk of lead leaching into the water. The stainless steel fittings can also provide endurance against salt water and other environmental hazards.
Galvin Engineering managing director Chris Galvin says the controversy surrounding DZR brass fittings being installed at Perth Children's Hospital, as well as a strong demand from the community for safer tap alternatives, was the driving force behind the developing GalvinClear.
"We often forget that safe drinking water is an essential part of our everyday lives and at Galvin Engineering we continue to create products that support health and well being," Galvin Engineering managing director Chris Galvin says.
Vacuum Toilets Australia
Vacuum toilet technology in Australia, until recently, has fallen behind the rest of the world in terms of development and implementation.
Claremont-based Vacuum Toilets Australia is one of  the leaders in developing products for the local market. Director of operations Andrew Okines says that the company's Original Equipment Manufacturer (OEM) identified the sensitive water issues in both Australia and New Zealand, yet there were no standards developed for the vacuum toilet market.
Now that a standard exists, Vacuum Toilets Australia has designed a range of vacuum toilet, urinal and pump systems, with its floor and wall mounted toilets only requiring 0.8L of water per flush.
"Vacuum drainage installation provides complete flexibility in design and plumbing location, and is not restricted by the limitations of gravity," Andrew says.
Vacuum Toilets Australia's range of Jets vacuum and toilet urinals has achieved a 6-star Water Efficiency Labelling System (WELS) rating.
The Jets systems are not limited to just toilet and urinal installations, with technology having the flexibility to be used with hospitality waste systems and other amenities such as hand basins.
The company recently implemented its vacuum drainage technology in the development of Perth's Intercontinental Hotel waste water systems.