Water saving product schemes across the world
Labelling water-using products is a growing practice across the globe, with many initiatives being implemented. The global map shows the varying schemes already in existence across the continents. Consumer labelling has a pivotal role to play in influencing behaviour change, a fact that is already evident.
Labelling not only provides the consumer with sufficient information to make an informed choice at point of sale, it also provides the manufacturer with a competitive tool and aids research and development for greater sustainable products. Quality water efficient products, and by its association energy, is only part of the equation. A change in behaviour is primary to driving efficiency measures. Consumers must be encouraged to undertake small changes such as:
● Turning taps (faucets) off when not in use
● Maintaining products in good working order
● Reducing shower times by one minute per shower
● Don't use the WC as a rubbish bin
There are an increasing number of approved products across the world which are recognised as being water efficient. The schemes recognised by the World Plumbing Council are shown in this table: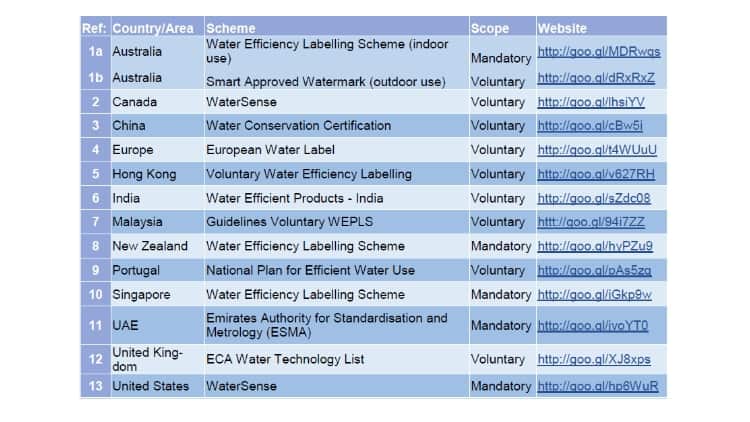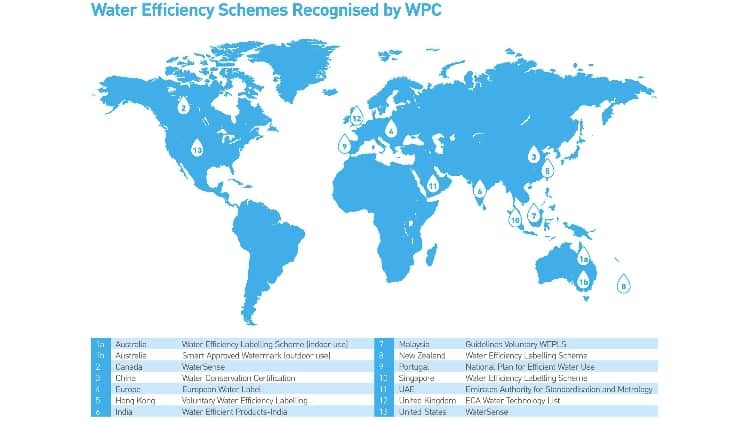 The introduction of effective product labelling promoting the value of using water wisely and demonstrating product efficiency is a positive proactive step to having consumers commit to water efficiency and energy conservation. The prime challenge and objective for water efficiency is in preserving the world's precious and finite water resources.
The World Plumbing Council supports the need to "Use Water Wisely and Save Water Safely" and recognises that "without water there is no life and without sanitation life is short".
To find out more about this subject, please contact secretariat@worldplumbing.org