Water recycling means water savings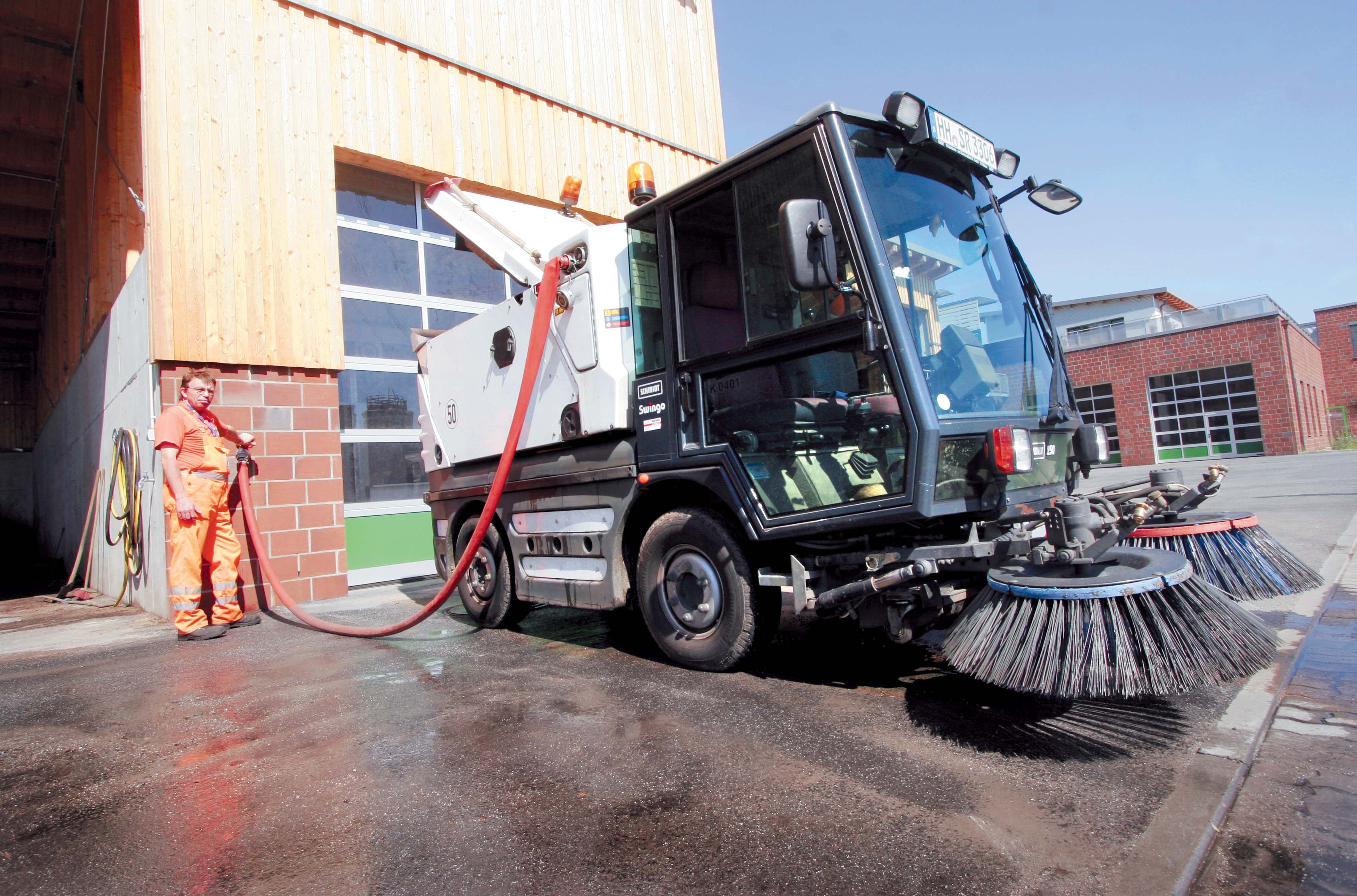 Hansgrohe, famous for its innovative plumbing fixtures is equally passionate about 'upstream' water recycling.
A decade ago many progressive companies in the plumbing sector were investigating ways to make their products more water-efficient. But few many organisations were devoting significant R&D funds to the development of affordable, genuinely maintenance-free systems for recycling domestic and commercial grey water. An exception was the Germany-based international company Hansgrohe AG, which realised in the mid-1990s that the world of the future would need more sophisticated recycling technologies to create meaningful water savings.
Pontos GmbH – a business division of Hansgrohe – is the result of that far-sighted realization.
Pontos currently produces six water recycling models in its AquaCycle range. With an environmentally sensitive approach to the problem of water scarcity, the premise behind AquaCycle makes sense: Instead of constantly upgrading water infrastructure, why not achieve the same result by reusing the water already at our disposal?
Hansgrohe CEO Klaus Grohe speaks about Pontos with the passion of a proud father. He says Pontos was formed in 2001 as the fourth business unit of the century-old Hansgrohe conglomerate of companies, though the genesis of the AquaCycle technology dates back to 1994 when Hansgrohe, in collaboration with Technische Universität Berlin, sought solutions to long-term grey water treatment and safe storage.
The journey from concept to production, Mr Grohe admits, was a lengthy but necessary process during which quality control dictated progress.
"We do things slowly in the Black Forest," he jokes, referring to the company's headquarters in Schiltach, in the heart of the Black Forest.
The AquaCycle system uses a unique, multi-patented bio-mechanical water purification process for treating grey water in both domestic and commercial applications. AquaCycle models range in capacity from the AquaCycle 900 (capable of treating 600L (158 gallons)of grey wastewater per day) to the AquaCycle 21000 (with a capacity of up to 20,000L (5547 gallons) per day).
All models treat water from showers, baths and personal wash basins – but not toilets, kitchen sinks or dishwashers – for reuse in toilet flushing, garden watering, clothes washing and numerous other cleaning and hosing applications where non-potable water is required, including street sweeping!
Treated water, Mr Grohe explains, is classified as non-potable 'clear water' and is free of pathogens and germs.
"The quality of the clear water produced by the AquaCycle system meets the requirements of the European Union directive for 'recreational water' and fully complies with all hygiene specifications," he says.
"If a child swallows water while swimming in a lake, nothing happens. The same applies to our treated water: Neither physical contact – even over a prolonged period – nor the unintentional drinking of this water carries any danger of infection."
Four-step process
AquaCycle units can be installed in both new and existing buildings, and great attention has been paid to the production of a system that is both maintenance-free and easy to operate. A standard unit occupies about the same space as a wardrobe and takes about two hours to install. Associated piping must be fitted separately so that wastewater from showers, baths, etc, is directed straight to a holding tank for primary treatment.
At this initial stage unwanted contaminants like hair and textile fragments are removed and diverted automatically to the main sewage outlet. It is worth noting that mains water never comes into contact with specially labelled and identified pipe networks carrying treated water.
"Any plumber can assemble and get the plant running without difficulty," Mr Grohe adds.
The second stage of the process involves the biological break-down of the water in a microbial environment. Microbes attack unwanted organic waste in a self-perpetuating process; there is no need to replenish or 'top up' microbe supplies once the treatment process is active.
This part of the process required significant research and development, Mr Grohe says, and was favoured over alternative chemical-based treatment systems. Not only do microbe-rich environments break down waste 'naturally', but they also live up to the ideals of a completely non-polluting system. Furthermore, by avoiding the use of caustic chemicals there is no risk of corroding standard plumbing pipes and fixtures with abrasive, non-traditional substances.
In the third stage sediment is removed automatically and flushed away with general sewage. As with all steps in the process, functions are fully automatic and do not require external intervention.
The fourth stage involves UV sterilisation of the water to destroy any lingering pathogens. As Klaus explains, the best proof of effectiveness lies in the fact that UV-treated water remains inert even if kept in storage for long periods in warm conditions.
Following UV cleansing water is siphoned to a pressurised storage tank for delivery to utilities such as toilet cisterns as required. Automatic pump systems ensure smooth and consistent water delivery to whichever outlets are used. Mains water is diverted to the storage tank automatically in case supplies of treated water become exhausted.
Applications
"When we were first examining the AquaCycle system I was thinking almost exclusively of domestic settings," Mr Grohe concedes, "but it became evident very quickly that there was a big commercial demand for this technology. And I suppose it makes sense: the greater the amount of water to be recycled, the greater the savings."
While Pontos was founded in 2001, AquaCycle units have only been marketed in earnest since 2003. To date some 800 units have been installed, mainly in Germany, with a little more than half in commercial establishments. The remaining units have been placed in houses, apartment buildings and similar tenements.
One of the most interesting installations is at Stadtreinigung Hamburg, a major municipal cleaning depot with 200 employees, 35 showers and 32 hand basins. Opened in July last year, this water treatment facility is a customized version of the AquaCycle 21000 and is the first municipal grey water recycling plant of its kind in Germany.
Owing to the depot's double-shift operations, water treatment occurs in two major cycles per day to coincide with the end of each shift, whereas smaller systems function continually. Water savings amount to approximately 8200L (2166 gallons) per day, or 40% of all water consumption at the site. These savings equate to some 2.2 millionL (581,000 gallons) per year, taking into account 260 actual work days annually.
Since most cleaning works undertaken by depot personnel involve street cleaning and other civic washing services, it should come as no surprise that the recycled water has many diverse uses. Treated water is used not only to flush toilets and urinals of the complex itself, but also for washing vehicles and filling street sweepers. In addition, recycled water is used to wet road salt for de-icing applications.
All these tasks would have relied (needlessly) on potable mains water before the AquaCycle unit was installed.
Water is gold
Consumers, depending on their local geographical and economic conditions, will appreciate the twofold advantages of recycling water. In the case of Stadtreinigung Hamburg, where recycled water costs between $0.30 and $0.41 per cubic metre, the financial savings are significant. Payback periods of installing AquaCycle units, however, should be viewed in a more complex fashion. In terms of reducing the burden on fresh water resources, the widespread adoption of recycling facilities can minimise the costs of updating water storage infrastructure. Furthermore, systems like AquaCycle serve a vital function in limiting the sheer volume of wastewater going into general sewage systems, saving additional expense on disposal costs.
But perhaps the greatest savings come from potential improvements to water supplies as worldwide populations increase.
"According to studies by the UN, in 2025 about four billion people will not have sufficient potable water," Klaus says. "The densely populated areas in the tropics will be especially affected. But even today, a western metropolis such as London has problems guaranteeing the supply of sufficient drinking water for its population. Hamburg too has for years suffered from an inadequate supply of drinking water for its population.
"What we will have to get used to is the fact that water is a scarce and therefore a precious commodity."
In other words, finite water resources will be spread more thinly across growing populations in years to come, enhancing the need to conserve, protect and gain the maximum benefit from this 'liquid gold'.
Governments have already accepted that they have a role to play in the promotion of water conservation by offering rebates on selected products, and many customers of AquaCycle units in Germany have benefited from $1795 subsidies by municipalities like Hamburg (about a third of cost price). Similar far-sighted schemes are in operation elsewhere in the world, and Klaus suspects that water recycling technologies may one day become permanent – even mandatory – features of the world's water management systems.
"Apart from the ecological and social aspects of this development, rising water prices will play their part in making water saving more attractive," he says. "Water recycling makes economic as well as ecological sense by using the resource of drinking water in a responsible and sustainable way. Therefore, I'm sure that in the near future water recycling systems will be part of the standard equipment for buildings. It also can't be ruled out that legal requirements in this area will be introduced in some countries."
Future
As leaders in innovation in the sanitation industry, Klaus asserts that it has always been the aim of Hansgrohe AG to continually improve and further develop its products.
"This also applies to Pontos, as the potential for innovation in water recycling has surely not yet been exhausted."
Surely this is an understatement – far from being 'exhausted', water recycling R&D is set to become a massive growth sector tackling water re-use in even broader markets.