Tūroa creates personalised shower experience.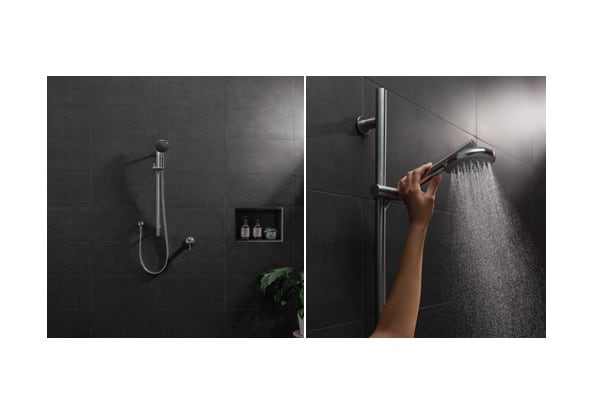 Methven has created a tailored shower experience with its Tūroa design, available on the market from September.
Tūroa, powered by VJetTM patent-pending shower technology, is designed to meet diverse shower needs and experiences at different times. A smooth slider on the handset allows for transition from a firm spray, to gentle warmth and everything in between.
The Tūroa VJet has hidden channels that create spirals of water which are precisely released through individual nozzles, creating the ultimate personalised shower experience.
Methven head of design Andy Grigor says Methven set out to understand showering habits and daily routines better than anyone else and this resulted in the development of Tūroa.
"We discovered that everyone is different with different habits, routines and needs. Inspired to create an experience which adapted to changing needs or mood we developed Tūroa, a shower system which allows you to experience the desired effect, whatever your mood, with a simple slide of the thumb."
Tūroa is crafted from stainless steel and using a simplified manufacturing process that is more sustainable than traditional methods.
"With sustainability being one of our key ongoing strategic pillars, and a focus on circular economy, we have chosen to manufacture Tūroa from stainless steel rather than brass and chrome," says Methven chief executive David Banfield.
"It is harder wearing than traditional brass, avoids the need for chrome plating which is harmful for the environment, and is easier to recondition, allowing for re-use in the future. It also allows for greater design detail flexibility, and offers a high quality and precision-engineered product."
The Tūroa range, inspired by familiar forms and materials, includes matching stainless steel tapware and accessories to improve any modern bathroom design.
"Tūroa's aesthetic is precisely balanced with minimal details and the warmth of soft lines. Brave modern forms, and fine details combine throughout the collection. The design is intuitive, precisely balanced and distinct," says Andy.
"Our design philosophy is based on the discovery of simple moments. We not only seek to ease our customers' journey, but develop intuitive solutions that are designed with genuine thought and care."
Designed, developed and manufactured by Methven, Tūroa won both the 2018 Good Design 'Best in Class' Award at the Australian Design Awards as well as the 2018 Red Dot Design Awards for product design.
The Good Design Awards jury commented that Methven Tūroa showed 'exceptional design with amazing resolution' and the product is 'beautiful to behold and use' with a 'simple, elegant design that you can see and feel immediately'.
Tūroa was one of 6,300 product entries from 59 countries vying for the Red Dot Design Awards honours.
"We are absolutely thrilled to achieve this hugely prestigious award that further enhance our reputation as a global leader in shower design, spray technology, and stunning form," says David.
"Tūroa has been developed from start to finish in about 18 months, and has been developed to enable fast and cost-effective proliferation of another award-winning shower experience from Methven."
The Turoa product collection will launch to Australian consumers this September.