Toyota Material Handling Launches Huski Excavator Range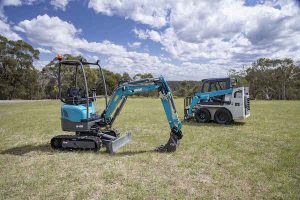 Toyota Material Handling Australia (TMHA) – distributed Huski – famed for its tough and reliable skid steer loaders – has launched its first range of Huski mini-excavators, featuring high break-out force and zero tail-swing.
The range consists of seven models including one 1.3-tonne short-radius machine and six Zero TailSwing models ranging from 1.6-tonne through to 6-tonne.
Huski Construction Equipment product manager, Matt Meddows, said the addition of excavators to the Huski range will greatly complement its current product offering. said Mr Meddows. "Mini excavators are a natural progression for our business as they fit perfectly with our current range offering."
"A lot of customers have been asking about excavator offerings for many years and we are proud to announce we now have a range with powerful break-out force and zero tail-swing in tonnages of 1.6, 2.2, 2.8, 3.8, 5.8 and 6.0.
"We know that operators trust our skid steer loaders because they've proven reliable in the field for three decades. Now, if they're looking for a new excavator, we can bring all the assurance of the Huski brand to them for those needs, as well.
"It was about us finding a machine we were confident would meet the standards that we base our reputation on.
"We now have the right partner to build our Huski excavators – which feature Kubota-engines – to our specifications.
"Fundamental to Huski excavators' robust construction and functional design is excellent quality-of-materials, high technological content of components and the strict inspection of production and assembly processes.
"All models in the range feature leading performance and high safety standards. They will be backed by the reputation that extends to all our machinery under the TMHA banner."
TESTED TO PERFORM
To ensure the Huski mini excavators were not only specified for Australian conditions but proven to work here, an extensive testing regime was employed.
"The first one out here was initially just to gain our own practical knowledge of the machine. We went over it thoroughly in order to make modifications to suit our standards and the applications we expect them to be working in," said Mr Meddows.
"We then tested them for over six months by loaning them to customers who already run Toyota Huski skid steer loaders and they've been giving us their feedback.
Mr Meddows said the Huski mini excavators distinguish themselves in market with their exceptional break-out force.
"We have tested their break-out force or digging power and it compares quite highly with other machines in-market," he said.
Another advantage of the Huski mini excavators is that the range from 1.6 – to 6.0 -tonnes features Zero TailSwing, as Mr Meddows explained.
"Zero tail-swing means the unit can swing 360 degrees within the total width of its chassis. The tail doesn't protrude past the width of the machine's undercarriage. The arm, boom and attachment don't come into consideration when it comes to ZTS, it's the tail of the machine-body."
The Huski mini excavators come generously equipped as standard, and many options are also available. These options will include factory quick-hitch piping, blade-float options on all models (and standard from 2.8-tonnes upwards) and extended counterweight options from 2.8- to 6-tonne machines.
The 2.8- to 6-tonne machines have the option of counterweights for operators who might want a different style of hitch on the front, or just want a bit more stability-for-application.
The 5.5- and 6-tonners will come standard with boom and arm locking valves.
An advantage that Huski skid steer loader customers who take on a Huski mini excavator should appreciate is TMHA's mobile servicing can attend to both types of machines in a single visit.
"Our service techs are also adept in the new excavators and on-site service will be conducted in a way familiar to skid steer customers," Mr Meddows said.
"Customers like to use a single point-of-call for servicing and parts. We can look after their needs for both machines, minimising inconvenience to them and helping to streamline their business.
More information on the Huski Construction Equipment range of excavators can be found at toyotamaterialhandling.com.au or free call 1800 425 438.