Testing toilet performance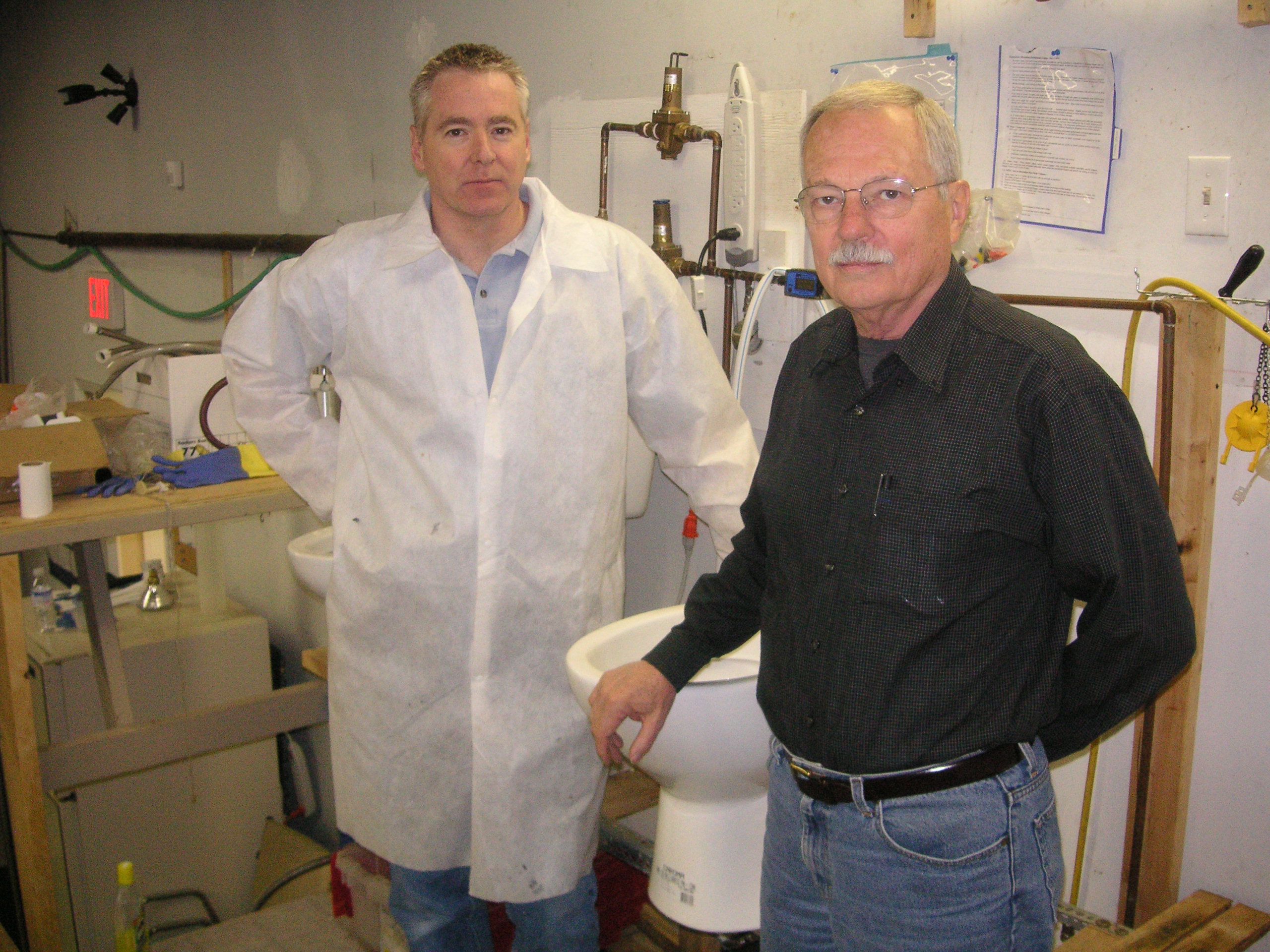 Replicating real-life situations tests a researcher's cleverness and patience, particularly when the subject is human waste.
When people look into replicating solid human waste as part of their work, you realize they must take their jobs seriously.
Bill Gauley, principal at Veritec Consulting of Toronto, Canada, and John Koeller, a leading water savings expert and principal at Koeller and Company, Los Angeles, are two dedicated engineers who have been testing toilet performance for a number of years.
Previous toilet trials initiated by the various manufacturers used sponges, plastic balls, golf balls, sawdust and/or construction paper as test media.
On a trip to one manufacturing facility, Mr Gauley and Mr Koeller noticed Japanese toilet manufacturer Toto using soybean paste to test their toilets. Messrs Gauley and Koeller selected this medium to complete their testing because many of its physical properties are similar to solid human waste.
The paste is extruded into four-inch-long cylinders with an oversize caulking gun.
"It is important to simulate the real world in terms of test media used," Mr Koeller says. "Veritec tests the flush performance of toilets and publish the results, all in the name of water conservation. We want to help consumers save water and be happy with the performance."
According to the US Environmental Protection Agency, toilets are the largest water use appliance in a typical home. And, Mr Koeller says "municipal water and waste water treatment facilities cost a lot of money, and one way to defer or eliminate plant expansion is to save water by using less volume of water to flush."
Mr Gauley's interest in toilets began when he found that toilet models of several manufacturers were flushing with more water than the Code allowed.
"In the US, 6L (11/2 gallons) per flush is the mandated maximum – you can't sell a toilet if it flushes with greater than 6L," he says. "But the mindset of many consumers and plumbers in America is that 9 or 10L (21/3 to 21/2 gallons) is required for a good flush and that 6L is just not enough."
Performance vs water saving
The first toilets in North America that flushed at 6L or less did not always perform that well. Less water meant that there wasn't enough water with enough power to clear the bowl, which resulted in unhappy customers.
These low-flow toilets with marginal performance encouraged consumers to double flush, use plungers, or get their plumber to illegally modify their toilet to use more water. Mr Gauley points out that most plumbers are more interested in having happy customers than in saving water.
Mr Koeller agrees that customers need to be satisfied with the performance of low-flush toilets. "If a low flush toilet is not performing, then the plumber, homeowner or building maintenance person may tamper with it, and that will reduce water conservation," he says, "so after tampering, a 6L toilet becomes a 13L (31/2 gallons) flusher. On the other hand, customers satisfied with their toilet's performance will not tamper with it."
Performance of 6L toilets has improved significantly since the mid-1990s, however the bad reputation of the early low-flush toilets still exists in Canada and the US and this makes it hard to sell the new high-performance low-flush toilets.
So Mr Gauley moved from flush volume testing to flush performance testing, and his research proves that 6L of water is more than enough to deliver good, or even exceptional, performance.
"Based on the results of extensive performance testing, manufacturers stepped up to the plate and began making far better toilets. While the minimum threshold for providing customer performance satisfaction is set at 250 grams (84/5oz), some models today can flush over 1,000 grams(351/4oz) of waste and can truly be classified as exceptional," says Mr Gauley.
"Customers can often get $100 or more in water authority rebates for replacing old water-wasting toilets with a 6L flusher. There is tremendous performance available in most 6L toilets, which makes the customer interested, which in turn makes the manufacturers interested. Home-owners want the performance and the rebate."
He says people in the US south west, where it is very dry, do think about saving water, particularly when a drought hits, but many people living near lakes and rivers don't believe there is a need to save water.
Mr Koeller says that there is a growing awareness of how precious water is.
"A significant drought occurred here in California in the late '80s and early '90s. There was no snow to produce runoff, therefore no water. We were importing water from 500 miles (805kms) away, and still do. The east coast has also experienced drought.
"To deal with the western drought, a significant conservation program was introduced. In 1992 the water authorities implemented a toilet replacement program and gave away hundreds of thousands of new low-flow toilets to their customers."
Uniform flushing standards
Over the years, municipal water authorities across America and Canada have created numerous lists of "approved" low flush toilets for rebates. "But they weren't based on science, just opinions," Mr Koeller says.
"The manufacturers asked us to help get water authorities to be consistent, so we put specifications together that required a level of flushing performance over and above that required for certification where the bar is so low that almost any toilet model can pass. Most manufacturers have met this challenge by producing superior products."
Messrs Koeller and Gauley have developed a flushing Standard that toilets have to meet to determine which ones qualify for water saving rebates.
"Many water authorities across the country now use our UNAR test (Uniform North American Requirements) for toilet fixtures," Mr Koeller says. "A growing number of cities and counties are encouraging homeowners to trade in water-guzzling toilets for more efficient models that meet UNAR."
However, not all manufacturers are pleased about the new requirements, Mr Gauley says. "They say using soybean paste as a test medium is more expensive and messy, while sponges and plastic balls are re-useable and easy to use. Most manufacturers agree, however, that the soybean paste is a far more realistic medium than sponges or plastic balls.
"We have made it easier to conduct performance testing by encasing the 50 gram(13/4oz) test specimens in a latex skin (like a sausage) such that it can be reused. As a result, the media is no longer messy and the cost is no longer a problem. Each encased test specimen can typically be used 100 times or more before showing wear and tear."
Mr Koeller points out that some water authorities would like UNAR to also include a test for washing down the sides of the bowl to eliminate what is commonly known as 'skid marks'. Currently, the minimum national Standards require the removal (by the flushing action) of an ink line around the inside of the bowl. Some European test labs, however, use spots of marmalade on the inside of the bowl as a test for bowl wash. "In North America, manufacturers here would kick up a fuss if we proposed something like that for our testing protocol, as marmalade is very hard to remove with a single flush."
What next?
"We are seeing great movement here toward 4L(1 gallon) toilets," Mr Koeller says. "That's good news. Because of droughts in Western US and a recent one in the East, the industry now realizes what water saving is about.
"The installation of water-efficient toilets over the past 13 years throughout North America is having a significant impact on water use. Los Angeles and Seattle are experiencing constant water demands even with huge population growth. The need to reduce water consumption is there."
Mr Koeller says that the next step is assessing water savings and testing performance for urinals, shower heads, faucets, and restaurant equipment like commercial dishwashers.
"The three main issues are performance for customer satisfaction, water efficiency, and sustainability – do water savings remain constant for the life of a product?"
Mr Koeller expects testing will branch out into sensor-operated plumbing fixtures. "Do they save water? My motto is trust, but verify. Trust what the manufacturers tell you, and also verify it: are the water savings claimed by manufacturers for different products true?
It really surprises me that organizations spend hundreds of millions of dollars on energy-saving products based on just manufacturer claims of efficiency."
Behavior is another factor that could be incorporated into testing products for water savings. "If you're testing faucets, you may get into behavioral aspects, like how people wash their hands, how long is the faucet left on, or which faucet – hot or cold – do they use,"Mr Koeller says.
Sensors have been used to respond to people's behavior. "How do sensors work? Sometimes sensor-operated toilets and urinals will flush unexpectedly just because the user moved a little. So sensors can actually use more water," Mr Koeller says.
The latest trend is toward High Efficiency Toilets (HETs) that flush with a maximum of 4.8L (11/4 gallons) (that is, 20% below the current 6L maximum). More than 75 such models of toilet fixtures now exist in the North American marketplace.
A recent UNAR report says that while HETs have not yet gained a large presence in the installed base of fixtures in the US, three factors are expected to change this over the next decade:
• the aggressiveness of the plumbing industry in developing new efficient product that performs at a level equal to or better than the installed product
• the large market represented and influenced by the water conservation programs of the US water and wastewater infrastructure operators
• the green building industry with its increasing emphasis upon sustainability and resource conservation.
The performance report (from September 2005) published the performance test results of 177 different toilet fixtures and 25 more were added in the January report, Mr Koeller says.
"That report included test results on many new models and new data on HETs, down to a 4.0L flush," adds Mr Gauley.