A Melbourne-based designer has developed an attractive and practical solution to the often unsightly bath and shower combo. Justin Felix reports.
It's one thing to develop a brilliant idea in your head, but taking the necessary steps to turn it into reality, is another thing altogether. David Kay chose to do the latter and while the journey has been long, it has certainly been one worth walking.
It was around a decade ago when David decided to study Design and Technology at university. Needless to say, he was brimming with ideas once he completed the course. The problem was, as many can concur, turning that idea into something tangible and then getting it to market is easier said than done.
"I left the course with all of these great inventions in mind but I didn't know how to go about bringing them to fruition and into the market. I had all of these questions that needed answering but instead of asking a lawyer, I became one," David laughs.
"I went and studied law, with a primary focus on Intellectual Property and Commercial Law. By putting my two acquired knowledge sets together it meant that I could firstly turn an idea into reality and then protect it through patents, trademarks, commercial structures, contract negotiation and documentation."
Further to that, David has been working at two universities for the past five years; helping them to convert their research ideas into business opportunities among the real world. I guess one could suggest he has become a one-stop shop for taking a conceptual idea to a marketable product.
After working as a Designer, Lawyer and in Business Development and Commercialisation, David finally decided it was time to focus his attention on one of his own inventions.
"I chose the S2B (Shower to Bath) Smart Shower because it had commercial appeal and I could actually afford to build it – at the end of the day, there's no point building something if you can't sell it or that you can fly to the moon in if you can't afford to take it there."
The S2B Smart Shower is a streamlined and ergonomic walk-in shower that easily converts into a bath when required. The clever design eradicates the need to step in and out of a bath to have a shower, yet still saves on space by combining the two amenities.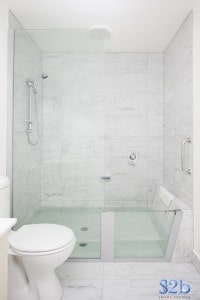 "The idea stemmed from my observation that most people shower 99% of the time, yet put up with a bath that interferes with accessibility and space. Sure, you want it there for occasional use, the kids or grandkids and resale value but most of the time I don't want it to take up valuable space," David explains.
"At the moment you have three market choices: a walk in shower, a bath and shower incorporated together or you have both of them separately, but in the same room – generally in the form of a 900 x 900 shower and a big bath that you hardly use.
"Door seal technology has been around for a long time now – mainly in bathtubs with doors that have been designed for the elderly. However I have converted a shower into a bath area (using current sealing and membrane technology) and focussed on the shower rather than the bathtub as the shower is more frequently. This is the main point of difference with the S2B Smart Shower."
David modelled his designs on Turkish, Roman and Japanese baths – which has played a big role in the elegant, practical and clever finished product.
"Everyone has sat in a tiled spa next to a pool – they're pretty easy to get comfortable and relax in. A bath is a place to soak, relax and wash; it does not have to be the traditional white acrylic or steel bathtub, it can be much more varied and exciting as are the options provided with the S2B Smart Shower."
David developed many initial designs, with each having to satisfy three main requirements:
– It had to look fantastic
– It had to work really easily
– Materials and installation had to be straightforward as he didn't want the builders or tradesmen to have to do anything out of the norm.
The S2B Smart Shower complies with current building and technology standards, using existing materials, manufacturing methods and installation processes. Accordingly, building, manufacturing and installation processes do not need to be modified by the developer, builder or resident from existing practices. The innovation can be retrofitted into renovations or installed into new premises, so it can be used in any residential or hotel dwelling.
It is cheaper than installing a shower and a bath separately and takes up less room. The extra space can also be used for another storage cupboard or wider vanity unity with two basins.
The S2B Smart Shower comes in three standard bath sizes: 1500, 1650 and 1800mm and can be installed in any orientation to ensure the shower and bath are both roomy.
Detailed specifications and installation procedures can be supplied on request.
"We supply a powder coated aluminium frame, 10mm toughened glass, shower screen and door with chrome plated hinges and latch as well as a customised silicone intrusion for the door… all structurally sound and beautifully finished. This front end, which I call a facade, can actually be installed any width away from the back wall but I recommend 850-900mm for width. Plus you can install spa jets or LED lights to customise it further. The design is only limited by the customer's imagination."
While still in the initial selling stages, interest is developing worldwide and the S2B Smart Shower has already proven popular among aged care facilities, townhouses and units where ease of access and efficient use of space is paramount.
David is currently looking for distributors and/or showrooms to display his invention as it will give people a chance to see, touch and feel it before making a decision. He also has a Patent Application protecting the idea, innovation and technology.
For a project that emanated from a simple suburban garage, the future of the S2B Smart Shower certainly looks promising.
INSTALLATION
Below is a brief description of the installation procedures for the S2B Smart Shower in place of a traditional bath. Detailed instructions are supplied with each unit.
– Remove the existing bath or provide a new space for the installation. The S2B Smart Shower does not have to fit into the end bathroom niche as one can be created in any space that will fit the installation. The S2B Smart Shower installation can be varied to suit the space and application.
– Prepare walls and floor for installation as a normal shower, but needs to hold the weight of bath water.
– The floor and walls can be concrete, or studs in the walls and a joist in the floor have to be located under the floor and wall coverings, to support the attached S2B Smart Shower frame.
– The walls require the appropriate wet-room coverings, such as cement sheeting.
– Install the S2B Smart Shower frame securely, fastening it using mechanical fixings (e.g. SS Dyna-bolts or SS screws) and chemical bonding (e.g. Sikaflex) to the floor and walls. It can be installed at varying distances from the back wall.
– Waterproof the wet area, either with a waterproof membrane or an appropriate waterproof base and wall sheet coverings.
– Screed the wet area floor to allow for fall and a solid base to lay the shower and bath coverings; or apply a pre-moulded base for the wet area.
– The coverings such as tiles; or glass or plastic panels can then be applied.
– The toughened glass shower screen and bath door can be attached after the finish coverings have been applied.
– David suggests that plumbers install a standard bath plug waste in the shower area and another waste trap on the outside of the shower in the bathroom area.
S2B Smart Shower
www.s2bsmartshower.com