Mathew Briggs takes an in-depth look at a couple of solar hot water controllers that are commonly used in solar hot water aftermarket repairs.
There is a wide range of solar hot water controllers that can be found when you go looking for them and choosing the best one for the job is easy if you know your products. Read the controller's manual, plug it in and learn how to use it before you go to the job. Understand the controller's basic functions and read the controller's specifications. These are really important factors to consider before the installation process begins.
The two controllers that seem to be most commonly found and used in solar hot water aftermarket repairs are the RESOL and Senztek brands.
RESOL DeltaSol BS/4 has become popular with some manufactures over the last few years and can be purchased at most major plumbing suppliers. The RESOL is German designed and boasts a large number of extra features and settings. One of the stand outs on these controllers is the high quality grey Silicone sensor cable with high temp roof sensor. It also has a replaceable fuse which is ideal for areas that suffer from power surges. The controllers also feature a digital display on which you are able to observe roof and tank temperature differentials. This is perfect for solar repairs.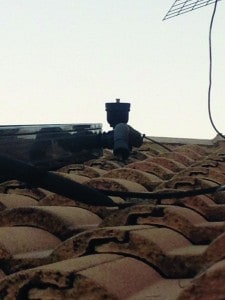 Included in their offering is the standard Arr1 controller layout, but two more mode settings exist. The Arr2 setting enables the function of the second relay in this unit. This can be used for element boost via an auxiliary relay and controlled by the third sensor. Arr2 mode can also be used to control a gas booster or basic hydronic heating. Other functions include adjustable pump speeds and holiday mode. The list goes on.  There is also a VBus terminal which allows for extras like the SD3 smart display, dataloggers, alarm modules and USB connections to be added.
One thing you really need to take into consideration with this product is its IP rating of IP20. The rating makes it perfect for inside but if you're installing it externally by itself, meaning not in a pump station of some description, then you need to make sure it has suitable protection. This is commonly missed. RESOL do make an IP54 moisture proof vented enclosure for their controller but it does not come standard with the BS/4 off the shelf.   It is one of the many exceptional products from the RESOL range and if you get the chance check out www.resol.com to see what else they have to offer.
Senztek controllers have been around for a fair length of time and have proven to be an easy to use pre-programmed controller. Walk in, plug and play and then walk away best describes the controller.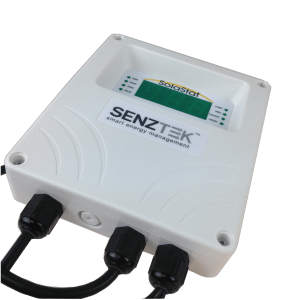 They have the basic functions needed for solar hot water repairs including digital display and adjustable temperature differentials (for most models). They also quote to have an IP rating of IP54.  These controllers were made to suit the manufactures' requirements when produced and you may come across several branded versions of this controller that work the same. Replacement boards are still available.
Older model roof sensors had the white Teflon coating for higher temperature rating. This has changed. The new roof sensor cable still has the Teflon but it is encased by a black silicon cable. The problem is that they now look similar to the tank sensor which means people occasionally think they can use the tank sensor on the roof because it works out cheaper. Don't though. They have different sensor ratings.
TANK SENSOR
Tank sensor positioning on some of the older models is really worth looking at when you go out to repair a system.  Check where they have been installed. They could be anywhere. A couple of examples include taped to a pipe or pushed between the flow pipe and the pipe insulation. Some of the older and bigger 315L to 400L tanks had an inlet Tee's with the tank sensor and solar flow all in one. Some of these sensor ports only went into the tank as little as 50 mm.  The tank sensor needs to be positioned differently so it is more accurate and the system becomes a little more efficient.
Sensor ports can be extended but sometimes you are best to try to move the sensor up the tank a couple hundred millimeters' depending on the system and the return line positioning. This takes the tank sensor away from the cold water inlet and solar return line. It can create a more accurate reading which can help the pump and internals of the tank to last longer.
The S3 sensor by Senztek is probably one of the more handy options you may come across but it depends on the system you're working on. It only works with the Senztek controller but it can be retrofitted into the outer casing of the tank in any position.
One thing to check before using a product like this is the effect it may have on the warranty of the tank. It is then important to explain the findings to the customer before installation. These types of sensor are more commonly used in some of the original evacuated tube type systems but can also be used with split systems with flat panels.
SOLAR HOT WATER SYSTEM REVIVAL
For this edition we have put together a solar hot water revival on an old Saxon split solar hot water system, also known as the SP4002 split water heater.
I was unable to tell how long it was since this system had actually worked so the owner had the plumber install a pump station designed for this model and it was very successful. To make this work he has had an electrician install an external power point for the new pump station. At the same time the electrician has disconnected the original controller and pump from the circuit used to power the element.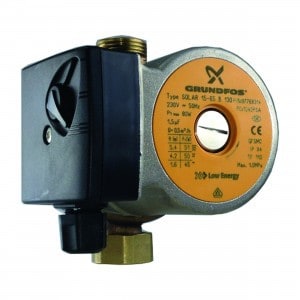 The Viking pump has been replaced with the upgraded option, the Grundfos 15 65 B , a flow meter and non return valve has been installed.  Both sensors have been replaced with the new controller; the tank inlet immersion sleeve has also been replaced. While replacing the roof sensor the air admittance valve was replaced with an AEHT-10. Once everything was installed the time consuming part was to bleed the air from the collector and tank again.  This may need to be done a few times.
You will most commonly find these systems in large housing estates. The system was not your typical open loop solar hot water system that some plumbers mistake it for. It is basically a low-pressure closed loop system, which means it needs a slightly different pump to your normal closed loop system.  They originally used an imported cheaper Viking pump and towards the end of manufacture this was replaced by the Grundfos 15 65B.  The Grundfos 15 65 B can still be bought for this model it is a less expensive option of the Grundfos 20 60N but both pumps work fine. The controller is commonly a PCB board in the side of the tank, but there are some variations of this system when it comes to how the system was set up. Sensors can still be bought for these systems. Some variations of this system have the element and controller powered off the same circuit. Because of this set up most people do not know the solar part of their system has not worked for years!
Mathew Briggs is a commercial plumber and director of www.solarhotwaterparts.com.au – specialising in solar hot water replacement parts for all systems.