Smartflush evolves to Cleanflush
Rimless toilet technology has been making waves in Europe in recent years and with Caroma on the cusp of launching its first models in Australia, Plumbing Connection takes a closer look and what it all means for plumbers and end-users.
Readers of Plumbing Connection will have noticed over the past four years a number of stories about the progressive development of a new style of toilet pan referred to as rimless.
Not surprisingly, it looks much like the name suggests. And when the seat is down you can't see the usual overhang and shadow.
ISH 2011 in Germany saw the emergence of the technology in a commercial form. Though fairly limited, these early designs gained a lot of attention due to the obvious cleaning advantages.
Things happened fairly quickly and by ISH 2013 major European manufacturers had launched their own version of rimless models and from there things advanced at a rate of knots in Europe.
All the major players at the 2015 ISH had cottoned onto the rimless design. New technology is much sought after by the sanitary industry but there is more to it than meets the eye. While it may appear easy on the surface, it certainly isn't. It is a new way of flushing after all.
What are rimless pans and why do we need them?
As mentioned above, rimless creates a new way of moving water into the bowl to provide superior cleaning performance while removing waste and toilet paper from the bowl and into the drainage system.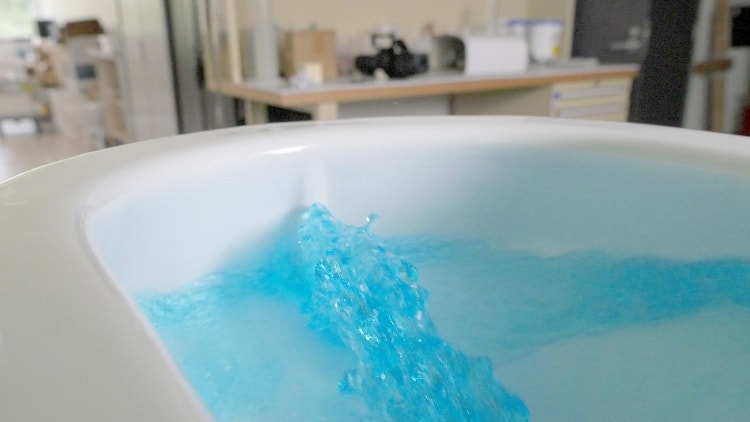 Rimless pans are visually different. Unlike traditional pans, there are no undersides or concealed surfaces that can capture grime and germs. They are easy for users to clean and when you consider the health benefits, rimless is an impressive advancement.
It was thought that such a product would have a ready market in the healthcare sector, as well as high-use commercial facilities (airports, hotels, sporting facilities etc.) where a janitor traditionally cleans the toilets a number of times a day.
However, it was soon realised that the style would also be quite at home in residential premises. Don't mums (and a lesser number of dads) love cleaning under toilet rims! That's why the toilet duck toilet cleaner was invented.
While rimless is a great concept, it faces a number of technical challenges.
The main critical issues are:
Ensuring the required flow rate from the cistern or flush valve is balanced with the rim design
Avoiding splashing and complying with Standard requirements
Cleanse as much of the bowl area as possible
Create an arrangement of water control that will flow into the sump and provide effective removal of waste into the drainage system.
As our 2015 winter edition article detailed, it was obvious a number of European manufactures may have launched products without sufficient field testing. Like any market, there are good and not-so-good manufacturers and some of those products have made it to our shores, albeit primarily in 6/3 litre forms.
The message out of Europe is that any sanitary range must include rimless designs.
Meanwhile Caroma, Australia's largest selling sanitary brand with 75 years of industry leading experience, has been quietly working away on its own version of rimless technology.
Under the development leadership of Dr Steve Cummings, head of research and development at GWA Bathrooms & Kitchens' Caroma provided Plumbing Connection with an exclusive insight on its exciting market response.
Caroma's Cleanflush range of rimless pan models encompasses the basic fundamentals of flushing in a modern design.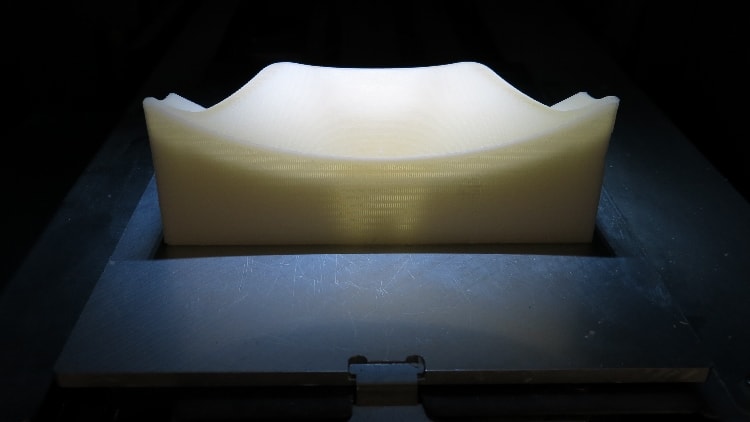 While the global production market in recent years has required Caroma (GWA Bathrooms & Kitchens) to manufacture chiefly offshore, the core of its design and development work remains firmly based in Sydney at its technical research and development centre.
That's similar to what has happened to Australia's car industry, where Toyota, Ford and Holden have all retained sizeable research and development facilities in Australia.
The reason being, Australians continually demonstrate superior skills when it comes to product design and technical development. Plus, they know, better than anyone, what the Australian consumer wants.
Caroma's development journey
Back in 2004 when Caroma launched its Smartflush solution which successfully reduced flush volumes from 6/3 litre down to 4.5/3 litre, the company identified the critical areas of the pan where the design needed to perform effectively with lower flush volumes.
As Steve Cummings says, "When we commenced development of the rimless pan, the overriding aim was to solve all of the performance issues evident in some of the European products. We knew we needed to develop a design that would cleanse as much of the bowl area as possible through the controlled flushing of water effectively around the rim and into the sump to achieve maximum cleansing. It was critical to create enough water flow at the front of the rim to clear waste out of the trap and achieve good drain line clearance.
"We knew what we had to achieve and applied that to our rimless technology before moving into a lot of rapid prototyping work for performance testing evaluation. During these phases we found that to improve the flushing performance we needed to stabilise the flow of water at the front of the rim while ensuring the bowl was washed effectively. This is where we came up with the flow balancer concept.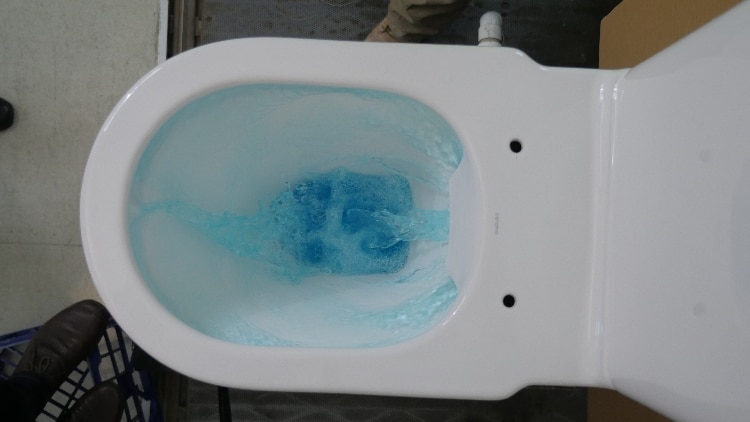 "A predetermined volume of flushing water meets at the front of the bowl where its flow is redistributed via a patented balancer, where it is redirected into the sump to remove the waste," Steve says.
One of the tight performance requirements Caroma has refined is just how close to the top of the pan the water flow travels around the bowl. Caroma's models are set to flush at 60mm from the top of the pan, a height that ensures successful cleansing of the bowl area, which is what rimless is all about.
Range and installation
Caroma's roll-out program commences in March and it is offering this rimless Cleanflush technology in three ranges initially.
The Caroma Care 800 models will immediately be available to the market including concealed and wall faced solutions.
The popular Liano and Urbane collections are the first to offer the rimless option (while still offering traditional models).
All Caroma Cleanflush models will come with Caroma's Uni-Orbital® connector, and one important point for plumbers to note is that you must use matched pan and cistern sets to ensure flows are balanced and meet Standard requirements.
Caroma's strong focus on innovation and its commitment to fine-tune design in a practical sense should stand them well in a market that has grown from strength to strength in Europe. If Australia's high uptake of past European trends are anything to go by, they will take off here too.