Rheem extends association with Shell V-Power Racing Team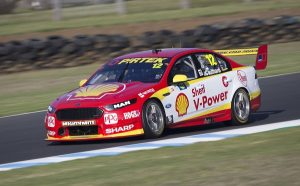 The Shell V-Power Racing Team and Rheem have agreed to continue their partnership for a third-consecutive season in 2019.
The Rheem logo will continue to appear on the new Shell V-Power Racing Team Ford Mustangs for the duration of the 2019 Virgin Australia Supercars Championship.
"We've had a sensational relationship with the Shell V-Power Racing Team over the past two years, sharing an incredible amount of success with them," says Rheem Australia chief executive Chris Taylor.
"Being able to experience the joys of winning the Teams' title in 2017, and now a Drivers' Championship in 2018, has been fantastic."
Shell V-Power Racing Team managing director Ryan Story said the continued partnership with Rheem was extremely pleasing, and indicative of the "Effort equals Results" mantra of the Penske brand.
"Partnerships like the one we have with Rheem are not easy to cultivate, and even harder to maintain," says Story.
"We're very proud that brands like Rheem have stuck with us and shown the confidence in us to continue with us into what we hope is a massively successful future."
The Shell V-Power Racing Team will unveil their new Ford Mustang Supercars entry early in 2019.