Record Number of Women Recognised at Plumbing and Gas Industry Awards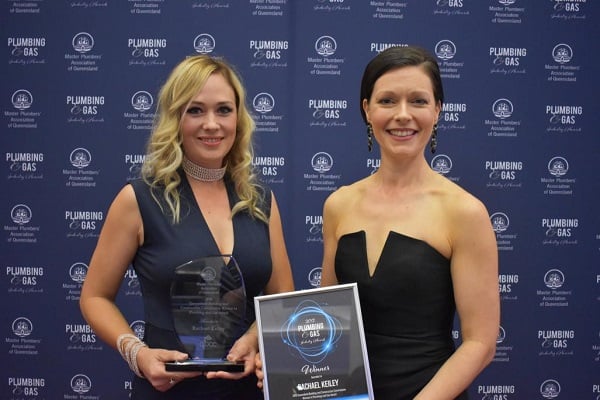 Hosted by Master Plumbers' Association of Queensland (MPAQ) in partnership with event sponsor Tradelink, the 19th annual Plumbing and Gas Industry Awards presentation dinner was held at the Brisbane Convention and Exhibition Centre (BCEC) on 20 July.
Over 500 attendees turned out to celebrate the apprentices, plumbers, gasfitters, hydraulic consultants, companies and other industry individuals who are leading the way in the plumbing and gas industry, including the women succeeding in a traditionally male dominated field.
This year, the awards hosted VIPs including the Minister for Housing and Public Works, Digital Technology and Sport, the Hon. Mick de Brenni MP, the Shadow Minister for Housing and Public Works, Energy, Innovation and Digital Technology, Michael Hart MP, Senator for Queensland, Senator Anthony Chisholm, State Secretary for the Plumbers Union Qld, Gary O'Halloran, Commissioner of the Queensland Building and Construction Commission, Brett Bassett, and Executive Director of Building Industry and Policy at the Department of Housing and Public Works, Logan Timms.
MPAQ executive director Penny Cornah has praised the large number of nominees who applied this year and the high calibre of projects put forward.
"The outstanding achievements of all the nominees in 2018, whether they made it to the finalist stage or not, should be acknowledged, as it was challenging for our judges this year to determine our finalists and winners," Penny says.
"The increasing level of competition over the past few years is a testament to our efforts as a profession to put an emphasis on further training and development, and the advantages of this increase in up skilling is reflected in the innovative approaches to work and business operating methods.
"In a typically male dominated industry, it is very encouraging to see two female apprentices, Sarah Condie from Tradettes and Eilish Anderson-Grundon from Axis Plumbing, recognised as finalists in a strong field of contenders and our QBCC Women in Plumbing and Gas award and Andrea Vogler Women in Business award going to strong female role models, Rachael Keiley from Demeter Constructions (pictured) and Kathy Akins from Akins Plumbing respectively."