Queensland Plumbing and Gas Industry Awards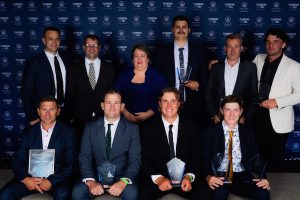 On Friday 12 November, the 2021 Plumbing and Gas Industry Awards recognised the outstanding achievements, hard work, and dedication of Queensland-based individuals and companies. This year's winners have shown innovation, leadership, and growth to go beyond all limits in their contributions to Queensland's unrivalled plumbing and gas industry.
Presented by Master Plumbers' Association of Queensland (MPAQ) in partnership with Event Partner Reliance Worldwide Corporation (RWC), the presentation dinner was held at the Brisbane Convention and Exhibition Centre (BCEC). A record-breaking 630 attendees came together to celebrate the outstanding achievements made by plumbing and gas individuals and companies across 16 award categories.
Hosted by former AFL player Richard Champion, whose football career spanned fourteen years in total, including ten pivotal years with the Brisbane Bears/Lions before his retirement at the end of the 2000 season, led the celebration of this year's apprentices, plumbers, gasfitters, hydraulic consultants, companies and other industry individuals who are leading the way in the plumbing and gas industry.
This year the plumbing industry recognised the ongoing contributions and exemplary leadership of Beavis & Bartel's Michael Ryan with the Zip Water Industry Leadership Award. Leading a team that has delivered some of Queensland's landmark developments across a diverse range of sectors and industries, Michael has taken his involvement in the industry even further with his role on several industry sub-committees, an active involvement in the MPAQ Major Contractor's Group, and his role as a member of the MPAQ Council.
There were also six apprentices over seven categories who were given awards for their outstanding plumbing and gas knowledge, ability, and growth. Most notably, Drew Hughes of D and P Plumbing in Emerald took home the Reece Queensland Apprentice of the Year Award and the MPAQ Third Year Apprentice of the Year (Non-EBA) Award after beating all other apprentice winners and showcasing his natural ability to understand plumbing concepts, show initiative, and communicate.
The Andrea Vogler Women in Business Award was won by Madonna Hodge from O'Brien Electrical and Plumbing Coopers Plains who has demonstrated exceptional business acumen and encouraged the growth of female participation in the plumbing and gas industry.
AC Plumbing QLD took home the highly competitive and popular BUSSQ Service Excellence Award, havingbuilt a reputation of great service and quality workmanship with a repeat customer rate of 73% over the past five years. Director, Corey Stevens, also won the RWC Businessperson of the Year Award for the impact he has had on the plumbing and gas industry through training, mentoring, development, and leadership.
MPAQ's Executive Director, Penny Cornah, has praised the number of nominees who applied this year and the high calibre of projects put forward.
"The outstanding achievements of all the nominees in 2021, whether they made it to the finalist stage or not, should be acknowledged, as it was challenging for our judges this year to determine our finalists and winners," she said.
"It has been great to see the outstanding efforts and successes that the professional individuals and companies in our industry have made this year, which is a testament to the emphasis that has been put on further training and development. The advantages of this increase in upskilling is reflected in the innovative approaches to work and business operating methods."
Ms Cornah said, "We are incredibly proud that the Plumbing & Gas Industry Awards are able to recognise a diverse range of individuals and companies, from the innovative and exciting projects that have helped to contribute to a sustainable future to the apprentices who highlight the positive future of our industry and the leaders who work hard, perform exceptional work, and inspire others."