Principles of good plumbing design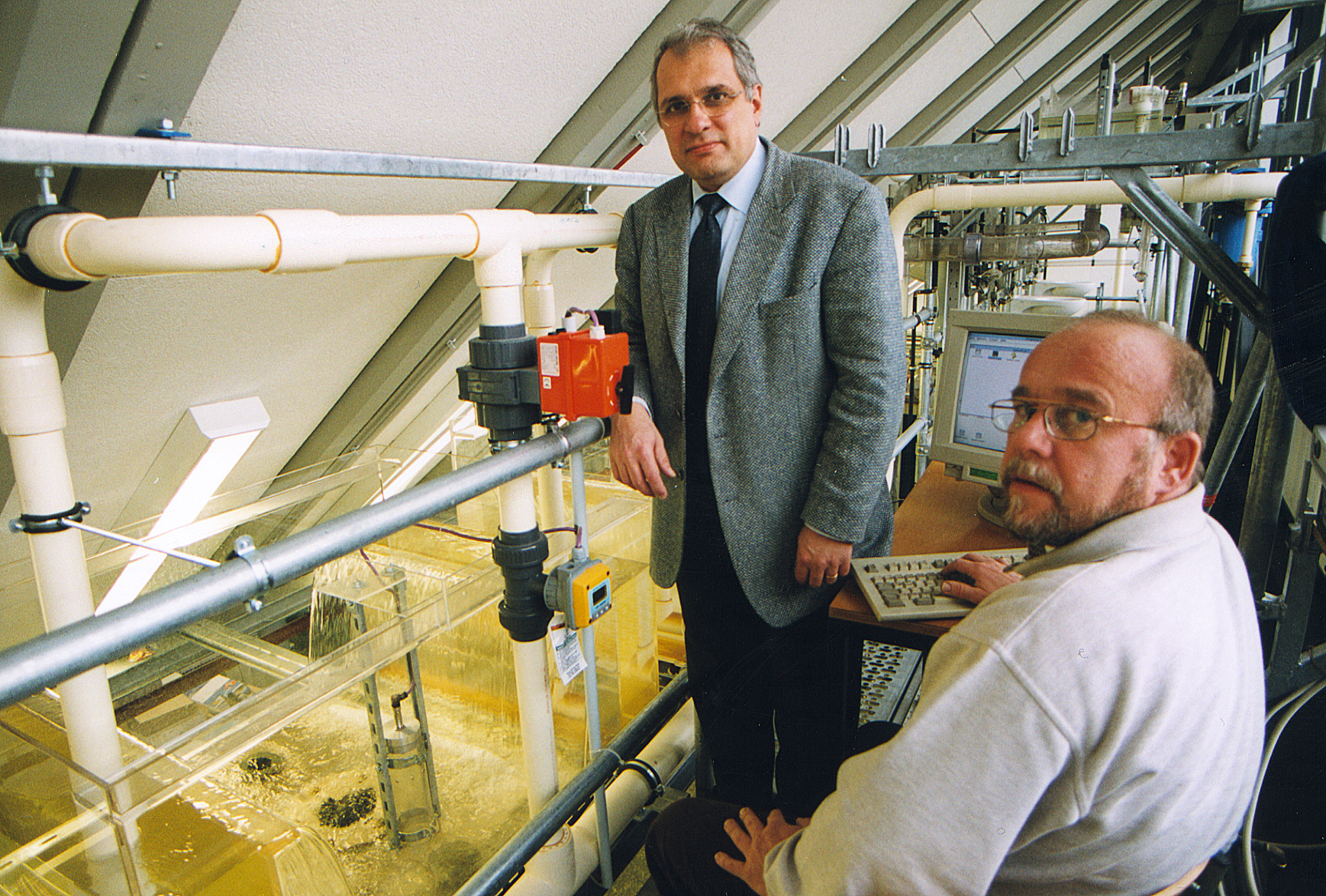 Twelve years ago Professor Mete Demiriz founded a unique plumbing research and development laboratory in Germany.

Once a plumbing system is installed behind a cavity, building occupants and facility managers are unaware of the system's actual performance.
As plumbing professionals know, there are many influences in a built structure that can affect the long-term performance of a system, not the least being faulty installation.
That makes learning for students somewhat more difficult to comprehend.
While the principles of good plumbing design can be learnt from text books and in the classroom, there is nothing to compare with seeing a 'live' system in service.
WPR recently visited a learning and research facility that offers its students an 'eye to the world' of what really goes on in plumbing systems once they are installed.
The University of Applied Sciences at Gelsenkirchen near Düsseldorf in western Germany has been an independent higher education institution since 1992.
About 6000 students can study for an academic qualification at the university, which now has departments in the cities of Bocholt and Recklinghausen.
The plumbing lab is part of the Department of Building Services and Environmental Engineering at the Gelsenkirchen campus, a few hours' drive from major centres like Amsterdam, Paris and Berlin.
Gelsenkirchen is no longer a heavy industrial city: coal mine buildings and factories have become venues for cultural events, while new industries such as solar cell manufacturing have started up on a large scale.
The Department of Building Services and Environmental Engineering has three main four-year study programs:
• building services (or utility technologies) engineering
• environmental engineering
• facility management.
The main courses in building services engineering are:
• heating
• ventilating and air conditioning
• plumbing
• energy technology
• environmental design
• components and methods of building automation.
In charge of the state-of-the-art plumbing facility is Prof Dr Mete Demiriz, who is proud of his students, who are much sought-after by industry.
Graduates find positions in planning and construction offices (40%), research and development or product engineering in the manufacturing sector (30%), energy and sales management (15%), and communal offices (15%).
Dr Demiriz's plumbing lab specialises in testing, optimising and developing water closets, urinals, and flushing and water-heating systems. The lab makes use of actual restroom facilities in the university as well as utilizing nearby schools, hotels, airports and even the city's soccer arena.
Gelsenkirchen is home to the Football Club Schalke 04 and the city will host a number of games in the 2006 World Cup at its new stadium, Arena.
Further research areas are:
• unsteady three-phase waste water hydraulics in building drainage;
• siphonic roof drainage systems;
• dry urinals;
• User behaviour in restrooms; and
• Efficiency of low water sanitation.
The main testing facilities of the lab are:
• large-scale building drainage system research and demonstration tower;
• siphonic rainwater research plant with three roof traps;
• long-term test plant for rainwater usage;
• water hygiene testing;
• backflow testing plant;
• mixing tap testing plant; and
• building control systems.
The application-oriented research develops new scientific findings to the stage of marketable products, processes and services.
The building drainage system research and demonstration tower includes in its larger part several design and installation faults.
These demonstrate to students and interested groups how wastewater hydraulics are negatively affected.
The tower also has two research lines including horizontal and vertical pipes for designing, testing and optimising flushing systems, water closets and flushable products.
This was designed and built by students during their final thesis.
The plant is PLC controlled and can be operated manually or automatically.
Pressure in the pipes is measured by an Interbus system.
The siphonic rainwater systems research plant is able to simulate many difficult situations and measure and log pressure drop data in all parts of the pipes and fittings.
The collected and analysed data have served in the design and calculation of methods and guidelines. One important question was the calculation of dynamic hydraulic balance.
The rainwater plant was designed for long-term testing of the effects of rainwater on flushed surfaces and parts of the flushing apparatus.
The plant runs automatically for months, and perhaps years, until these effects occur. Then the tested parts are analysed using an electron microscope.
Also, washing machines and dishwashers have been run using rainwater and standard loads. Biological, physical, chemical and hygiene analyse have accompanied these tests.
In 1994 Dr Demiriz had the idea of incorporating real restrooms into his lab facility.
This was realised and integrated in the new main building housing the administration department, three academic departments, the library and the main cafeteria.
The lab is designed for testing new products and user behaviour and is located between the men's and women's toilet rooms of the main cafeteria, where Dr Demiriz can observe and measure real wastewater flow in transparent pipes.
Many movement detectors, flow and power meters, reed contacts, user and flush counters have been installed in the toilet rooms and supporting pipes.
The subsequent event-controlled data is fed into a computer.
Another data-collecting system has been installed in the toilet rooms on all six floors of a university building.
All other systems in outer facilities have been designed in the same manner, producing data for scientific work with the students. This data is also of interest to industry, particularly the manufacturers.
Despite the size of the plumbing industry and its importance to health, there are relatively few such modern dedicated training and research facilities for plumbing students, academics and the industry to utilize around the world.
If Gelsenkirchen University is not currently the best-resourced lab, then it is close to it. WPI is keen to visit and report on other such training and research facilities in the future.