Leaking pipes, flooding and the quick build up of rain water is a problem that often needs a rapid fix in order to prevent any continued or long lasting damage. Zach Broadhurst looks into one pump that is relieving quite a few headaches for its users.
There are a number of pumps on the market designed to remove water, but many are quite cumbersome and at times can even be difficult to transport and run at the locations they are needed.
For water problems that need a quick fix in a tricky location, there is the option of smaller and more portable water pumps, such as the Parchem PortaPump – a lightweight versatile unit being used in a number of markets, ranging from commercial landscapers, to golf courses and even the municipality sector.
Weighing in at just 13kg and powered by a Honda 4-stoke motor allows the PortaPump to operate just as the name suggests – a portable pump that can be taken anywhere without needing to be plugged into an electrical supply.
Plumbing group supervisor Ian Laing, from the Bundaberg Regional Council in Queensland, has been using two PortaPumps for maintenance and install work, and has been very pleased with how easy and portable they are to work with.
"We've got one on a truck that goes out on maintenance all the time, mainly for repairs on water services. The other one is on a truck that goes out to install and replace water services," Ian explains. "It's great for portable use and something that is quick and easy to just grab and go. You don't have to worry about hooking up to a battery and worrying about that going flat – it's a very portable unit. We used to employ 12v pumps which were heavy, but these PortaPumps are light, easy to use and quick. They seem to be maintenance free and they don't play up and jam as much as the electric ones we use."
The fact that the PortaPump doesn't need an electricity supply is a big plus for Ian, as he often finds himself in situations where a power source isn't readily available.
"If you can't park your vehicle – where your power source resides – beside your job site, the PortaPump is the perfect tool because you simply take it to wherever you need to use it. It is perfect for jobs such as those at sewer treatment or water treatment plants; where you're often well away from where you can reach power."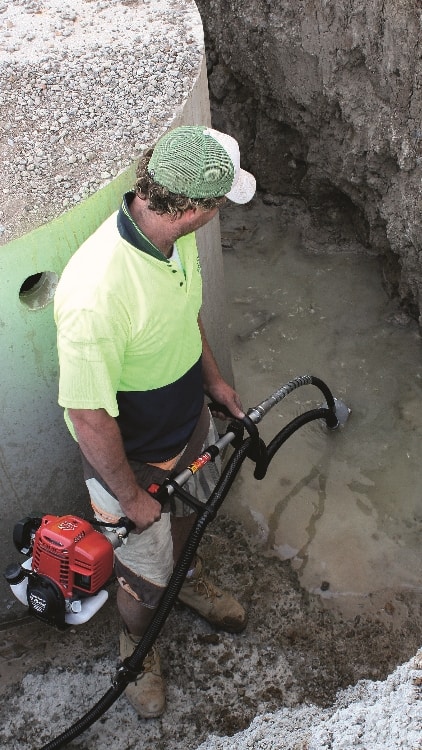 The PortaPump has proved effective in a number of markets and that is testament to its versatility, a goal Parchem sought to achieve during its creation, according to Karl Mansley, spokesperson for the PortaPump.
"The PortaPump had to suit a variety of markets to be viable, so to be able to split the pump away from the drive head has made way for other attachments to be fitted to the drive head," explains Karl. "The PortaPump can be converted into a concrete vibrating needle, which gives the owner much more flexibility, and reduces the need to have multiple power drives on hand."
This versatility coupled with its portable design has allowed Ian to use the PortaPump in a number of situations around the Bundaberg area.
"We use them when we are repairing water services, or doing quick pump-outs on a smaller hole," says Ian. "We've used them to replace water meters during a water meter replacement program, where we had a little bit of water from the service back-feed into our hole that we needed to get out quickly."
Karl concedes the pump wasn't designed as a permanent fix to all water problems, with an ideal run time of 10 minutes; however it is very economical with its 4-stroke motor only requiring refuelling every 1.5 hours or so.
"The 4-stroke engine is much quieter, expels lower emissions, uses less fuel, and saves the need to pre-mix fuel. These features make for a much more enjoyable environment around the pump." A statement confirmed by Ian.
Its 13kg weight would still be enough to weigh most people down after some extended periods of use, but the PortaPump has been designed to lessen the burden on the user as much as possible.
"The pump comes supplied with a shoulder strap; this takes the strain off the user's arms and back," explains Karl. "Also, the hose can be disconnected from the shaft of the pump, allowing it to lie on the ground, which further reduces the weight the operator has to handle.
"It's very easy to work with; it's almost like using a whipper snipper.  You can place it down in a hole, or, in certain situations you can even rest it down on the ground without having to hold onto it – it's very versatile."
Parchem
www.parchem.com.au
1300 737 787