Aussie manufacturer Viking Plastics has developed a cost effective alternative to traditional grease trap and access cover fabrication.
Viking Plastics is an Australian specialist plastics fabricator that manufactures and supplies grease traps, trade waste tanks, large industrial tanks, fume cupboards and custom designed products. It also supplies fume exhaust fans and ventilation ducting and fittings for fume extraction.
When it comes to plastic fabrication, Viking Plastics invests a vast amount of research and development and have become renowned for its innovative use of Paneltim® in the construction of grease traps, grease trap covers, pump tanks and custom made tanks.
Paneltim Tanks
Paneltim is a 50mm thick sandwich panel with a strong internal cross-rib cell structure which results in a lightweight yet rigid panel in both length and width. Due to the superior strength of the internal structure, fabrications made from Paneltim sandwich panels require less reinforcement compared to thin skin tanks. Furthermore, Paneltim also offers exceptional thermal and acoustic insulating properties, is robust and corrosion resistant.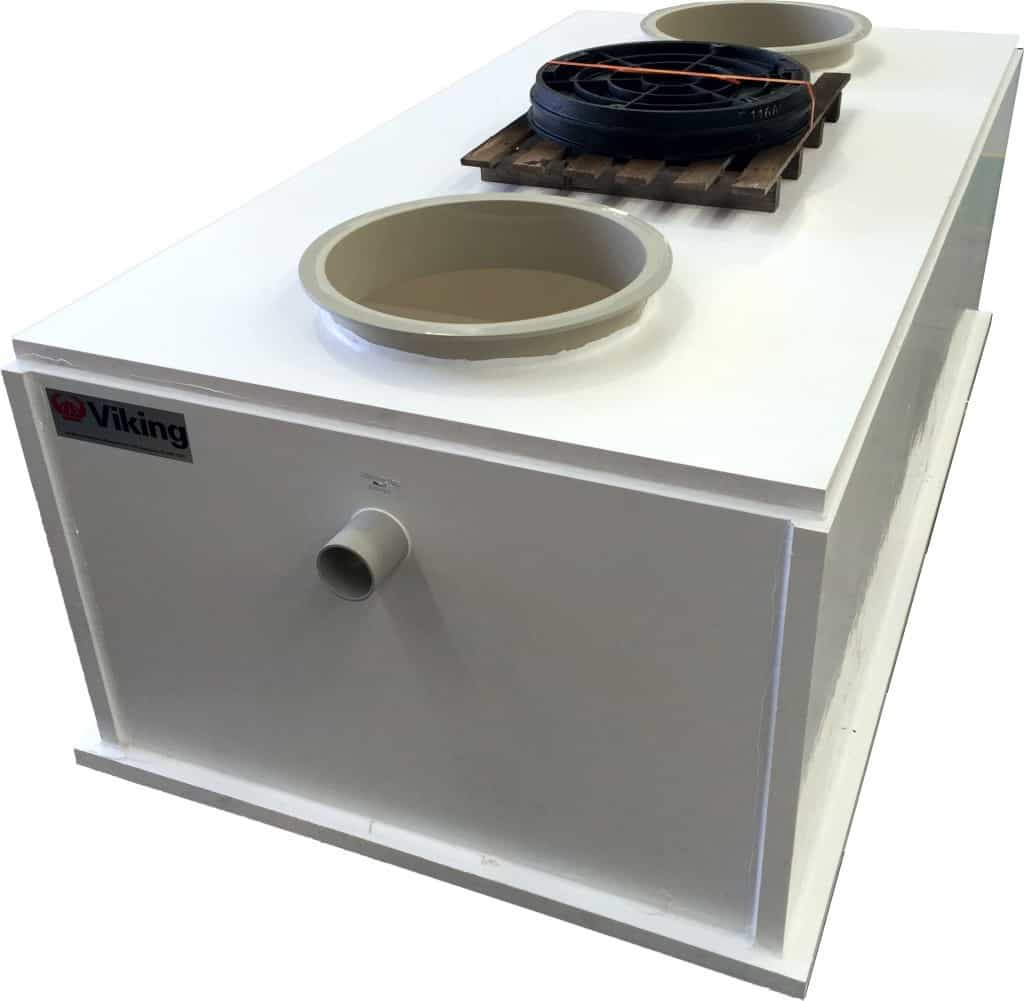 "Below ground grease traps and pump tanks constructed from Paneltim are strong enough not to need concrete reinforcing. Paneltim tanks can simply be back filled with crushed rock or stabilised sand resulting in a faster and less costly installation," managing director Vikings Plastics Malcolm Ling explains.
"Paneltim is also more cost effective for larger above ground grease traps (2,000 litres and above) as its superior strength avoids the need for external steel reinforcing. Viking Plastics above ground grease traps have circular, quick release, air-tight, access covers to prevent the emission of foul odours. Optional hinged lids can also be supplied."
With two four metre CNC controlled butt-welding machines, Viking Plastics can fabricate tanks from Paneltim to almost unlimited dimensions including tanks wider than the conventional 900mm.
"This provides greater flexibility with regards to installation and exceptional savings for below ground tanks as excavation costs can be reduced by installing custom tanks that are wider and shallower whist still retaining capacity," Malcolm says.
Metal Access Covers
Below ground trade waste tanks traditionally require the addition of a metal or concrete in-fill access cover so trade waste contractors can gain full access for pump-outs and/or tank cleaning. Expensive concrete in-fill and solid top covers are used in more general situations in several weight loadings – light duty for pedestrian traffic, medium duty for car traffic and heavy duty for truck traffic.
"It is common practice for metal access covers to be fully removed for access into below ground tanks; therefore, traditional metal access covers consist of a frame and removable panels. The frame size and number of removable panels depend on the size of the tank with each panel designed to be removable by one person (with lifting tools)," Malcolm says.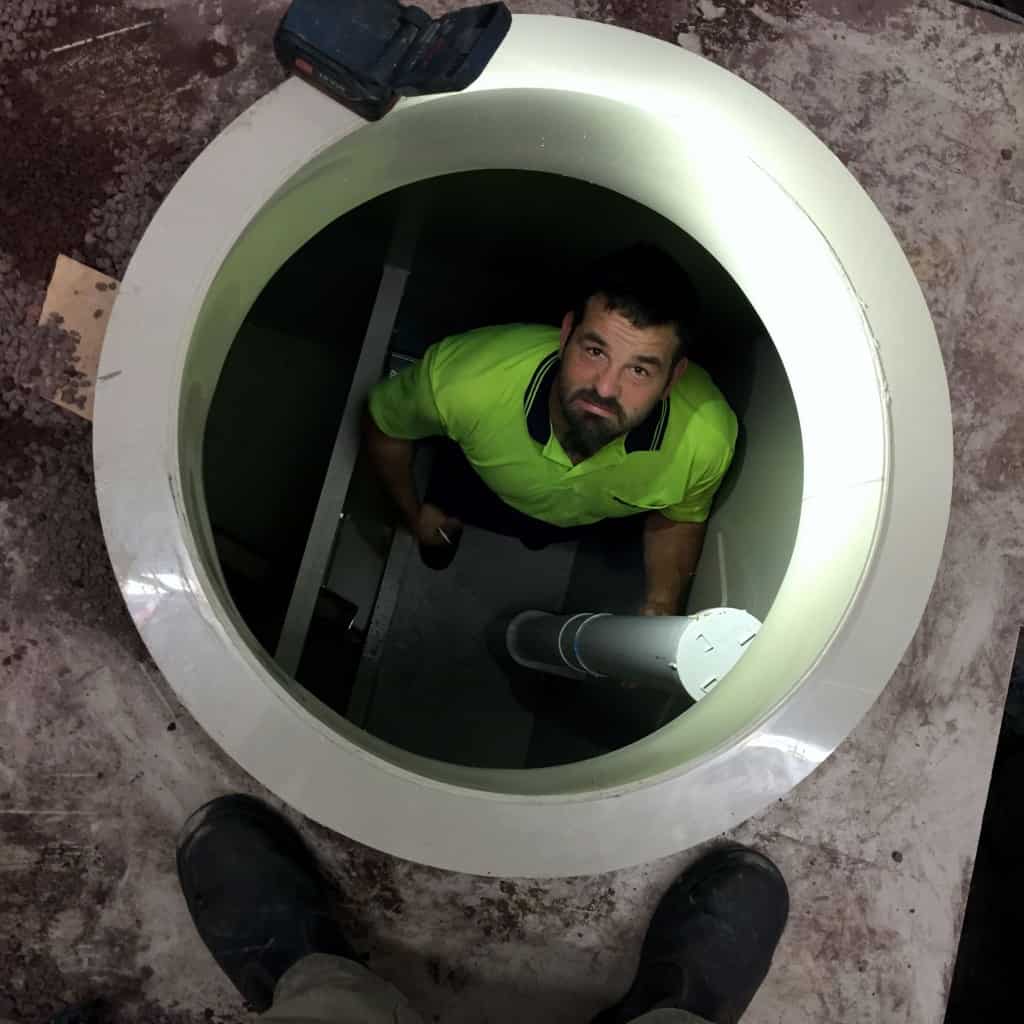 Metal covers are usually available in a restricted range of sizes from 450 x 450mm to 4500 x 900mm.
For large tanks, length and depth is often increased without increasing the width of the tank. This ensures the load bearing capacity of the access cover is not compromised. For installations that require tanks wider than 900mm, the standard process is to manufacture the cover with a central beam to support multi-part metal or concrete infill covers sitting parallel to each other. This greatly increases the cost of the cover.
Paneltim Access Covers
Viking Plastics latest project has been the development of Paneltim below ground grease trap access covers as an alternative to metal and concrete infill access covers.
"Paneltim access covers have a lower installation weight and are manufactured at a fraction of the cost of traditional cast iron or steel covers. They consist of a series of 600mm diameter portholes for clean out access as opposed to traditional full 'man access'."
Paneltim access covers wider than 900mm do not need additional reinforcement and are ideally suited to medium and heavy duty applications where a tank is installed under a concrete paved roadway area. Paneltim covers can be manufactured to suit any tank size which makes a non-standard tank very easy to match a lid size to. They are lightweight, easy to remove, provide a saving of up to 25% over metal covers and will suit both Paneltim tanks or Thin-Skin tanks.
If you're looking for an alternative to traditional grease traps and access covers, there's a good chance this Aussie manufacturer might just have what you're looking for.