Parliament meets Plumbing
In late August, I was a guest of the Plumbing Products Industry Group (PPIG) at their special general meeting held at Parliament House, Canberra.
This was an opportunity for PPIG members and some guests to get up close to the members of parliament who have responsibility across a number of areas of interest to this industry.
The day was organised by PPIG executive director Stuart Henry, who served a term as the Member for Hasluck in the House of Representatives 2004-2007. Such days are difficult to organise but Stuart was able to open the doors of influence to achieve quite a result, given it was held during a sitting week. The day was hosted by the Hon Steve Irons MP (a proud ex-mechanical services business owner) who is involved on a number of House of Rep's committees.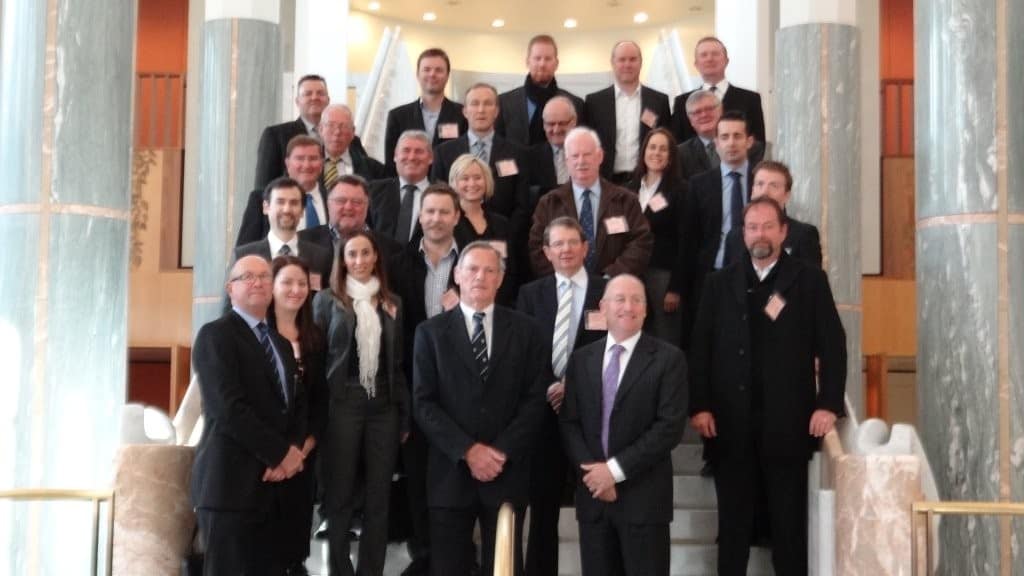 Presentations were made by:
Hon Christian Porter MP Parliamentary Secretary to the Prime Minister, who addressed the issue of red tape and regulation reduction.
Hon Bob Baldwin MP Parliamentary Secretary to the Minister for Environment, who outlined the WELS Legislative Review Report.
Hon Karen Andrews MP Parliamentary Secretary to the Minister for Industry Science – who is responsible for the Australian Building Codes Board (ABCB) and who had an open ear to the frustrations of our industry's product approval process difficulties.
There were also presentations from Peter Hughes; the WELS Department Head, Neil Savery; the GM of the ABCB and Adam Stingemore; GM of Standards Australia.
So what were the major take-away's from the event?
Christian Porter has quite a task in dealing with the bureaucracy's understanding (or lack there-of) of what red tape reduction might actually mean.
The plumbing industry is not going to get what it was aiming for with the WELS Scheme review. The industry's desire was to roll together the WaterMark and WELS scheme, to increase efficiency and reduce cost and red tape for suppliers. The 216 page report on that matter is here: http://www.waterrating.gov.au/system/files/resources/367022d3-9fc8-4b32-86e4-e263993365ac/files/wels-scheme-second-independent-review.pdf
Some-ground has been given in the report's recommendation to reduce the regulatory burden for suppliers – but the general opinion is that it is not enough!

Hon Karen Andrews was sympathetic to the plight of suppliers working through the process of product approval. Andrews came across well and was right onto the issue of the lack of effective policing of some certification organisations.
The Federal Government has less power than you might expect in regard to non-compliant product. Unless an issue affects all States and Territories (such as with the Infinity Electrical Cable re-call issue) it won't be referred to the ACCC. That's why the Building Ministers Forum (one from each state/territory) is important.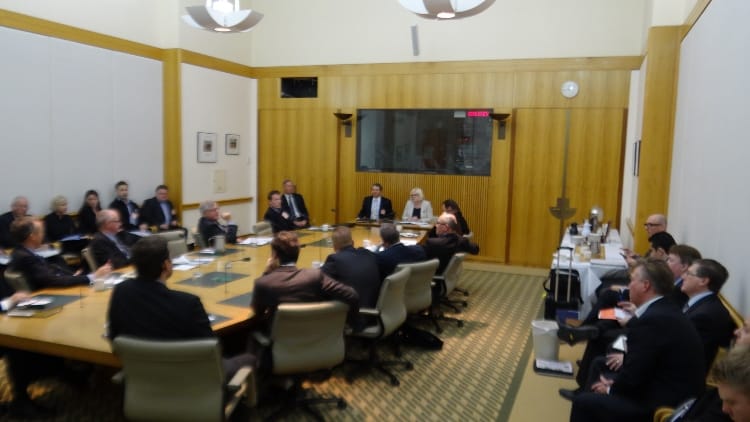 Non-conforming product review
The Building Ministers' Forum (BMF) is currently conducting an investigation into the health and safety risks posed by potentially non-conforming building products and materials. The BMF has established a working group of 'senior officers' to report to the Ministers (hopefully) by January 2016.
It will be interesting to see if the public service shares the sentiments of industry sub-sectors like plumbing and electrical. Let's hope they take notice of what these sectors are really saying, as they have some unique issues.
We already have a lot of legislation in place so that this sort of thing (illegal/non-conforming product) is not meant to be an issue – but the reality is that there is little policing of these matters and when there is, there is little transparency for industry. It's highly unlikely either the Federal or State Governments will stump up funds to create better policing. I just hope these bureaucrats don't think more paperwork will solve the dilemma.
The electrical industry through its national contracting association (NECA) has put out its summarised position paper on non-conforming product. Well done to them for doing that. I thought it would be interesting to share their views with the plumbing sector:
"The National Electrical and Communications Association (NECA), the peak industry body for Australia's electrical contracting and communications industry, has joined a range of leading building and construction industry peak bodies to call for more government funding and enforcement in relation to non-compliant building products," said Mr Manickam, CEO of NECA.
"This is a major issue for our sector as well as the broader building industry. What's unbelievable about this issue is that there seems to be a misguided view that consumers will somehow save a few dollars by purchasing a non-conforming building product. Unfortunately, this view is far from the truth and has the ability to infest the entire supply chain as well as act as a time bomb for years to come." 
"From the industry's perspective, the issues include: risk of electrical fire and shocks, property damage, legal liability, serious injury and/or death, industry reputation and consumer confidence."
It is difficult to place a dollar figure on the damage being done to the industry and the consumer. Suffice to say, the damage is real and in the millions. NECA has provided a comprehensive submission and is calling on government for the following:
That there be greater clarity as to which level of government and/or department is responsible for the oversight and monitoring of imported electrical products.
That there be greater clarity as to which level of government and/or department is responsible for the sale of imported electrical products.
That the resources of federal and state regulatory agencies are significantly boosted in order to be more pro-active in relation to product enforcement activities.
That any product that requires a licensed electrician for installation only be sold through a trade's desk.
That the federal government broaden and boost Customs powers to enable random compliance audits of imported electrical products and the ability to detain non-compliant electrical products.
Given the intergovernmental failure with respect to the progression and adoption of the EESS, NECA seeks Commonwealth support for the management and administration of the EESS database.
That the EESS database is enhanced to provide stronger verification of test certificate legitimacy, linked to a list of accredited test labs that are subject to an audit regime based upon track record and the level of risk.
That a wider discussion in relation to product recall insurance occurs.
That the Federal Government increase its commitment and resources to ensure a larger number of product random batch tests are carried out.
"It's encouraging to see Parliament discussing this very serious issue. We have seen far too many tragic events occur as a result of non-conforming building products. We're calling on the government to adopt our recommendations in order to stem this scourge," concluded Mr Manickam."
Now that you've read that, I have a couple of cautionary points that I believe our industry sectors have to ease up on.
Firstly, I don't think the idea of telling Government to restrict the sale of plumbing or electrical supplies to 'trade desk's only' is ever going to get a hearing. Some areas of Government will likely view this as a restraint of trade and let's face it; the lobbying strength of the likes of the big box hardware groups has the power to crush any such consideration. And the growing volume of online purchases from overseas, also make a mockery of this. Quite literally, the horse has bolted.
The other point I'm not comfortable with is trying to get Border Protection (Customs) to screen more for these product imports. From what I understand, their resources are already stretched and personally I'd really like to see them focused on the tracking of drugs, guns and other contraband. Non de-zincified brass is pretty hard for a customs dog to sniff out!
The real world test!
I thought it would be worth testing the theory that you can walk into a reseller store anywhere around Australia and buy non-conforming plumbing product that is dressed up as the real thing (with WaterMark identification).
As Plumbing Connection magazine has done on a couple of previous occasions, we bought product and had it lab tested to see if it complied with the Water Mark approval numbers on the product's identification.
In this case we wanted to know if the push-fit ball valve and socket we bought were actually made from de-zincified brass (DR brass). Due to the harsh water conditions around Australia, DR brass is a clear requirement – no if's or buts – and it is a more expensive product to manufacture than non DR brass.
Such products are hidden sleepers that  can leak over time and cause significant and costly damage to buildings internally.
So, we purchased these two products from a large well-known retailer and had them run through the de-zincification testing at a lab. Has any regulator ever done this as part of their 'policing'?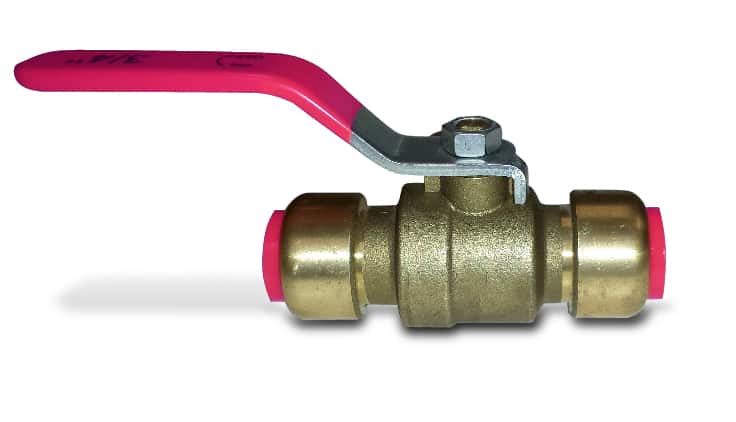 For legal reasons we're not identifying the brand or retailer (and we changed the colour to protect the innocent!) it's not about this one supplier, it's more about the lack of policing of current requirements.
You can seethe lab results in the two images below. Of course the anomaly in all this non-conforming product cheating is that it is not illegal for the poor innocent plumber to buy this product – but (unknown to most of them) it is illegal to install it – a strange anomaly and they are the ones most exposed. I wonder if they took a legally binding document to the retailer we bought it from, would the store manager be able to sign it off? I figure not.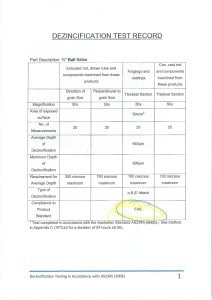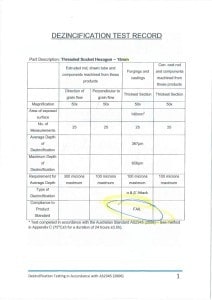 Is the further threat of litigation a solution to non-conforming product?
As no one individual or organisation holds ownership to the best ideas, feel free to share them with us. We'll push them out into the public arena and hopefully through to the right people.
Now I'm a mug punter from the media side of the sectors but I reckon an enhanced threat of litigation is worthy of consideration. That always gets the heart pumping at insurance companies and legal firms!
However, it would require the Government to create an instrument (a legally binding document) to use with all contracts and business relationships.
Here's how it would work:
This binding clause would clearly state that the product being used/installed in the work undertaken complies with all appropriate laws and regulations (performance/safety). Now I know you might say this is already inferred – but perhaps it needs to be said clearly once again.
This clause would cascade down or elevate up through the business relationships of the industry eg… who-ever is responsible for buying the product (as distinct from the original specification which we know can change).
That could be the developer, head contractor, sub-contractor in a commercial job – I wonder how many buyers of construction product actually have a piece of paper that asks their supplier (wholesaler, retailer or direct supplier) to legally sign, stating that what is being supplied meets all the criteria?
If you have any further thoughts or ideas on this issue to share with the industry…..just email me at jeffpatchell@build.com.au