OVERCOMING SUPPLY CHAIN PRESSURES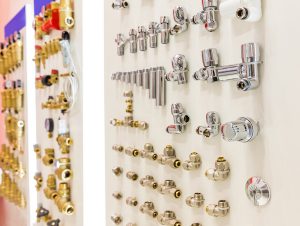 By any stretch, 2020 was an extraordinary year. Like other sectors, the plumbing industry wasn't exempt from the effects of the COVID-19 pandemic, which revealed numerous weaknesses in the supply chain. However, COVID-19 wasn't the only problem.
Distribution delays initially caused by lockdowns, combined with a HomeBuilder-driven building boom, have had enormous impacts on the supply and delivery of parts and materials. High demand and a supply slowdown have led to project delays, cancellations and increased cost of materials. In some cases, prices are now up by as much as 20% in the wider construction industry.
However, it seems that the larger contractors were most exposed to the effects of supply chain issues. Smaller companies and sole contractors appeared to be less impacted. So why were they able to continue with fewer hiccups, and what can you do if you're facing disruptions?
LOCAL Vs INTERNATIONAL SUPPLIES
During the height of the pandemic, some larger plumbing contractors found work held up by the lack of parts and fixtures, either because of lockdowns or because suppliers temporarily halted production. Contractors were far more likely to experience delays where imported materials were sourced in large volumes to save costs. However, smaller projects completed by smaller businesses appeared to have experienced fewer interruptions due to more of their materials being sourced locally.
Even with greater reliability of locally sourced plumbing fixtures and materials, the disruption to international supplies has still put local plumbing stores under pressure.
"Plumbing hardware shelves have been noticeably less full since mid-2020," notes Greg Murray, owner of GSM Plumbing, based in Castle Hill, NSW. For many plumbers, residential plumbing fixtures and components have been more difficult to source, with some specific parts becoming pretty hard come by. "Sometimes you'd have to be a bit more creative on a job because a particular fitting wasn't available," Greg adds.
Some plumbers worked around parts shortages by delaying one or two jobs until materials arrived. This had some effect on project timelines, but experienced contractors were able to schedule and adjust projects to accommodate hold-ups.
TIPS TO PREPARE FOR SUPPLY DISRUPTIONS
No matter what is going on behind the scenes, plumbers have to provide excellent customer service, which means having the right products at the right time and in the right place. You may think that is easier said than done, but there are ways you can keep current customers happy and attract new ones even when material shortages exist.
Here are a few tips on how to prepare for a crisis:
1) Aim to build strong working relationships with suppliers. Call local suppliers and discuss concerns they foresee. Be pre-emptive about ordering supplies for big projects, and don't wait until the last minute to restock items if you have the capacity.
"We experienced some supply delays during 2020," according to Sydney bathroom renovation company DCON Group. "Sometimes, PC items such as vanities and bathtubs were not available and resulted in a supply delay of several weeks. We were able to prevent delays to the customer by being careful with project scheduling and placing orders in advance."
2) Reduce the variety of parts you use. Every different component you need for jobs is a potential liability if you can't source it. You don't have to stock everything to cover all your bases. Consider items you use more than others. Be sure to provide customers with realistic expectations that some items may need to be changed to comparable options in the event of supply shortages. Explain that the quality of the replacements and the overall project won't be affected.
3) Be clear on timeframes. Often the worst part of a delay is not the actual interruption but the fact that it comes as a surprise, and you don't know when things will get back to normal. Therefore, manage customer expectations by being as accurate as possible about timeframes and explaining why there might be delays. If your customer can't wait, offer alternatives that are possible right now with the parts available.
With contingency plans, a little creativity and forward thinking, supply chain disruptions don't have to be disasters that grind your work to a halt.
GSM Plumbing
DCON Group