No Blows™ – A New Alternative to Flexi Hose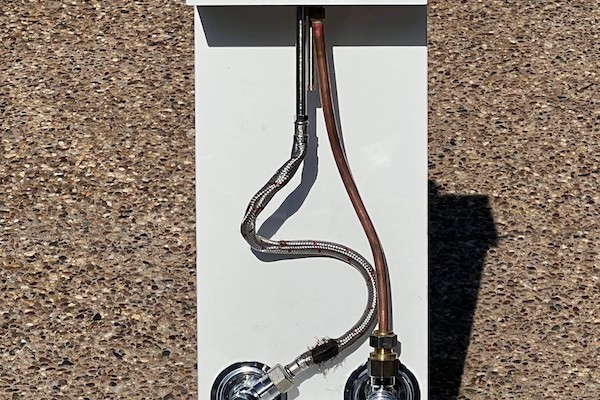 A new Australian product – No Blows™ – has been developed as an alternative to flexi hoses.
In recent years, flexi hoses have become notorious for leaks and blowouts, causing immense damage to home and business infrastructure. A large proportion of all Australia's building-related insurance claims are traceable to burst or leaky flexi hoses.
No Blows™, a straightforward and simple alternative to flexi hoses, is a copper adapter that will never blow out. Developed in Australia by Stephen Orr and Barry Van Rooy, the No Blows™ is manufactured using high-grade, quality, lead-free, certified materials, tested to more than 2,000kPa.
"We developed our No Blows™ product to replace flexi hoses, thus stopping blowouts," say Stephen and Barry.
Since the introduction of flexi hoses some 25 years ago, they add, the plumbing industry has had to address untold harm caused by faulty flexi hoses: they estimate that 22,000 flexi hose tap tail connectors fail every year, causing millions of dollars' worth of damages to thousands of homes and business across Australia.
"Poor-quality flexi hoses have no longevity and are not designed to handle high pressure; they require annual maintenance checks, and the stainless steel braid corrodes and rusts leading to blow out," they say.
NO  BLOWS™ specs: AS/NZS AS3718:2021, AS/NZS 4020:2018, WMS 060139. Safety and plumbing products WaterMark. Victorian Building Authority: NO-FAIL WATER CONNECTOR  300mm x 10mm (F) x 15mm (F), B.S.P.  Operating Pressure: 2,000 kPa. Operating Temp: Up to 90 degrees C.  Suitable for hot and cold water. Copper and lead-free brass.
Visit www.noblows.com.au