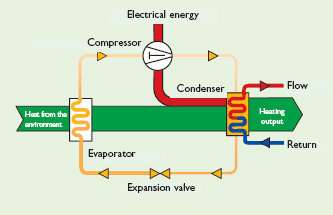 As heat pump technology gains prominence worldwide, we speak to leading German manufacturer Stiebel Eltron about the future of these systems.
In applications as diverse as space heating, water heating – and even passive and active cooling – heat pumps are finally reaching commercial maturity after a quiet adolescence in the 1990s.
Heat pumps for domestic heating have been available commercially since the 1970s, but it is only in the past few years that units have become sufficiently affordable, reliable, compact and quiet to impress broad consumer markets.
The theoretical principles and energy efficiency of heat pumps have been known for generations. The units are often described by manufacturers as 'refrigerators in reverse'. They harness the energy that exists in ambient air, the ground or groundwater, then use it in domestic or commercial appliances such as water heaters.
In temperate zones the most common types of heat pumps extract heat energy from the air, but in cooler climates an array of closed-loop coils can be placed underground to make use of latent subterranean heat energy in soil or water. Underground temperatures do not fluctuate dramatically with the seasons and can settle at 5-10˚C even during severe winters in the Northern Hemisphere.
Most heat pumps operate by feeding energy to a heat exchanger (or evaporator). This evaporator contains a liquid refrigerant, which absorbs the heat from the energy source and evaporates. The compressor draws the expanded gas inside, where it is compressed. The temperature rises as pressure builds and a second heat exchanger (or condenser) then transfers the energy to the heating grid. Finally, an expansion valve allows the pressure to normalize, and the cycle continues.
The efficiency of heat pump systems can be impressive. These days it is not unusual to see units with heat energy outputs that are four times higher than electrical energy inputs – representing profound energy savings compared with conventional electric heating systems.
When units that double as air-conditioners are installed there are obvious energy savings to be gained year-round. These dual-purpose devices provide distinct advantages over 'heating only' technologies because they can improve the overall energy rating of a household or office building. Don't forget that the benefits of an efficient water or space heater are often outweighed by wasteful cooling systems in the same building.
World markets and energy regulatory authorities are placing greater value on appliances that conserve power and reduce environmental effects. So it is not surprising that corporate investment in efficient heat pump technology has risen dramatically in the past few years.
Stiebel Eltron, based in the central German town of Holzminden, is a family-owned business with about 2,400 employees worldwide. It has been at the forefront of heat pump research and development for decades and is a leader in the construction and design of new-generation systems for ever-expanding markets.
In May the company augmented its factory floor area by 6,000m2 to accommodate increased heat pump manufacturing and testing facilities. This US$13.3 million investment is evidence that the company predicts long-term growth in heat pump markets. Certainly, sales trends in recent years across Europe indicate extraordinary consumer acceptance of heat pump systems.
Sweden is Europe's strongest user, with heat pumps securing a 90% domestic market share of heating units in new homes (63,000 units installed in 2005). In Germany 44,000 units were installed in 2006 (forecasts indicate 55,000 units will be sold by the end of 2007, representing a tenfold increase over 2000 figures). Austria recorded 12,716 units installed in 2006, showing 45% growth for the year.
In China, market growth of heat pumps – particularly those extracting energy from the ground – are forecast to exceed 17% a year for several years.
Markets in the United States and Australasia are smaller but growing every year thanks mainly to falling prices, greater product selections and the improving reputation of modern heat pump systems compared with 1980s and 1990s models.
Dr Ulrich Stiebel, who co-owns Stiebel Eltron with his brother Frank, says the company's strong investment in heat pump technology has been a strategic response to market demand.
"When we started out we made only a few hundred pumps a year," Dr Stiebel says. "That was in the late 1970s. At the moment heat pumps are 30% of our overall sales volume, but in the past year the turnover was the biggest of any product group we have.
"Ten years ago our bread and butter product was the tankless water heater – that was the bulk of our sales and bulk of our profit – and now heat pumps are rivaling that sector."
Dr Stiebel says there are several reasons for the growing interest in heat pumps. They include a willingness in Europe to reduce electricity consumption, and an appreciation that natural gas reserves in the North Sea will not last forever.
Stiebel Eltron head of systems technology Dr Kai Schiefelbein says heat pump research and development has gone hand in hand with improved marketing and a public preference for 'greener' products.
"Since the middle of the 1990s it has become a deliberate strategy to develop heat pump markets. We were quite strong in Switzerland and we began to learn from them how to market heat pumps. So, on the one hand we had the technical development – we tried to make installation simpler – and we tried to copy in a certain way the progress that had begun in the gas burner business.
"Heat pumps then were just big refrigeration units and extremely time consuming to install. We made units quieter, improved efficiency and tried to reduce the number of parts and cut manufacturing costs. And there was a big marketing component. In Switzerland we learned that the way to market a new technology was not through the wholesaler or the installer but through the end customer, because he's the one who profits from it."
"Really, it has had a long entry period as a product, but government subsidies have played a role. In Switzerland we had subsidies but not in Germany – we didn't need them because units have low primary energy consumption, so they are very good from an ecological point of view.
"The first customers were motivated by ecology – they wanted to have an energy-saving heating system. When energy prices began to rise, there was also the aspect of saving heating costs. And the heat pump is the only system that can also do the cooling."
Dr Schiefelbein says the heat pump market in northern Europe is about 190,000 units for space heating, and up to 50,000 for water heating. However, the large heat pumps do space heating and water heating at the same time.
Heat pumps that handle water heating only are popular in the Southern Hemisphere but are a niche market in Europe.
Technical development
According to Dr Schiefelbein, the main technical challenges have included the coexistence of oil in the refrigerant.
"The problem is that in heat pumps you have the condensate at quite high temperatures. It was quite difficult to develop an oil/refrigerant combination and use them in an appropriate way so the compressor lasts a long time.
"In Europe we have about 2,000 hours of running time a year for heating – which is substantially longer than for most air-conditioners."
Improvements in compressor and evaporator technologies are ongoing preoccupations, with electronic control methods considered to be the next phase in maximizing efficiency. There is also great scientific interest in new refrigerant compositions.
Such improvements require substantial research and development.
"In the whole Stiebel Eltron research division there are about 120 people, and in the heat pump division alone we have about 30," Dr Schiefelbein says.
Frank Stiebel, who is based in the US State of Massachusetts, says the company expects the technology to expand into new markets in coming years.
"I think heat pumps will proceed at a very aggressive pace. Probably heat pumps will constitute 50% of our production within the next five years. In the US market we haven't done a lot yet because the US has unique standards and we would basically have to re-engineer the product – different wiring, different components.
"In the US there is already a huge market for cheap air-source heat pumps, but this only goes from Florida through to North Carolina then stops because of the weather."
He says the UK is another untapped market.
"There were maybe 500 heat pumps sold in all of Great Britain last year and there is great potential there for growth."
Given strong existing markets and the opportunities that exist in others, the company is thinking in terms of greater manufacturing investment to meet predicted demand.
"We have to put a lot of investment into R&D and marketing – we will not sell heat pumps just by having them," Frank Stiebel says.
"We will have to invest in more production capacity by 2010 at the latest. What we are doing now is only a small step."