Ever find yourself in a tight space, without light and a need for both hands?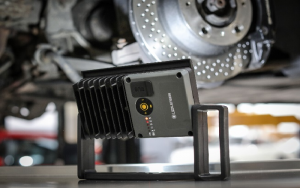 The Ledlenser iF4R keeps your hands free and allows you to prop up your light source with some seriously impressive illumination. Featuring a magnet, flexible base, and handle, securing the compact iF4R is a simple task.
Creating a spotlight where you need it, when you need it, the integrated powerback feature supplies up to 2,500 lumen, 15 hours of light and power to charge your mobile device.
This construction light is rechargeable and contains five fully adjustable brightness settings. While it burns bright, its efficient cooling element eliminates the fear of it overheating, creating a long life and optimum performance.
The rechargeable battery also offers IP54 water resistance and is environmentally friendly. Using 500 times less energy than a regular battery, you're helping your wallet and the environment all at once.