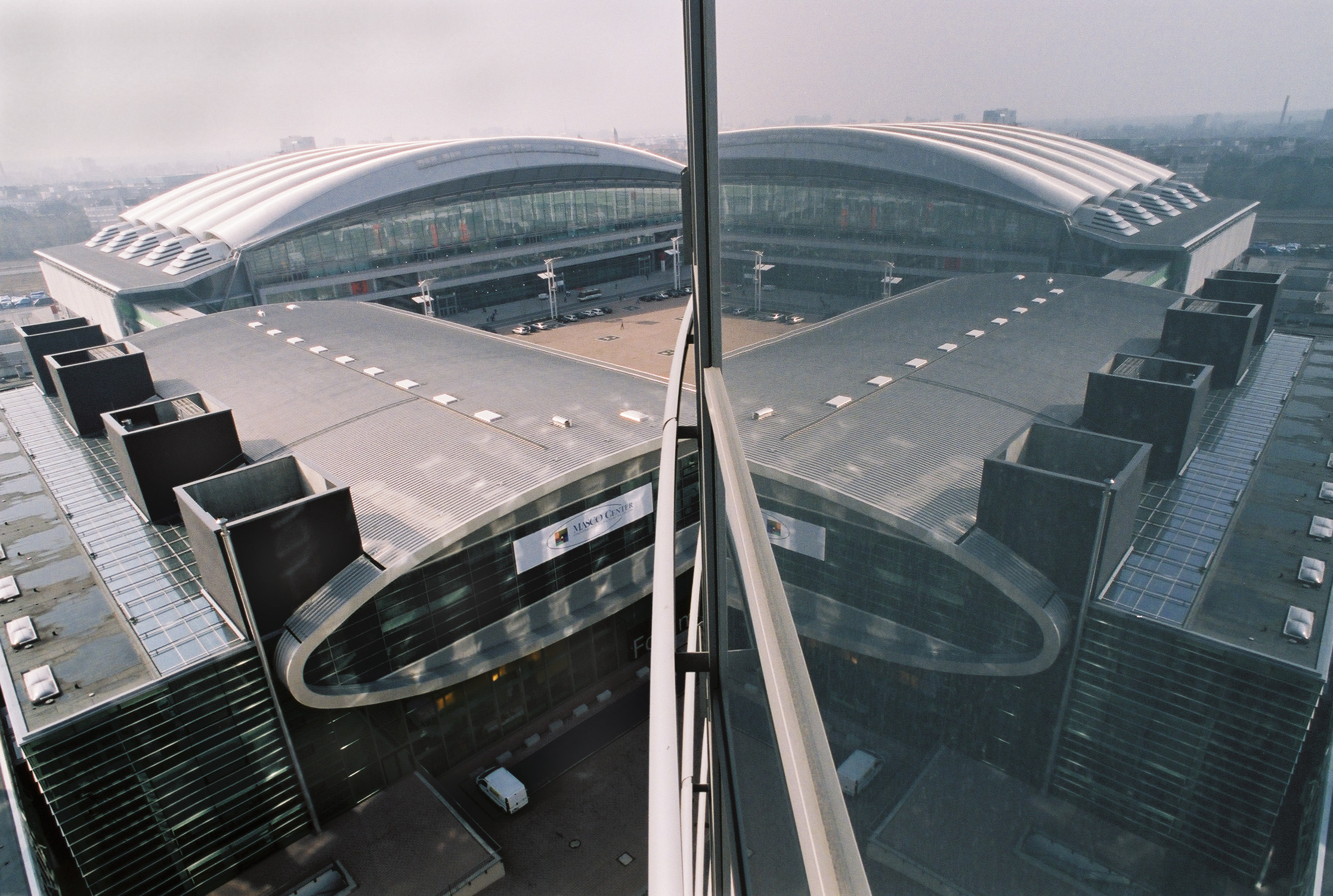 It's the grand dame of plumbing exhibitions and despite tough global economic times, the 2009 ISH (International Sanitation & Heating/Air-Conditioning) Exhibition held in Frankfurt, Germany in March put on a strong showing.
The enormous Frankfurt fair grounds hosted 2,361 companies from 58 countries, while 202,000 trade visitors obligingly made the journey.
Virtually all other exhibition organizers around the world would give their right arm to be able to claim less than a 10% fall off in visitor numbers in this current environment, but that says a lot about the strength and resilience of ISH.
The fact that ISH is held every two years also adds to the impact of the event.
Nonetheless, in talking with exhibitors and visitors from around the globe, no one was hiding the fact they are currently hurting, in line with their own local economic situations.
However, there was also a fair amount of positive discussion about market/brand positioning aimed at the time economies inevitably come out of the current situation.
Of the seven occasions I have attended ISH over the past 20 years, I have come away with a different impression of the plumbing sector.
Ethics versus aesthetics
Putting aside the expected inventiveness and pure design brilliance that is always on show at ISH, this time I felt the most important theme was the contrast of ethics versus aesthetics.
Consumers want it both ways and suppliers are quickly following.
The desire to save water and achieve sustainability is in a two-way fight to retain aesthetic quality and bathroom experience – or as the German's put it, wellness.
Everyone had a sustainable story, though the effort and energy consumed to achieve this is sometimes hard to quantify.
Like it or not, there is still a huge market for those who can afford anything and who take it as rote that they have the god-given right to use as much water as they like.
Let me say that's not quite the case in some water-parched areas of the world and even the North American market is suffering some regulatory indigestion over how to handle double-headed showers.
As the environmental movement sweeps the world, it is going to be interesting to see what sort of technologies are on offer in years to come at ISH.
Embedded (or virtual) water is a new concept on the horizon. In the future we can expect to see far more quantification of the amount of water and energy used in the production of products that exist in the built environment and for everyday living.
A great deal of work is being done globally on this aspect and manufacturers are going to have to keep a close eye on its progress.
Product labeling in the future could well imitate that of food or pharmaceuticals – with specific detail about the amount of water and energy were used in the manufacture of the product, as well as their running and lifetime service costs.
It is likely that certain building projects will be capped with 'embedded' limits, adding another box to tick in the specification process.
Germany goes blue for responsibility
The German sanitary industry went to great lengths at ISH to launch a new sustainability program.
"Dealing responsibly with water is one of the most important global aims of our times. The German sanitary industry is highly aware of this and provides diverse technical solutions that do justice to these aims and the claims to be sustainable.
Under the overall heading of 'Blue Responsibility', the German sanitary industry provides information on products which document its particular competence in the field of sustainable sanitary solutions."
Full detail of the campaign can be found at www.blue-responsibility.com
Who's who and what stood out?
Commercial brinkmanship across the bathroom products manufacturing world was certainly in full swing at ISH. Two major global brands were making their presence felt as never before.
The renowned TOTO brand from Japan simply announced HELLO EUROPE as a first time ISH exhibitor, in order to gain the attention of the European market. They were housed behind an enormous and impressive exhibition stand.
In a stylish debut TOTO made a very strong statement about its intention to become a major influence across the European bathroom sector.
Using its Washlet™ advanced technology as its flagship, the promotion of this integrated toilet technology could be well-timed to fit with Europe's ever-growing demand for premium bathroom products.
Assisting TOTO with building the market for advanced self-wash toilets is Swiss-based Geberit's commitment to ramp up the marketing of its AquaClean range of product, with a major direct-consumer marketing campaign.
It's nearly 30 years since TOTO first launched its Washlet toilets in Japan but the next five years in Europe will likely be some of the most interesting.
The other brand to make a large statement at ISH (other than the traditional German ones) was Roca, the brand with a Spanish heritage.
Roca has been on the move in recent years and now claims in its brand marketing to be the Leading Global Bathroom Brand – self appointed but there again. Who's to challenge their growing franchise across some 135 markets?
The growing influence of design across the Roca range has positioned it very well in today's market.
As an example, Roca's TRANSTUBE shower space was quite a show stopper at ISH. This circular shower screen space of two-halves (is there any other way) would, at the push of a button, close or open half the screen for easy entry/exit.
Some other interesting things were happening in other shower spaces at ISH too.
Sunshower from the Netherlands combines a personal sun-tanning system within a shower enclosure for a daily tan touch-up. While the merits of a baked-flesh finish are being strongly argued around the medical world, this up-market product is no doubt finding a home in the upper echelons of society. www.sunshower.nl
What is it with the Dutch and showers? We also came across a shower unit from Sealskin which offers wellness both inside and out! You can enjoy an elongated time in this shower as it recycles the water and maintains the pressure, courtesy of an integrated pumping unit in the base of the shower. www.sealskin.nl
If you were after variety, then ISH had a bit of everything including this up-market kitchen sink (or should that be Mum's private dashboard!)
Trust the Italians to come up with the Ferrari of kitchen sinks. No more plain old stainless steel tub to wash your pasta pots in here!
A marriage of cutting-edge design, electronics and that Italian flair for doing the extraordinary produced the exotic WASHER 120 from Elleci. With a built-in food waste disposer unit, used oil separator, LED mixer tap and a host of other features, what modern day mum wouldn't want one of these? www.elleci.it
When it came to tapware, ISH offered a huge range of options of all shapes and sizes, with some tricks included.
Water (flow) shaping is something that is becoming popular across a number of upmarket ranges. We first sighted this trend in bath outlets and now it is in hand basins.
One example of this trend was the new slender Latrava model from Hansa. Its graceful flow of diagonal water totally changes the traditional look of a tap into a piece of modern, functional art.
Smart electrics are also added into the package with configured water temperature using coloured LEDs, indicating the temperature of the mixed water.
Many of these design innovations in tapware have only become possible due to the recent development of various-shaped aerators and regulators from Neoperl, the leading OEM supplier to the tapware industry. The company has also recently developed a Nano aerator (Nanoperl) which will no doubt open up other design opportunities for the future. www.neoperl.net
While many traditional German taps and mixers are solid mass structures, Steiner has launched a mixer series called 'Structure' in which they have deliberately designed gaps in what would have previously been solid surfaces. These high-grade chrome plated surfaces then provide interesting reflections from other items in the vicinity and present greater transparency. www.steinberg-armaturen.de
Some of these interesting products will make their way to global markets while others will be destined to remain in their home markets, due to a variety of technical and marketing reasons.
That was about it for me at ISH and I didn't even get around to showing you the vast range of pipe/fittings systems, valves, pumps and hot water units – so you really should go next time (March 2011).
Elsewhere, we have reported separately on the Dry Drains Forum we ran at ISH. Check that out; it's an interesting subject for all plumbing designers, installers and practitioners to understand.