ISH China & CIHE indicate technology is in high demand
ISH China & CIHE  featured 1,300 exhibitors and occupied 116,000 sqm. Strong demand in the domestic market, including for clean energy heating solutions, ensured ISH China & CIHE concluded on a high note on 8 May.
72,613 visitors passed through the doors of the New China International Exhibition Center over three days to source the latest HVAC products and technologies, marking a 3.4% increase from last year (2018: 70,202).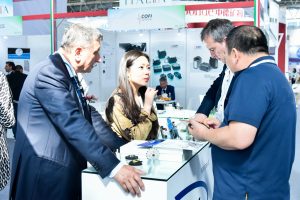 Reflecting demand in the Chinese market, two new zones debuted this edition: a floor cooling & heating system display area and new clean energy district heating area. In particular, exhibitors noted the continued strong demand from visitors at the fair for greener heating solutions, following the central government's continued implementation of environmental protection policies.
Exhibitors in the German Pavilion and the Overseas Areas were also positive about their prospects in the Chinese market, noting high interest in quality products and the latest technologies, and confirming the fair's effectiveness as a platform to access the Chinese market.
With the HVAC sector continually evolving, ISH China & CIHE is also an important event for industry players to stay ahead of the curve with the latest knowledge and insights. A large number of events during the fair focused on clean energy, while topics such as smart heating, BIM technology, AI applications and global developments & trends were also discussed.
The next ISH China & CIHE will take place from 11 – 13 May 2020, once again at the New China International Exhibition Center in Beijing.
A further ISH event in China, ISH Shanghai & CIHE, will be held from 3 – 5 September 2019 at the Shanghai New International Expo Centre. For more information about ISH China & CIHE and ISH Shanghai & CIHE, please visit www.ishc-cihe.hk.messefrankfurt.com.