hansgrohe introduces new shower range and products
hansgrohe has introduced its new shower range and products, including the Raindance E shower range, RainSelect control unit and Unica Comfort shower bars at ISH in Frankfurt.
The Raindance E shower range features a square, 30 x 30cm overhead shower that generates a rain of full, soft droplets thanks to improved air technology.
The spray jets are arranged to ensure the body is completely enveloped. The jets at the centre of the spray disc are closely positioned for a more powerful spray, while the other jets are more spaced and their gentle spray relaxes the shoulders and upper back.
There are two models available, wall mount and flush ceiling, which are both available equipped with the water-saving EcoSmart technology that has a flow rate of 9L per minute.
The showerpipe combines an imposing overhead shower, a flat shower holder and a thermostat into an impressive ensemble and comes in two lengths for more installation options. High-quality glass covers the surfaces of the showerpipe and thermostat, which measures up to 600mm and doubles as a shelf with ample space for shower accessories.
The holder for the hand shower on the Raindance Select is fully adjustable, connects directly to the shower pipe and can be tilted at various angles for added convenience in the shower.
The many components of the Raindance E shower range offer numerous possibilities for the layout of the shower area, making it easier to fulfil individual customer wishes.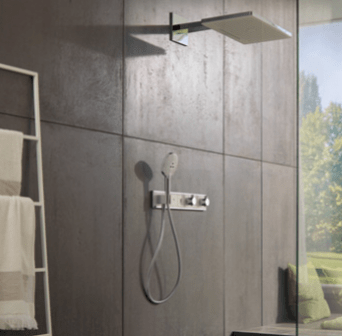 hansgrohe's intuitive and convenient control unit, RainSelect, has been designed for overhead showers and has adjustable spray modes.
This panel controls all functions in one unit and has minimal installation thickness to open up space for more freedom of movement in the shower. The exterior features quality materials such as metal or glass, depending on the finish, and a metal rim that frames the control panel and emphasises its horizontal design.
The switches are 70 x 70mm and operating them is similar to operating a light switch. Underlying this is hansgrohe's Select technology, which controls the various functions on a purely mechanical basis.
Two dials control water volume and temperature and a porter unit for the handheld showerhead and a hose connection are also part of the control centre.
There are two models to choose from for the shower area, and a separate solution for bathtub showers.
The RainSelect shower control centre can be combined with overhead showers such as the Rainmaker Select and other models that share the same design language and materials for a harmonious overall look and a comfortable and relaxing shower experience
hansgrohe also introduced its new Unica Comfort shower bars to bring comfort and quality of life into the shower.
These shower bars can double as sturdy grab handles and are certified for stability by TÜV Süd, a leading German organisation for technical service, certification and training.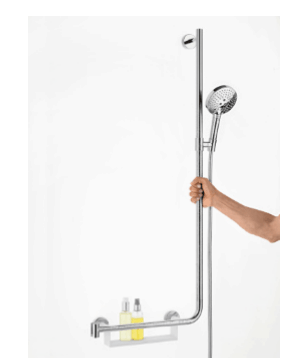 hansgrohe  Unica Comfort shower bars have a high tensile strength of up to 2,000newtons, which corresponds to about 200kg of weight that the solid construction, consisting of a 25mm thick, chrome-plated brass pipe and stable metal wall grips, could theoretically support.
Featuring a self-locking metal slide, the hand shower can be easily positioned at the desired height using just one hand,while the shower holder can be tilted up to 90°. The hansgrohe Unica Comfort shower bar also features an additional hand shower holder at the lower end of the bar, ideal for children, people in wheelchairs or for those who like to shower sitting down.
The sturdy Comfort grab handle with a detachable caddy and a shower holder can be positioned on the left or right hand side of the bar.
The Unica Comfort collection also includes a safe footrest, covered with non-slip plastic to provide stability when caring for feet and legs, and is available as part of a set that includes the hansgrohe Raindance Select S 120 hand shower and a matching hose.