Grundfos Hits the Big Screen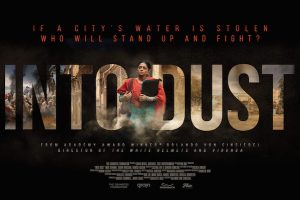 The Grundfos Foundation is proud to partner with Academy Award-winning film director, Orlando von Einsiedel to present INTO DUST. This scripted film is based on a true and important story that brings attention to the value of water by celebrating those who work relentlessly to secure the necessary solutions. The drama-documentary tells the extraordinary story of Perween Rahman, a woman who sacrificed everything to provide Karachi's poorest communities with clean, safe water.
Today, not many are aware of the seriousness of global water challenges. It is often perceived that investments are costly, payback times are long, and that using less water will negatively affect our levels of comfort. But we need a new mindset, because we can't hide from the fact that the world finds itself in a major water crisis. According to the UN, more than 2 billion people live without access to safe water and 785 million lack access to basic water. These numbers are expected to grow as a consequence of climate change and truly put the problems we are facing into perspective. Access to safe drinking water is a human right. Hence, as a global community we do not live up to our obligations.
"Two years ago, the Grundfos Foundation decided to engage in a special project to help the world understand the serious consequences of the global water crisis. Today, we're proud to present INTO DUST," said Kim Nøhr Skibsted, Executive Director, Grundfos Foundation.
After a series of postponements due to COVID-19, INTO DUST is now finally ready to be shared with the world and available for streaming on Amazon Prime.