Give your Old Boots the Boot
Aussies are wearing their footwear, and their feet into the ground, nearly 60% of boot owners admitting to holding onto their boots until they are falling apart, according to new research released by Blundstone recently.
The results are worrying for foot health, with alarmed experts warning that wearing worn out boots with compromised safety features increases general foot ailments, and can become a dangerous health hazard when working in high-risk environments.
It's an area of the body not many of us think about however, with over 11% of Australians working in industries that require work boots** and a shocking 20% of workplace compensation claims relate to injuries of the foot and toes***, Australian Podiatry Association Board Member Stewart Hayes, says that it may be time to give your old boots the boot.
"Foot problems are often due to neglect, lack of awareness and proper care; ensuring that you replace old, worn out boots without delay is a simple way to avoid pain and damage to your feet," Stewart said.
"Feet are an important factor in overall health, as when they are out of alignment, so is the rest of the body. An unbelievable 100 plus tonnes of pressure put on feet daily, it is important to wear well-maintained boots with cushioning and arch support to keep you walking comfortably on cloud nine."
Aussies prove to be a sentimental bunch when it comes to their boots, with the research revealing that almost a quarter of boot owners are reluctant to give up the soles guarding their feet due to the nostalgic value they hold.
The results also show that some boots are practically part of the family, with almost 20% keeping their boots for 10-30 years. While the average boot is 3-5 years old, a further 25% hang around becoming well worn and well loved for 6-10 years.
Over 70% of people are not aware their boots have a lifespan, with Blundstone CEO Steve Gunn noting that although your boots may have served you well, it's probably time for a new, more comfy and supportive pair.
"Like all good things the bond must come to an end. People need to take an honest look at the state of the leather, soles and comfort of their safety footwear and make the tough decision to put their health first and break up with their boots," added Steve.
"That's why we sent the Blunnie Fairy around Australia to help people move on from their old boots by magically replacing them overnight with a comfortable new pair."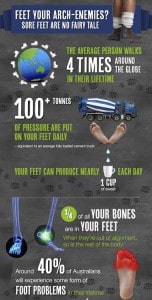 Other survey results:
• Over 60% have 2-3 pairs of boots
• Over 50% have one work pair and one for going out
• 6% don't replace their boots due to the effort and bother involved
• Almost 40% wear their boots everywhere, not just at work
Ways to determine your shoe's life span:
• Push it good: Press on the outsole with your thumb, upward into the midsole. If there's a little compression, there's some cushioning left
• Shoes on show: Check for any general wear and tear. If soles are worn down or falling off, holes and cracks are appearing in the leather, or the steel toe or metatarsal guard are showing, it's time to replace your boots
• How does this make you feel? Ask yourself are your feet cushioned, do your feet, legs or back ache or are you developing blisters from your feet moving around too much in stretched shoes? All signs that you could need new boots
How to get more mileage from your safety boots:
• Treat em' mean, keep em' clean: Thoroughly clean your boots following the manufacturers instructions. This helps to prevent deterioration, maintain traction, and see any damage
• Share the love: If possible, purchase two pairs and alternate between them to allow sweat to dry out
• Tender loving care: Apply a leather conditioning treatment to maintain suppleness and prevent cracking – always check manufacturers instructions first
• Choose wisely: Ensure you pick the right boot for the demands of your job
** 11.5% of Australians work in construction, manufacturing, mining agriculture & farming according to a 2011 ABS study
*** Approximately 20% of workplace compensation claims relate to injuries of the foot and toes according to the Australasian Podiatry Council