FREE Plumbing Industry Guide to Safety 2021/22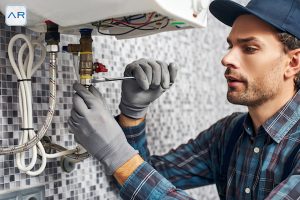 Pro-Visual Publishing and their partnering industry associations have released the annual Augmented Reality (AR) Interactive Educational Safety Guide for plumbers. Distributed free across Australia, it's designed to place on the wall as a daily reference to use with your phone, or other smart device, to view augmented content alongside the informative printed text.
The AR component of this piece makes the learning of key safety issues far more engaging and it becomes a useful go-to piece over other print material for solo reference, or for training and toolbox talks with your team.
Users download the free #Pro-Vis AR app and scan the AR icons in the various sections of the Guide for additional, relevant resources such as videos, web-links, PDF files and landing pages that 'pop-up' in front of you in an augmented setting.
The Guide aims to educate on potential hazards and safer work procedures with a focus on helping to create a culture of Zero Harm.
Topics this year include:
Management and safe work practices relating to asbestos exposure.
Updated installation standards and control measures for working with gas.
Essential eye protection for potential hazards and injuries. Powered hand tool safety control measures.
For free Guides email marketing@provisual.com.au
For free Guides email marketing@provisual.com.au. For all enquiries and images call (02) 8272 2611 or email Deanna Hutchings ddavenport@provisual.com.au.